7th June 2019
 Recording of the Week

,

  Samuel Barber's Vanessa from Glyndebourne
It seems both mildly baffling and oddly apposite that Samuel Barber's Vanessa has had to wait sixty years for its first commercial release in an audio-visual format: steeped in the language of the silver screen, the Pulitzer-winning 1958 opera lends itself so naturally to film, yet in many respects the entire piece is a meditation on biding one's time. Sequestered in a gloomy mansion 'in a Northern clime', its eponymous heroine has spent decades awaiting the return of her former lover Anatol, when a young man bearing his name and claiming to be his son arrives on the scene to wreak havoc with her emotions and those of Erika, who lives with Vanessa and cryptically describes herself as 'sometimes her niece, but mostly her shadow'. Released on DVD and Blu-ray last week, Keith Warner's 2018 production from Glyndebourne makes ample restitution for the delay, bringing the work's Gothic glamour and shifting ambiguities vividly to life.
With its claustrophobic domestic atmosphere, inter-generational tensions between female relatives, and hushed-up pregnancies, the scenario put me in mind of Janáček in places, but Barber's musical language owes more to Italian opera, shot through with echoes of Hollywood and Broadway: the manic optimism of Vanessa's outburst as she prepares to receive her long-expected paramour recalls Madama Butterfly, and the young Anatol accordingly reels in his incurably romantic older lover with faux-Puccini.
Portrayed with unflinching commitment by British soprano Emma Bell, Vanessa herself is an intriguing mélange of Miss Havisham, Blanche DuBois and Strauss's Marschallin, and in fact the narrative plays out rather like a Rosenkavalier in reverse, as a young woman in the first flush of youth cedes her lover to an ageing beauty obsessed with stalling the passing of time. Barber's ripe, post-Romantic score, too, is littered with nods to Strauss's opera (particularly in the ball scene which opens Act Three, and the wistful reminiscences of past dalliances from the family doctor and Vanessa's mother the Baroness), though there are frequently darker undercurrents at work: the lilting waltz-music can switch from Old Vienna to Shostakovich-esque bitterness in a heartbeat. Ashley Martin-Davis's sets and costumes also reflect the tension between 'dirt and elegance' which Warner sees as central to the piece, as well as its preoccupation with illusion and ambivalence: this is a quite literally a world of smoke and mirrors, where everything has seen better days and perspectives can shift in the blink of an eye.
The opera may be entitled Vanessa, but it's first and foremost an ensemble piece, and the entire cast seems to feed off Bell's nervous energy. Singing in slightly accented English which only adds to the character's mysterious allure, Lithuanian tenor Edgaras Montvidas is a brilliantly caddish Anatol, disarmingly plausible in his dealings with the two women but particularly telling in the moments when he drops his mask in this production: a nefarious alliance with a young maid, for instance, is suggested but never made explicit. It's just one of Warner's many turns of the screw in a staging which constantly keeps the audience guessing, the most chilling being the silent depiction of a young Vanessa in labour at the very beginning: whether her baby is Erika, Anatol, or neither of the above is left open to interpretation, but the scene undoubtedly adds a disturbing dimension to Vanessa's choice of Sophocles's Oedipus Rex for her book at bedtime.
Channelling Maggie Smith in Downton Abbey by way of Janáček's formidable matriarchs, veteran mezzo Rosalind Plowright makes much of the role of the elderly Baroness, pragmatic and worldly-wise up to a point but given to freezing out her younger relatives with unyielding silence when they overstep the boundaries of her high moral code. Only three years out of Juilliard, Virginie Verrez is a hypnotic Erika, radiating Hitchcock-Blonde glamour and capturing the young woman's psychological complexity to perfection; her creamy lyric mezzo is capable of considerable fire-power when needed, and she thrives under the scrutiny of the camera. Indeed, the same is true of all the main players in this most cinematic of shows: to borrow a line from Sunset Boulevard (one of several 1950s films obliquely referenced in the production), everyone here is ready for their close-up.
Emma Bell (Vanessa), Virginie Verrez (Erika), Edgaras Montvidas (Anatol), Rosalind Plowright (The Old Baroness)
The Glyndebourne Chorus & London Philharmonic Orchestra, Jakub Hrůša (conductor) & Keith Warner (director)
Available Format: DVD Video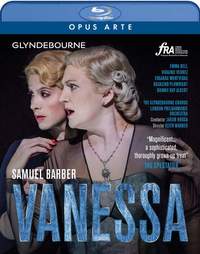 Emma Bell (Vanessa), Virginie Verrez (Erika), Edgaras Montvidas (Anatol), Rosalind Plowright (The Old Baroness)
The Glyndebourne Chorus & London Philharmonic Orchestra, Jakub Hrůša (conductor) & Keith Warner (director)
Available Format: Blu-ray