31st May 2019
 Recording of the Week

,

  Lise Davidsen sings Wagner and Strauss
I've been waiting a long time for today's Recording of Week – four years, to be precise. Back in 2015, a friend of mine in Oslo posted a clip from the final of Plácido Domingo's Operalia Competition on Twitter, featuring a statuesque young Norwegian soprano singing 'Dich, teure Halle' from Wagner's Tannhäuser with an easy amplitude and exuberance which gave me the sort of adrenaline-rush that I usually associate with drinking three espressos on an empty stomach. Lise Davidsen was still in her twenties at that point, an age when many large-voiced singers are biding their time in the heavier Mozart roles or focusing on concert-work, but this one seemed primed and ready to conquer Bayreuth on 24 hours' notice.
In the event it took a little longer than that (Davidsen will make her debut as Elisabeth at the Wagner festival this summer), but Decca lost no time in signing her up, and her first solo recording of Wagner and Strauss on the label is released today. The album opens with her calling-card from Tannhäuser, sung with even more technical assurance and controlled excitement than she displayed in her winning Operalia performance and capped with a laser-beam high B that caused a collective downing of tools in the Presto office when we first auditioned the disc. But Davidsen's about far more than rafter-rattling decibels: the Prayer to the Virgin from the same opera showcases her apparently limitless reserves of breath and capacity for singing of extreme inwardness, whilst the heroine's great monologue from Strauss's Ariadne auf Naxos (a role which she sang to widespread acclaim at Glyndebourne two years ago) demonstrates the complete seamlessness of her instrument, from a low A flat that would put many a contralto to shame to an upper register that unfurls gloriously in the aria's final demanding stretches. (As she mentioned in our recent interview, Davidsen credits her training as a baroque mezzo with establishing a solid middle voice which has since opened up at either extreme – she's long since dropped that repertoire, but has retained a dark colour and flexibility that made me want to hear her sing a powerhouse Ariodante, just for fun).
The excerpts from her signature-roles are followed by a set of Strauss lieder, culminating in the Four Last Songs; it's a bold move to set such an iconic, autumnal work down on a debut recording, but they fit her gleaming soprano to perfection, particularly at Esa-Pekka Salonen's spacious tempos, and her vocal freshness pays huge dividends in the first two of the set in particular. Davidsen may well transition into a Salome or an Elektra a few years down the line, but first she has Arabella and the Marschallin in her sights, and on the basis of her ability to sculpt long lines in these songs there's still plenty of lyric in her lyric-dramatic soprano to do these roles full justice.
The stand-out tracks for me, though, are the four Op. 27 songs (which she'll sing with Salonen at this year's BBC Proms); Heimliche Aufforderung (describing a pair of lovers sneaking away from a party for a private tryst in the garden) is a particular favourite of mine, and here it's infused with the shy tenderness of an introvert longing for a moment's breather rather than with the blatant eroticism which some singers bring to the piece. And Davidsen's exquisitely intimate Morgen is a gem; I remember her bringing my most hard-bitten colleague to tears when she performed this at last year's Gramophone Awards, and it's no less magical here.
When I gave a friend a preview of this album over the weekend, we both concurred that it's the most thrilling debut recording from a singer that either of us have heard since Jonas Kaufmann's Romantic Arias just over ten years ago. The two will join forces in Beethoven's Fidelio at Covent Garden next year, which will mark Davidsen's first appearance at the house in a major role; the on-sale date is already in my diary.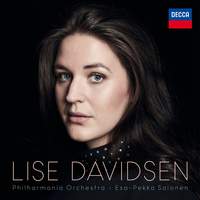 Lise Davidsen (soprano), Philharmonia Orchestra, Esa-Pekka Salonen
Available Formats: CD, MP3, FLAC, Hi-Res FLAC