28th May 2019
 Hi-Res Highlights

,

  Hi-Res Highlights - May 2019
This month's Hi-Res highlights include the tenth volume of Christian Lindberg's Allan Pettersson series with the Norrköping Symphony Orchestra on BIS, a voyage through Liszt's Italy with Piemontesi, a superb Saint-Saëns album from Jean-Jacques Kantorow and his pianist son Alexandre, and Paul McCreesh's magnificent 'composite coronation ceremony' with Gabrieli and hundreds of guest performers of all ages.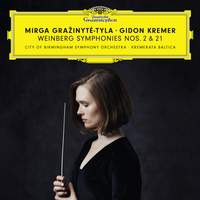 Gidon Kremer (violin), Kremerata Baltica, City of Birmingham Symphony Orchestra, Mirga Gražinytė-Tyla
The young Lithuanian conductor's debut on Deutsche Grammophon is Recording of the Month in this month's Gramophone as well as one of our best-selling recordings of May; reviewing the album for our weekly newsletter, my colleague James summarised Weinberg's style as 'a heavy dose of Shostakovich…with an occasional whiff of Mahler' and also detected hints of Sibelius and even Bach.
Available Formats: 2 CDs, MP3, FLAC, Hi-Res FLAC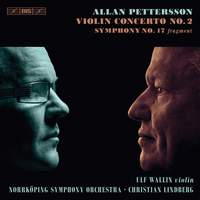 Ulf Wallin (violin) Norrköping Symphony Orchestra, Christian Lindberg
For the tenth instalment of his survey of the orchestral music of the Swedish composer, Lindberg is joined by Ulf Wallin for the Second Violin Concerto (written in the late 1970s), which runs to almost an hour and was described by Pettersson as a 'Symphony for violin and orchestra'. (The complete cycle so far is included in our BIS special offer, which runs until 1st July).
Available Formats: SACD, MP3, FLAC, Hi-Res FLAC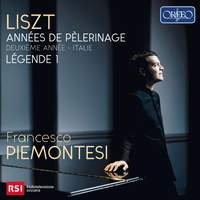 Francesco Piemontesi (piano)
Following a magnificently evocative journey through Switzerland last year (praised by BBC Music Magazine for his 'absolute technical facility' and 'special affinity with the lyrical directness in Liszt's idiom'), the Swiss pianist embarks on the second leg of Liszt's 'years of pilgrimage', coupled with the second of the Légendes, depicting St Francis of Assisi's sermon to the birds.
Available Formats: CD + DVD Video, MP3, FLAC, Hi-Res FLAC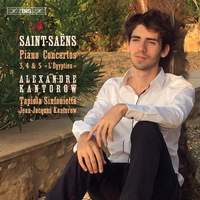 Alexandre Kantorow (piano) Tapiola Sinfonietta, Jean-Jacques Kantorow
These father-and-son accounts of Saint-Saëns's last three piano concertos were an Editor's Choice in this month's Gramophone, with Jeremy Nicholas describing Kantorow fils as 'a fire-breathing virtuoso with a poetic charm and innate stylistic mastery' and singling out the 'commanding ease and infectious delight' on display in the Fourth Concerto as a highlight.
Available Formats: SACD, MP3, FLAC, Hi-Res FLAC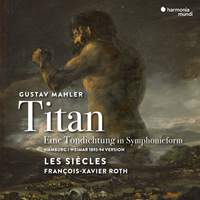 Les Siècles, François-Xavier Roth
Roth and his award-winning orchestra present the second version of Mahler's Titan (the 'tone poem in symphonic form' which would eventually evolve into the First Symphony) from 1893/4, using a mixture of bare and spun gut strings and narrow-bore woodwind and brass instruments of Austro-German origin dating from around the time of the work's premiere. Read our full review of the recording here.
Available Formats: CD, MP3, FLAC, Hi-Res FLAC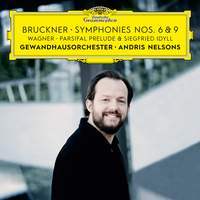 Gewandhausorchester Leipzig, Andris Nelsons
The fourth instalment of Nelsons's widely acclaimed Bruckner cycle includes Wagner's Siegfried-Idyll and the Prelude to Act One of Parsifal as well as the two symphonies; reviewing a live account of the Ninth shortly after this recording was made, Boston Classical Review observed that Nelsons 'led [the performance] as if he were taking listeners on a tour through a spacious cathedral'.
Available Formats: 2 CDs, MP3, FLAC, Hi-Res FLAC, Hi-Res+ FLAC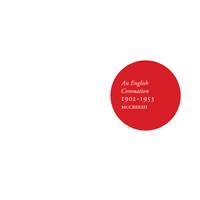 If ever there was an album that cries out to be heard in hi-res it's McCreesh's gloriously extravagant patchwork of pomp and circumstance (complete with Simon Russell Beale as the Archbishop of Canterbury!), taking full advantage of the acoustics of Ely Cathedral and weaving together music from the coronations of Edward VII, George V, George VI, and Elizabeth II; Parry's I was glad, with the young voices of Gabrieli Roar and massed trumpets in full cry, is absolutely sensational.
Available Formats: 2 CDs, MP3, FLAC, Hi-Res FLAC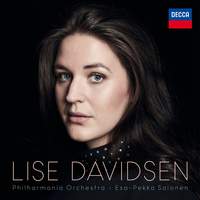 Lise Davidsen (soprano), Philharmonia Orchestra, Esa-Pekka Salonen
Hailed by The Telegraph as 'a voice in a million', the powerhouse Norwegian soprano makes her Decca debut with Strauss's Four Last Songs and other orchestral lieder including Cäcilie and Morgen!, plus excerpts from Ariadne auf Naxos and Tannhäuser (which she'll sing at Bayreuth this summer). You can read Katherine's interview with her about her career to date here.
Available Formats: CD, MP3, FLAC, Hi-Res FLAC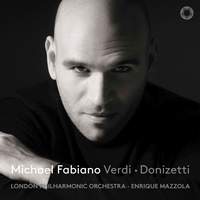 Michael Fabiano (tenor), London Philharmonic Orchestra, London Voices, Enrique Mazzola
The American lyric tenor makes his debut on Pentatone with a collection of arias from two composers who have played a central role in his career to date; the programme includes excerpts from Lucia di Lammermoor, Poliuto, Maria di Rohan, Luisa Miller, Ernani, Oberto and Rigoletto, and a rarely-recorded scene from the original St Petersburg version of La forza del destino. Read his thoughts on the album and this repertoire here.
Available Formats: SACD, MP3, FLAC, Hi-Res FLAC
Le Concert des Nations, Jordi Savall
The Catalan conductor and his period-instrument ensemble recorded these accounts of Mozart's last three symphonies in Cardona during the summers of 2017 and 2018; though they've bided their collective time before tackling any of the symphonies, their previous recordings of Mozart have been described as 'responding imaginatively to the varied character of Mozart's music' (BBC Music Magazine) and 'glorious singing and playing of irrepressible effervescence' (Choir & Organ).
Available Formats: MP3, FLAC, Hi-Res FLAC