24th April 2019
 Hi-Res Highlights

,

  Hi-Res Highlights - April 2019
This month's Hi-Res highlights include late Schubert from András Schiff (who recorded these works back in the early 1990s but now revisits them on a fortepiano), ebullient Schumann from the Royal Stockholm Philharmonic and their principal horn Markus Maskuniitty, an anthology of Charpentier's Biblical portraits from Ensemble Correspondances, and a Carnegie hall recital of Dvořák, Fauré and Mozart from Evgeny Kissin and the Emerson Quartet.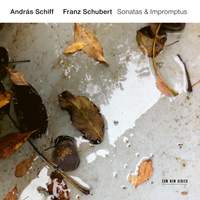 András Schiff (fortepiano)
Schiff conjures an astonishing range of sonorities from the four-pedal Franz Brodmann fortepiano which he bought in 2010, including some miraculous pianissimos; reviewing the recording a couple of weeks ago, my colleague Katherine commented on the 'introspective poetry' which he finds in the music, and the 'long-established synergy between the instrument and its player'.
Available Formats: 2 CDs, MP3, FLAC, Hi-Res FLAC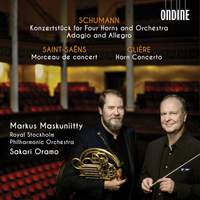 Markus Maskuniitty (horn), Royal Stockholm Philharmonic Orchestra, Sakari Oramo
The Stockholm orchestra's principal horn kicks off his debut solo recording with a team effort, joining three colleagues in Schumann's exuberant Konzertstück for four horns from 1849. It's followed by Ernest Ansermet's orchestration of the same composer's Adagio and Allegro, Saint-Saëns's Morceau de concert in F minor, and Glière's Horn Concerto – composed in 1951, but harking back to the language of the Russian Romantics.
Available Formats: CD, MP3, FLAC, Hi-Res FLAC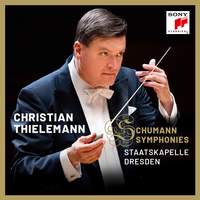 Staatskapelle Dresden, Christian Thielemann
Released to mark the German conductor's sixtieth birthday on Monday, these performances were recorded in Suntory Hall, Tokyo in October 2018. Thielemann's recording of these symphonies with the Philharmonia Orchestra in the 1990s prompted Gramophone to describe him as 'a man of the theatre…who cares deeply about the euphony and expressive potential of Schumann's orchestration'.
Available Formats: 2 CDs, MP3, FLAC, Hi-Res FLAC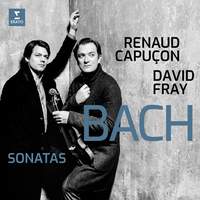 Renaud Capuçon (violin) & David Fray (piano)
Fray made his debut on Virgin Classics with Bach (prompting Der Spiegel to hail him as 'perhaps the most inspired, certainly the most original Bach player of his generation' and BBC Music Magazine to name him Newcomer of the Year in 2008); here he joins his compatriot Renaud Capuçon for the first time on disc in four of the six sonatas for violin and keyboard.
Available Formats: CD, MP3, FLAC, Hi-Res FLAC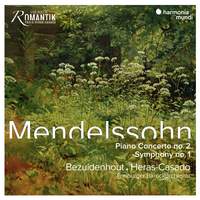 Kristian Bezuidenhout (fortepiano), Freiburger Barockorchester, Pablo Heras-Casado
Following his 2011 account of the early A minor Concerto and the Concerto in D minor for violin, piano and strings (both composed when Mendelssohn was in his early teens), the Dutch fortepianist joins forces with the Freiburgers once again for the Piano Concerto No. 2 in D minor, coupled with Mendelssohn's first composition for full orchestra.
Available Formats: CD, MP3, FLAC, Hi-Res FLAC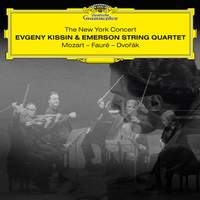 Evgeny Kissin (piano), Emerson Quartet
Recorded live at Carnegie Hall last April, this recital features Mozart's Piano Quartet No. 1 in G minor, Fauré's Piano Quartet No. 1 in C minor, and the Dvořák Piano Quintet; reviewing the performance, The New York Times observed that 'these strong, veteran players seemed ideally matched with the commanding pianist, and they had evidently achieved instant rapport.'
Available Formats: 2 CDs, MP3, FLAC, Hi-Res FLAC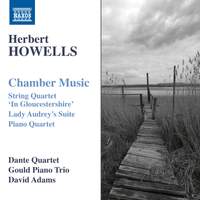 Dante Quartet, Gould Piano Trio, David Adams (viola)
Naxos continue their Howells series with a triptych of the composer's early chamber music: Lady Audrey's Suite for string quartet from 1915, the String Quartet No. 3 In Gloucestershire, and the Piano Quartet in A minor, dedicated 'To the Hill at Chosen and Ivor Gurney who knows it'.
Available Formats: CD, MP3, FLAC, Hi-Res FLAC
The Israeli pianist has been hailed as 'a natural Rachmaninov interpreter' (The Observer) and 'that genuine rarity: a pianist whose Rachmaninov is entirely idiomatic yet intensely personal' (Gramophone); following acclaimed recordings of the Études-tableaux Op. 39 and the Second and Third Piano Concertos, he returns to the very first Rachmaninov pieces he ever learned.
Available Formats: CD, MP3, FLAC, Hi-Res FLAC, Hi-Res+ FLAC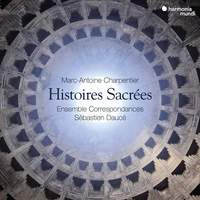 Ensemble Correspondances, Sébastien Daucé
Judith, St Cecilia, Mary Magdalene, and Saul and Jonathan are among the figures depicted in Daucé's compendium of Charpentier's 'sacred stories'; the album includes a bonus DVD of a live staged concert of the programme, filmed at the Chapelle Royale de Versailles in 2016 and directed by Vincent Huguet.
Available Formats: 2 CDs + DVD Video, MP3, FLAC, Hi-Res FLAC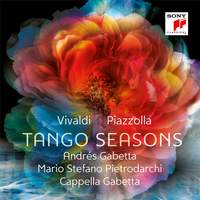 The baroque ensemble intersperse Vivaldi's Four Seasons with Roberto Molinelli's arrangement for violin and string orchestra of Astor Piazzolla's Cuatro Estaciones Porteñas, composed between 1965 and 1970 and inspired by the city of Buenos Aires; the album is rounded off by Molinelli's own Estate Reloaded, which pays homage to both works.
Available Formats: CD, MP3, FLAC, Hi-Res FLAC