18th February 2019
Interview

,

The Foyle-Štšura Duo on Penderecki and Lutosławski
The Foyle-Štšura Duo, comprising Scottish violinist Michael Foyle and Estonian pianist Maksim Štšura, have made a kind of double début with two recordings in rapid succession, one at the end of 2018 and the second in early 2019. The second of these focuses on two of Poland's most famous post-war composers, drawing together the complete works for violin and piano of Krzysztof Penderecki and Witold Lutosławski. I spoke to Michael and Maksim about the difference between these two composers and their social contexts.
This is the second album you've recorded together, coming hot on the heels of your début in late 2018, but you've been performing together since 2012. Can you tell us something about how you first came to collaborate, and what the common musical ground is that binds you together?
MICHAEL: Although The Great War Centenary disc was indeed released first, to coincide with the centenary of the World War One armistice, our disc for Delphian was in fact recorded a few months earlier, so from our duo's perspective it marked our debut recording project. Lutosławski's astonishing Partita was the first work we performed together, back in 2012 for the chamber concert of the Philharmonia Orchestra's "Woven Words" series that marked the centenary of Lutosławski's birth and, as such, is a seminal piece for our duo. We chose it to open our debut recitals in Wigmore Hall, Southbank Centre and New York Chamber Music Festival, among others. The mix of almost aleatoric 'ad libitum' sections alongside highly detailed, dense structures in this work somehow reflects the nature of our duo: we work in such detail of preparation that we perform the majority of our recitals from memory, but this means that our performances can ultimately be quite free and spontaneous.
Lutosławski, like many other composers of his time, had his share of run-ins with the authorities – but unlike Andrzej Panufnik, who defected to the UK, he stayed in Poland even through the heavy-handed artistic controls that preceded Stalin's death. Why do you think Lutosławski chose to remain in the Eastern bloc?
MAKSIM: Indeed, Polish arts were subject to heavy censorship during the Stalinist rule. Lutosławski was in fact appointed as a secretary and treasurer of the Union of Polish Composers established in 1945. However, following the increasing application of the principles of Socialist realism reinforced by the 1948 Zhdanov decree, Lutosławski decided to resign from this post. His First Symphony, completed in 1947, was labelled as 'formalist' by the authorities, deemed unintelligible, elitist and was excluded from concert programmes. However, following Stalin's death in 1953 the period known as the Khrushchev Thaw followed and this manifested in a gradual relaxation of the Socialist doctrines. Lutosławski's association with the festival Warsaw Autumn (founded in 1956) and later with the Solidarity labour union (initiated in 1980) show that apart from pursuing his rather radical musical modernism, the composer was also acutely aware of his social status as one the foremost progressive artists on the East of the Berlin Wall.
This one album encompasses the complete output for violin and piano of two significant composers. In duration, at least, it's clearly a small part of their output. Do you think this particular format allows for the expression of sentiments and ideas that don't work well in orchestral or chamber-ensemble music?
MICHAEL: Both composers have such a miraculous gift for texture and timbre in their writing and, as a result, it is often almost orchestral colouring that they manage to create in these duo works. That said, the comparatively limited forces of a piano and violin mean that the intensity of expression can, in its concentration, indeed be actually heightened and intensified. We were privileged to perform Penderecki's Sonata No. 1 in the presence of the composer at the Purcell Room, for a concert arranged by the Park Lane Group, and the one piece of advice he gave us after the rehearsal was to play with total commitment from beginning to end, never slackening off the intensity. We often hear from our audiences that there is an immediacy to the emotional message of both these composers' duo works; they speak directly and uncompromisingly to the listener and, with often shorter structures than in these composers' larger orchestral works, there is no room for any sense of passivity in the performance attitude.
The Largo of Lutosławski's Partita is remarkable for its lyricism and for a kind of tragic intensity – do you think there's something in the theory that he was processing, in part, the upheavals and traumas of his earlier years through music here?
MAKSIM: It is true that Lutosławski's early life was full of hardship: during World War II he was captured by the German army yet managed to escape en route to the prison camp and walked over 250 miles back to Warsaw where he eventually began playing entertainment music in cafés to earn a living. He also created a piano duo with Andrzej Panufnik at the time and composed the first version of the work that later became the famous Paganini Variations. Lutosławski's early works were influenced by Polish folk music (perhaps not in a way of appropriation but that of integration similar to Béla Bartók's approach) and later in life he acted as a protagonist for the cultural freedom of his native country, so seeing it oppressed by various political forces throughout his life would not have been easy. There is a heightened sense of drama throughout the 'Largo', and a deeply touching narrative of humane tragedy which culminates in a powerful emotional climax at the end of the movement.
Although it's an oversimplification to ignore the cycles of relative freedom and relative constraint during the Socialist era, two of these works undeniably stand out in that they were written after its end – during a moment of optimism for the future of Poland, Europe and perhaps the world in general. Does this come across in the music itself, for you?
MICHAEL: Lutosławski's 'Subito' is a short, virtuoso work commissioned for the Indianapolis Violin Competition of 1994. As one would expect from the title, it is an explosive work, but undeniably carries itself more lightly than the Partita that precedes it by ten years. Consistently popular with young concert violinists since, one can imagine it as a celebration of youth, the violinists performing in that competition and all those of us who have enjoyed it since. Penderecki's Second Sonata is something else – it is indeed the most recent piece from these collected works, completed on the last day of the twentieth century, but it is not a work of overarching optimism. The most substantial work on the disc, it doesn't set out to celebrate the new generation or the new millennium, but rather seems to address the disturbing realities that dawned with the twenty-first century: a resurfacing of political tensions and restrictions, threats of war and a sense of global uncertainty. We consider it a magnificent, epic work that is a deeply significant addition to the great violin and piano sonatas.
Nicholas Reyland speculates that Penderecki's second sonata seeks, among other things, to heal the "ragged wound" of the anti-tonal modernism that had characterised his earlier career, and somehow to regain what went before. Do you think he succeeds – here or elsewhere?
The work that cemented Penderecki's position as one of the leading avant-garde composers is the uncompromisingly modernist Threnody for the Victims of Hiroshima, composed in 1960. However, there are already signs of conventional tonal harmony in St Luke's Passion (completed in 1966) and most of the composer's ensuing output is characterised by a gradual rejection of radicalism and an embracing of traditional structural patterns. The Second Sonata for Violin and Piano attempts to reconcile various elements of Penderecki's musical language: the culminations in the first and the fourth movements feature his trademark clusters yet many lyrical passages in the Nocturne contain tragic C minor melodies reminiscent of Shostakovich's instrumental works. We feel that these aspects of harmonic and melodic fabric, despite their eclectic origins, are knit together into a complex yet convincing narrative in this work, thanks to the composer's mastery of formal design.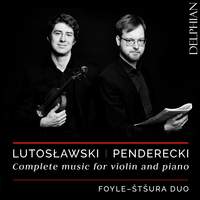 Foyle-Štšura Duo: Michael Foyle (violin) & Maksim Štšura (piano)
Available Formats: CD, MP3, FLAC, Hi-Res FLAC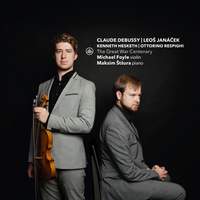 Michael Foyle (violin), Maksim Štšura (piano)
Available Formats: CD, MP3, FLAC, Hi-Res FLAC