10th October 2011
Awards

,

Pavel Haas Quartet the big winners at the Gramophone Awards
This year's Gramophone Awards took place last Thursday at London's Dorchester Hotel. Gramophone put on a really good show, mixing live performances with the giving out of awards and speeches, and while all the artists were clearly thrilled with their awards I found it particularly moving to see Dame Janet Baker so touched by her lifetime achievement award. She seemed in really good health and gave an excellent speech, picking up on the fact that Culture Secretary Ed Vaizey was in the room to point out that young artists aren't supported today like she was in her time. Good on her!
Pavel Haas Quartet
The most coveted award though is always the overall Record of the Year, and this year that went to the Pavel Haas Quartet for their recording of Dvorák's Quartets Nos. 12 (American) and 13. The young Czech Quartet formed in 2002 and this was their fourth recording for their label Supraphon. They are clearly well-liked by the Gramophone critics as all of their previous discs have been nominated for Gramophone Awards, and one of them (their first recording in fact) picked up the Chamber Category Award back in 2007.
This disc has already achieved widespread critical success gaining five-star reviews in the majority of the press and being named first choice when BBC Radio 3's Building a Library programme surveyed all available recordings of the Op. 106 Quartet (No. 13) back in April of this year. But winning the Gramophone Record of the Year is still a big thing and this will really help propel their performance and recording career forward. It is also richly deserved.
The Quartet has an obvious natural affinity with this music and much of the dance-like character common in Dvorak's music is evident throughout. But these aren't purely instinctive performances and the players have clearly spent much time and effort ensuring that the musical line is always to the fore and that all vital musical details (often hidden in inner parts) are always heard. Intonation is spot on throughout and they play with a homogenous but still rich and varied sound throughout. It is one of those paradoxes of good string quartet playing when you want the ensemble to sound as one, but you still want to hear all the individual parts. They achieve that balance brilliantly and also succeed in offering both drive and excitement, but never at the expense of beauty.
It is a terrific recording and would complement any collection. As usual you can listen to sound sample via the link below.
We've set up a special Gramophone Awards page which lists full details of all the winners including all the special awards and the other finalists. Also worth mentioning though is that we've managed to negotiate special prices on the Disc of the Year and indeed all the other category winners and with discounts in some cases close to or even over 50% off it is well worth a look! We're also offering 25% off the Pavel Haas Quartet's back catalogue and that is well worth exploring as well.
---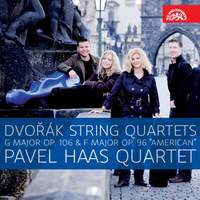 Pavel Haas Quartet
Available Formats: CD, MP3, FLAC