14th December 2018
 Recording of the Week

,

  Stravinsky and Rimsky-Korsakov from Vasily Petrenko and the Liverpool Philharmonic
There may still be twelve days until Christmas, but I'm sure I'm not alone in suffering from a surfeit of festive music already - partly self-inflicted after over-indulging in the many and varied new seasonal releases to come our way this month, and partly thanks to the sugary playlists that are currently being pumped out in shops, bars and adverts ad nauseam. What a joy, then, to hit on today's Recording of the Week, which is akin to being offered the perfect chilly champagne cocktail rather than the ubiquitous mulled wine, and still contains enough fairy-tale wintry sparkle to prevent me from feeling too Grinch-like.
With superb cycles of Shostakovich and Tchaikovsky under their discographical belt, it's become something of a cliché to speak of Vasily Petrenko's Liverpool Philharmonic having become the finest 'Russian' orchestra outside of Russia - but there's certainly nothing hackneyed about their new album of Stravinsky and Rimsky-Korsakov, and as with previous projects their affinity with this repertoire is writ large in every bar. The pairing is an intriguing one, consisting of two early twentieth-century works depicting corrupt leaders who come a cropper thanks to a magical bird: the demonic King Kashchei, whose soul is destroyed by Prince Ivan with the help of the Firebird in a scenario worthy of JK Rowling in Stravinsky's ballet of 1910 (given complete here) and the bumbling, degenerate Tsar Dodon in the compact but comprehensive suite from Rimsky-Korsakov's fantastical 1907 opera Le Coq d'Or, who is gifted a golden cockerel by an Astrologer and is subsequently pecked to death by the bird when he murders him for requesting a favour in return. (The opera remained unperformed during Rimsky-Korsakov's lifetime, and the Suite – which the composer had begun to assemble in the final year of his life - was completed by Glazunov and Maximilian Steinberg shortly after his death).
The sound-worlds of the two pieces are as strikingly similar as the stories which inspired them, with shimmering strings and glittering brass and high percussion conjuring an atmosphere of exoticism and enchantment, and Petrenko's acute ear for balance ensures that every magical detail registers; the Liverpool brass are on pleasingly astringent form right from the opening 'alarm-call' provided by Rimsky-Korsakov's cockerel through to the glorious peroration of The Firebird, ushered in with Zen-like poise by the first horn here. Tempi are generally on the swift side (you'd struggle to find a corps de ballet who could keep pace with Petrenko's helter-skelter Game of the Princesses, I think, but the Liverpool strings rise to the challenge with insouciance), and the clean, spare textures reminded me more than ever of the kinship between this work and Petrushka or even The Rake's Progress: Petrenko seems keen to play up the foreshadowings of Stravinsky's neo-Classical period in the score, most notably in the treatment of The Firebird's final theme, where the first crotchet is lifted slightly at each appearance, so that the effect is poised and almost courtly rather than high-cholesterol Romantic. The organised chaos of Kashchei's oft-excerpted Infernal Dance, taken at breakneck speed but kept lean and taut, also makes a real impact here – I don't think I've ever heard a performance which reminded me quite so much that The Rite of Spring was only just around the corner.
These marvellously vivid depictions of fantastic beasts and where to find them make for enchanting holiday listening: it seems Petrenko and the Liverpool Philharmonic went through quite an ornithological phase in late 2017, and I do hope that the similarly avian works by Delius, Respighi and Korngold which they programmed alongside The Firebird also find their way onto disc at some point. In the meantime, this recording's given me the push I needed to investigate the DVD of the complete Coq d'Or from La Monnaie which was released on Bel Air earlier this year: that's my Boxing Day viewing all sorted…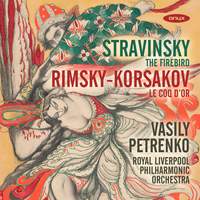 Royal Liverpool Philharmonic Orchestra, Vasily Petrenko
Available Formats: CD, MP3, FLAC, Hi-Res FLAC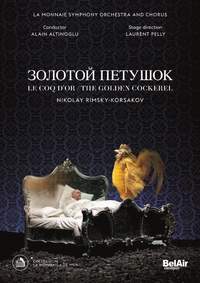 Pavlo Hunka, Alexey Dolgov, Konstantin Shushakov, Alexander Vassiliev, Agnes Zwierko, Alexander Kravets, Venera Gimadieva, Sheva Tehoval, Sarah Demarthe
Orchestre Symphonique et Chœurs de la Monnaie, Alain Altinoglu, Laurent Pelly
Available Format: DVD Video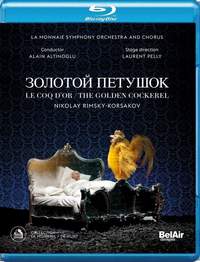 Pavlo Hunka, Alexey Dolgov, Konstantin Shushakov, Alexander Vassiliev, Agnes Zwierko, Alexander Kravets, Venera Gimadieva, Sheva Tehoval, Sarah Demarthe
Orchestre Symphonique et Chœurs de la Monnaie, Alain Altinoglu, Laurent Pelly
Available Format: Blu-ray