US deliveries: Unfortunately we are receiving reports that some US orders are taking longer than usual to arrive. Find out more >>
Latest update: Changes to international postage charges. Find out more
7th December 2018
 Recording of the Week

,

  François-Xavier Roth conducts orchestral works by Debussy
Conductor François-Xavier Roth and the musicians in his period-instrument orchestra, Les Siècles, are certainly no strangers to praise from us here at Presto: back in April my colleague Katherine enjoyed the differences in timbre and texture that the ensemble's gut strings and authentic woodwind instruments brought to the music of Ravel. Now to cap the centenary year of Debussy's death, they bring the same sensibility to a disc of orchestral music by the latter composer.
You might think that it would hardly make much difference to the sound given that we are only talking about instruments from around the beginning of the twentieth century, and yet the change in sonority that these instruments allow is immediately apparent: right from the very opening bars of the Prélude à l'après-midi d'un faune it was clear to me that this was not going to be just another run-of-the-mill performance. The veiled huskiness of the solo flute is quite striking; perhaps less immediately sensuous than one might be used to hearing, and yet here it takes on an earthy, elemental quality that makes it seem as if has been conjured into being by Nature itself. It contrasts pleasingly with the tangy, trombone-like bite of the horns and the fruity piquancy of the oboe and bassoon.
Similarly, in the ballet Jeux, the strings take on an almost contradictory simultaneity of shimmering radiance and open transparency of texture, thanks to the gut strings that they use. This also heightens the range of colours that they can provide, not least when Debussy asks for the violas to play "sur le chevalet" (on the bridge), standing out against the warmth of string tone that surrounds these interjections. Of course, I don't wish to give the impression that it is entirely the instruments themselves that are responsible for such an absorbing performance: the musicians respond fabulously to the nuances of Debussy's score, and Roth navigates the rubato and changing pulse with an authority and a flexibility that never feels contrived.
The final work on the disc is the three-movement Nocturnes, where the strings continue their ravishing sound in the opening minutes of Nuages, and where Roth's fine ear for balance is ever-present, bringing out every facet of Debussy's orchestration and scrupulously observing minute difference in dynamics between, for instance, pp and ppp.
The central movement, Fêtes, is taken a notch slower than usual, but this allows Roth to highlight the très rythmé aspect of Debussy's tempo marking by ensuring that all of the accents come through. He also manages to put a fresh spin on the trumpet procession at the centre of this movement by asking the players to use softer mutes and to play much more legato than is traditional in this passage. It put me in mind of the eerie phrases, also for muted trumpets, near the beginning of part two of Stravinsky's Rite of Spring.
This disc is without doubt a confluence of triumphs: Roth and his orchestra add yet another outstanding recording of French music to their estimable discography, so much so that it was an easy decision for us to include it in our Top Ten Recordings of 2018, announced today. More than this, it also brings to a conclusion Harmonia Mundi's series for the Debussy centenary: a veritable slew of impressive releases, including gems such as the three instrumental sonatas (which Katherine also wrote about just last month), and an exquisite performance of the String Quartet by the Jerusalem Quartet (whose virtues I extolled loudly back in May), all of which sit proudly alongside this fine disc from Roth and Les Siècles.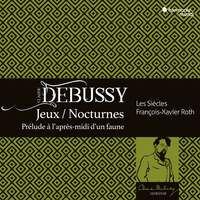 Les Cris de Paris, Les Siècles, François-Xavier Roth
Available Formats: CD + DVD Video, MP3, FLAC, Hi-Res FLAC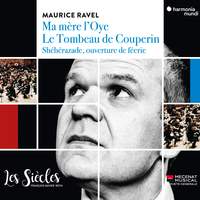 Les Siècles, François-Xavier Roth
Available Formats: CD, MP3, FLAC, Hi-Res FLAC
Harmonia Mundi Debussy Centenary Edition
As well as Roth's new disc of orchestral works, this ten-volume series includes highlights such as the Jerusalem Quartet's impressively dynamic account of the String Quartet, Alexander Melnikov's riveting interpretation of the second book of Préludes, and hypnotic performances of the three instrumental sonatas from Isabelle Faust, Antoine Tamestit, Jean-Guihen Queyras, and others.
The series is on special offer until 14th January.