27th November 2018
 Hi-Res Highlights

,

  Hi-Res Highlights - November 2018
This month's hi-res highlights include Elgar from Sir Andrew Davis and the BBC Symphony Orchestra and Sir Mark Elder and The Hallé, an ingenious arrangement of Rimsky-Korsakov's Scheherazade from violinist Nemanja Radulović, Parry from The Choir of New College Oxford, and a classy bel canto recital from Latvian soprano Marina Rebeka.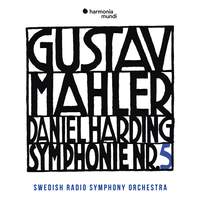 Swedish Radio Symphony Orchestra, Daniel Harding
The second instalment in Harding's Mahler cycle was recently praised in The Times for the conductor's 'forensic precision and an impeccable regard for nuances of phrasing' and in Gramophone for its 'vivid and immediate recorded sound' and 'authentically live, cumulative impact'.
Available Formats: CD, MP3, FLAC, Hi-Res FLAC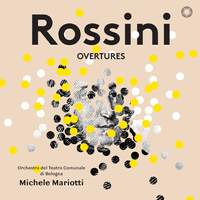 Orchestra del Teatro Comunale di Bologna, Michele Mariotti
Released to mark the 150th anniversary of Rossini's death (which fell earlier this month), this tribute from the orchestra of an opera-house with a long-standing association with his work includes overtures from popular comic operas such as La cenerentola, Il barbiere di Siviglia and L'Italiana in Algeri as well as from lesser-known opera seria including Mathilde di Shabran and Le Siège de Corinthe.
Available Formats: SACD, MP3, FLAC, Hi-Res FLAC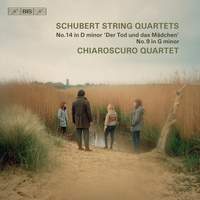 Formed in 2005 and led by Alina Ibragimova, the Chiaroscuro Quartet established themselves as major players with their accounts of Haydn's 'Sun' quartets; this Death and the Maiden is a worthy successor, with The Strad praising its 'brisk fierce beauty' and Gramophone its 'drama of uncomfortable extremes'.
Available Formats: SACD, MP3, FLAC, Hi-Res FLAC
Seong-Jin Cho (piano), Chamber Orchestra of Europe, Yannick Nézet-Séguin
Following his 'unfailingly cultivated' (BBC Music Magazine) account of Chopin's Piano Concerto No. 1 and 'riveting' (The Guardian) Debussy album last autumn, the 24-year-old winner of the 2015 International Chopin Piano Competition records his first Mozart, complementing the D minor Piano Concerto with Piano Sonatas Nos. 3 and 12.
Available Formats: CD, MP3, FLAC, Hi-Res FLAC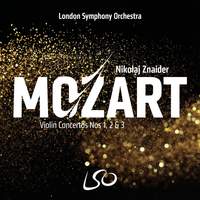 Nikolaj Znaider (violin & conductor), London Symphony Orchestra
The first volume of Znaider's Mozart concertos (directed from the violin) won praise for his 'lovely tone and delicacy of touch' (Sunday Times) and 'compelling freshness' (Classical Music); keep an eye out for Katherine's forthcoming interview with him about these relatively neglected earlier concertos later this month.
Available Formats: SACD, MP3, FLAC, Hi-Res FLAC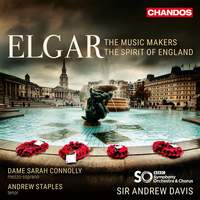 Dame Sarah Connolly, Andrew Staples, BBC Symphony Orchestra & Chorus, Sir Andrew Davis
Following their multi-award-winning Dream of Gerontius (also on Chandos) from 2015, Davis and the BBC forces reunite for two late works for solo voice, chorus and orchestra: the 1912 musical autobiography The Music Makers (for which they are joined by Dame Sarah Connolly, who sang The Angel on Gerontius) and the much less frequently-recorded The Spirit of England from 1917, in which the solo is taken by tenor Andrew Staples.
Available Formats: SACD, MP3, FLAC, Hi-Res FLAC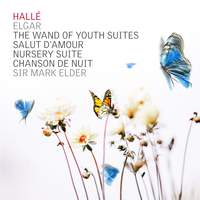 Hallé Orchestra, Sir Mark Elder
Elder and the Hallé also have serious form when it comes to Elgar, with acclaimed recordings of Gerontius, The Kingdom and The Apostles under their belts; now they tackle the two orchestral suites which Elgar compiled from music which he'd written for family theatricals in his childhood, plus the evergreen Salut d'amour and Chanson de Nuit and the late Nursery Suite, which also draws on boyhood sketches.
Available Formats: CD, MP3, FLAC, Hi-Res FLAC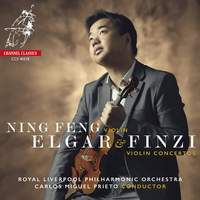 Ning Feng (violin), Royal Liverpool Philharmonic Orchestra, Carlos Miguel Prieto
For his second concerto recording on Channel, the Chinese violinist tackles two early twentieth-century British works: Elgar's hugely popular concerto of 1909, and Gerald Finzi's far less frequently-recorded concerto from the mid-1920s, which languished unperformed for over seventy years after its premiere under Sir Malcolm Sargent.
Available Formats: MP3, FLAC, Hi-Res FLAC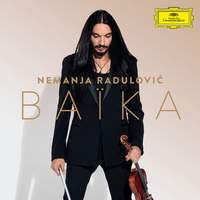 Nemanja Radulovic (violin), Borusan Istanbul Philharmonic Orchestra, Sascha Goetzel
After offering a whistle-stop musical tour through Eastern Europe on his debut solo album Journey East, the Serbian violinist travels further afield to explore fantastic visions of the Orient (the word 'Baïka' is roughly synonymous with 'fairy-tale'), including Khachaturian's Violin Concerto and Clarinet Trio, and an arrangement of Rimsky-Korsakov's Scheherazade for violin, piano and string quartet by Aleksandar Sedlar.
Available Formats: CD, MP3, FLAC, Hi-Res FLAC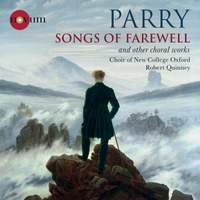 Choir of New College Oxford, Robert Quinney
As well as Parry's late valedictory masterpiece, Quinney and his Oxford choir give the world premiere of an early version of There is an old belief, prepared by the conductor from an autograph manuscript in the Bodleian Library, and the setting of Psalm 150, Hear my words, ye people. Six Mendelssohn motets underscore the influence of German tradition on Parry's choral writing.
Available Formats: CD, MP3, FLAC, Hi-Res FLAC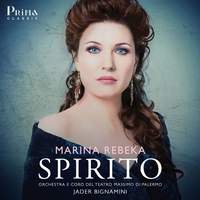 Marina Rebeka (soprano), Orchestra e Coro del Teatro Massimo di Palermo, Jader Bignamini
Following her all-Rossini album Amor fatale (described by Gramophone as 'an impressive Rossinian calling-card from a formidable singer'), the Latvian soprano continues her explorations of bel canto with arias from Donizetti's Maria Stuarda and Anna Bolena, Spontini's La vestale, and Bellini's Il Pirata and Norma; she debuted the latter role to great acclaim at the Metropolitan Opera last October.
Available Format: CD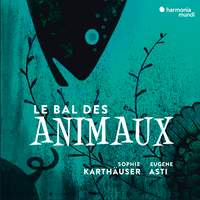 Sophie Karthäuser (soprano), Eugene Asti (piano)
The Belgian soprano and her regular recital-partner present a quirky and delightful programme of French song inspired by the animal kingdom, including Poulenc's Le Bestiaire, and mélodies by composers including Ibert, Ravel, Chabrier, Séverac, Debussy, Lalo and Chausson.
Available Formats: CD, MP3, FLAC, Hi-Res FLAC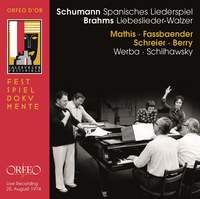 Edith Mathis (soprano), Brigitte Fassbaender (mezzo), Peter Schreier (tenor), Walter Berry (baritone); Paul Schilhawsky (piano), Erik Werba (piano)
Reviews of this all-star recital of vocal chamber-music are rather thin on the ground, as it took place towards the end of the 1974 Festival when the majority of the press had already departed; one notable exception was the Wiener Zeitung critic, who observed that 'one sensed the love of music-making, a musicianship in which everything is right'.
Available Formats: CD, MP3, FLAC, Hi-Res FLAC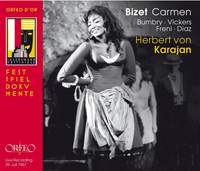 Grace Bumbry (Carmen), Jon Vickers (Don José), Salzburger Festspiele, Herbert von Karajan
Bumbry memorably portrayed Bizet's free-spirited gypsy in Karajan's film version of the opera, released the same year as this live recording from the Salzburg Festival and loosely based on the stage production; the New York Times described her performance as 'the first high point of this year's Festival'. Jon Vickers and Mirella Freni (Micaëla) also returned to their roles on-screen.
Available Formats: 3 CDs, MP3, FLAC, Hi-Res FLAC