28th September 2018
 Recording of the Week

,

  Masaaki Suzuki completes his Bach cantata cycle
This week sees the culmination of a truly monumental project – Masaaki Suzuki's complete cycle of Bach cantatas, begun in 1995. As their survey of the sacred cantatas neared completion in 2004, Suzuki and his Bach Collegium Japan turned to the secular cantatas – but as the last few years have shown, these are very much more than an appendix to the 'real' body of music. They show not only another side to Bach's inventiveness but an important facet of the intellectual life of his time that can easily be overlooked by focusing only on his sacred output. With a variety of themes from the academic to the celebratory and moods from lofty to lowbrow, they're gems hidden in plain sight.
This final volume focuses on two cantatas linked by a common theme described as 'contentment', but with radically different conceptions of that idea. Angenehmes Wiederau, BWV30a, is a thoroughly worldly paean to the lord of the manor at Wiederau (in the vein of the better-known Peasant Cantata) in which Fate, Time and even a personified River Elster all join to wish the local aristocrat health, wealth and happiness. It would obviously be wrong to pretend that these sentiments are on a par with the profundity of Ich habe genug or Vergnügte Ruh, but if one can see past the parochial bathos of the text, there's much to be enjoyed in Bach's response to a seemingly uninspiring brief.
A particular highlight is the bass aria that follows the opening chorus (Dominik Wörner, portraying Fate). Here Bach sets up a mood of stately self-confidence only to punctuate it with brief, tantalising melismatic glimpses of something more elevated as the text (never overtly theistic) alludes to the blessings of a higher power. It's perhaps no surprise that delightful word-painting characterises the tenor aria near the end (Makoto Sakurada as the Elster); the "Tropfen" or "drops" that in the St Matthew Passion inspired the airy flute duet of Buss und Reu here call forth instead a rippling obligato for the oboe d'amore, played with taste (and seemingly inexhaustible reserves of breath) by Masamitsu San'nomiya.
The second cantata, Ich bin in mir vergnügt for soprano solo, takes one look at all this materialist self-congratulation and throws it scornfully out of the window. Its text seems at first glance completely alien to the period – it's a celebration of modest contentment and disdain for worldly goods that seems to have more in common with the Meditations of Marcus Aurelius or the pithy maxims of Confucius than with the industrious merchants and decadent nobles of Enlightenment Europe. However, as the sleeve notes point out, there was quite a fashion for just this kind of affected virtuous humility in Bach's time, giving rise to numerous pamphlets lauding the value of bourgeois prudence, and this is surely why such a seemingly incongruous work came to be.
Despite some weaknesses in the text, Bach's setting is anything but pedestrian; an early aria with double oboe obligato extols the merits of placidly accepting one's rising and falling fortunes with an appropriately introspective mood, while later violin and flute partners join Carolyn Sampson in exploring other facets of the same basic theme. As the cantata moves towards its close, the penultimate arioso seems for a moment to stray into despondency as Sampson observes that "everything temporal will perish… one thing lives, another dies." Neither Bach nor the main librettist Christian Friedrich Hunold are interested in sending us home miserable, however; the final movement ushers such clouds away, bringing all the obligato soloists together with Sampson for a quietly optimistic hymn to "heavenly, divine contentment".
It might seem strange for such a colossal project to end on a relatively anticlimactic note, but there's nothing weak about either of these cantatas, and I can't help suspecting that Suzuki might have saved the Zen-like BWV204 for last on purpose – as a musician who has always been known for his self-effacing approach to Bach, it would be appropriate for him to round off his cantata cycle with an admonition against getting ideas above one's station! Be that as it may, these are two fascinating and absorbing works that can easily stand as equals with any sacred cantata you care to name.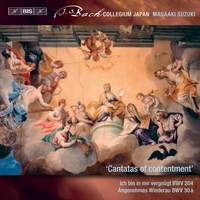 Carolyn Sampson (soprano), Robin Blaze (counter-tenor), Makoto Sakurada (tenor), Dominik Wörner (bass), Bach Collegium Japan Chorus, Masaaki Suzuki
Available Formats: SACD, MP3, FLAC, Hi-Res FLAC