UPDATE: Royal Mail have now resumed shipments on ALL International services but delays should be expected, please choose FEDEX if your order is urgent.
25th August 2018
Favourites

,

Leonard Bernstein
The American composer and conductor Leonard Bernstein would have been 100 today, and since the beginning of the year there's been a steady stream of tributes to the great man in the form of archive reissues and fresh recordings of rarities and classics alike; almost everyone in the Presto office has discovered at least two or three works for the first time as a result, so I thought I'd mark the occasion by putting together a few favourites old and new! As my colleague Katherine wrote about two excellent recent recordings of the symphonies at length in yesterday's newsletter, I've decided to focus on the rest of Bernstein's output – including the shorter works for orchestra, the choral compositions, and his music-theatre works.
Orchestral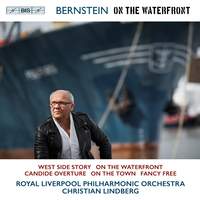 Royal Liverpool Philharmonic Orchestra, Christian Lindberg
Lindberg and his Liverpool players capture the menacing but mesmerising atmosphere of Bernstein's score for Elia Kazan's 1954 thriller to perfection, and are equally evocative in three dances from the 1944 ballet Fancy Free, the Symphonic Dances from West Side Story (which the composer compiled three years after the show premiered), and the sparkling Overture from Candide.
Available Formats: SACD, MP3, FLAC, Hi-Res FLAC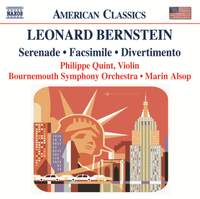 Philippe Quint (violin), Bournemouth Symphony Orchestra, Marin Alsop
A violin concerto in all but name, Bernstein's Serenade after Plato's Symposium has much in common with the Hollywoodesque sound-world of Korngold's concerto from nine years earlier, and Alsop and Quint get its balance of swing and sentiment just right; Facsimile, a 'choreographic essay for orchestra' written shortly after On The Town, and the late Divertimento from 1980 receive equally persuasive performances.
Available Formats: CD, MP3, FLAC, Hi-Res FLAC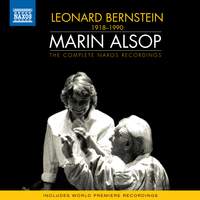 As well as the complete symphonies and major choral works, this great-value box of recordings by Bernstein's protegée includes relative rarities such as the 1600 Pennsylvania Avenue Suite (1976), Slava! A Political Overture and CBS Music (both 1977), plus tributes to Bernstein from composers including Luciano Berio, Lukas Foss, John Corigliano, John Williams, William Schuman and Toru Takemitsu.
Available Format: 8 CDs + 1 DVD Video
Vocal & Choral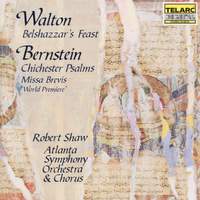 Atlanta Symphony Orchestra, Robert Shaw
Written two years after the Kaddish Symphony (which also includes settings of Hebrew texts), the Chichester Psalms offers a far less conflicted and turbulent perspective on religious faith and receives a performance of luminous clarity on Shaw's Grammy-winning account from 1989; the album also includes the world premiere recording of the Missa brevis, which Shaw commissioned earlier that year and was one of Bernstein's final compositions.
Available Format: CD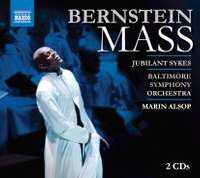 Jubilant Sykes, Baltimore Symphony Orchestra, Marin Alsop
Commissioned by Jacqueline Kennedy Onassis for the opening of the Kennedy Center for Performing Arts in 1971, Mass is one of Bernstein's most eclectic and ambitious works, requiring rock musicians, a marching band, two orchestras and choir - its theatrical and political charge comes across strongly in Alsop's 2008 recording, with Jubilant Sykes charismatic and authoritative as the Celebrant.
Available Formats: 2 CDs, MP3, FLAC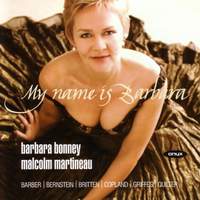 Barbara Bonney (soprano), Malcolm Martineau (piano)
Bernstein composed his 'cycle of five kid songs' in 1943 for Jennie Tourel, the American mezzo who would sing in the premiere of his Jeremiah Symphony the following year; Bonney's light soprano might be a very different instrument, but she and Martineau have the quirky humour and charm of the pieces down pat on this album – which also includes songs by Bernstein's friend and mentor Aaron Copland.
Available Formats: CD, MP3, FLAC
Music Theatre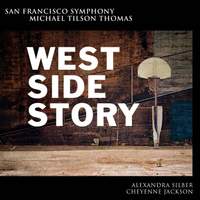 Alexandra Silber, Cheyenne Jackson, Jessica Vosk, Kevin Vortmann; San Francisco Symphony Orchestra, Michael Tilson Thomas
Tilson Thomas, who was mentored by Bernstein and has championed his music throughout his own career, uses what he describes as 'the Broadway orchestration, beefed up a little' and a youthful-sounding pair of music-theatre singers as star-crossed lovers Tony and Maria – the effect is lither and more urbane than Bernstein's own 1984 recording with Kiri Te Kanawa and José Carreras.
Available Format: 2 SACDs
This behind-the-scenes documentary from 1984 charts the trials and tribulations of Bernstein's studio recording of his best-known work, with a largely operatic cast and a hand-picked orchestra which mixes classical and jazz musicians; it offers an unsentimentalised picture of the 'tired and ageing maestro' (Bernstein's own rueful self-description to camera) in all his perfectionism and irascibility, particularly in the fraught scenes involving the young José Carreras (cast against type as all-American hero Tony, a role in which Bernstein had originally envisaged jerry Hadley).
Available Format: DVD Video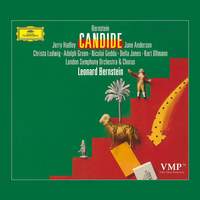 Jerry Hadley, June Anderson, Adolph Green, Christa Ludwig, Nicolai Gedda; London Symphony Orchestra & Chorus, Leonard Bernstein
Bernstein's Voltaire-inspired operetta of 1956 responds better to the all-star operatic treatment than West Side Story on this appropriately glittering recording, made at Abbey Road in the final year of the composer's life: bel canto diva June Anderson dazzles in Cunegonde's coloratura, Christa Ludwig has a whale of a time as the polyglot Old Lady, and lyricist Adolph Green (who collaborated with Bernstein on On The Town) is the hero's mentor Pangloss.
Available Format: 2 CDs + DVD Video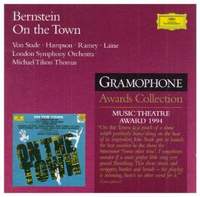 Thomas Hampson, Samuel Ramey, Kurt Ollmann, Frederica von Stade; London Symphony Orchestra, Michael Tilson Thomas
Recorded from semi-staged performances in 1992, this rip-roaring account of the 1944 tale of three American sailors on shore-leave mixes operatic and music-theatre performers to dazzling effect: Thomas Hampson stars as the sailors' ring-leader Gabey, Frederica von Stade as lovelorn anthropologist Claire, and jazz legend Cleo Laine pops up in a cameo role as a nightclub-singer!
Available Formats: Presto CD, MP3, FLAC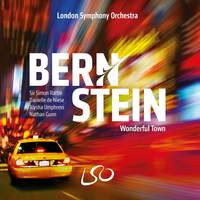 Danielle de Niese, Alysha Umphress, Nathan Gunn; London Symphony Orchestra, Sir Simon Rattle
Rattle first recorded this 1953 love-letter to The Big Apple (which was written in just five weeks and centres on two sisters from Ohio who head to New York in search of love and artistic success) in the late 1990s, but this forthcoming live recording from late 2017 is the one to have, thanks to the louche LSO brass, the sensational double-act of Umphress and De Niese, and the superb line-up of young male opera-singers multi-tasking for all their worth in the bit-parts.
Available Format: SACD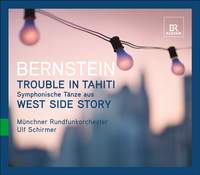 Kim Criswell, Rod Gilfry; Münchner Rundfunkorchester, Ulf Schirmer
Bernstein composed both music and libretto for this one-act opera from 1952, which has echoes of Aaron Copland; witty and bleak by turns, it centres on a unhappily-married couple in American suburbia and their realisation that real life falls short of the exotic fantasies peddled by Hollywood. Broadway diva Kim Criswell is sassy and sympathetic as frustrated housewife Dinah.
Available Formats: CD, MP3, FLAC