17th August 2018
 Recording of the Week

,

  Yo-Yo Ma records Bach's Cello Suites for the third and final time
Yo-Yo Ma's declaration that Bach's Cello Suites have been his 'constant musical companions' is far more than a mere marketing strapline for his third (and, he insists, final) recording of the works. The Chinese-American cellist first recorded the Suites in 1984 when he was still in his twenties, which he now self-deprecatingly describes as 'a somewhat brazen idea' (though many critics disagreed – the recording won the award for Best Classical Instrumental Recording at the following year's Grammys), and set them down again in his late forties as part of the multi-media project Inspired by Bach which saw him collaborating with a Kabuki actor, an architect, and the ice-skaters Torvill and Dean on six short films viewing Bach's music through the lens of other art-forms as well as culminating in a conventional audio recording. In 2015 he performed the complete suites in a single sitting at a Late Night Prom – a feat which he intends to repeat around the world over the next year.
Even without prepping myself by revisiting those earlier recordings, I realised within seconds just how radically Ma's conception of this music has evolved over the past three decades and how deeply ingrained his previous interpretations are in my musical memory – I was just starting my own journey as a string-player when his first recording appeared on cassette in my local library back in the late 1980s, and my humble beginnings in the record-industry (as a Saturday-girl in a classical CD department) coincided with the release of the second. From the opening bars of the famous G major prelude, it's apparent that this 'last will and testament' is worlds away from either the clean-cut brio of his 1980s reading or the more expansive, almost Romantic sound-world of its successor: what we hear now is something altogether more improvisatory and introspective, as if Ma is conjuring the music into being for the very first time rather than returning to works which have been central to his repertoire for nearly fifty years.
There's an overwhelming sense of freedom to his playing here, both in terms of phrasing and even the basic sonorities themselves: the recording acoustic (closer and drier than that of its immediate forerunner) plays its part, but rather than consciously nurturing the tone with either hand Ma now simply allows the sound to blossom and decay as it will, something that's particularly evident in the final notes of each movement which often prompted a valedictory flourish on his earlier recordings. And whilst the basic tempi themselves are rarely radically different from his previous ones, there's now far greater licence within them: I hesitate to use the word 'rubato', as it suggests something altogether more indulgent and Romantic than what's going on here, but the old cliché about playing without bar-lines has rarely seemed more apt. Time and again Ma gives the impression of being taken pleasantly by surprise by Bach's harmonic twists and turns, and allowing himself and his audience breathing-space to marvel at each one.
Another thing which struck me when I was inevitably drawn into comparing and contrasting individual movements with the earlier recordings was Ma's new disinclination to play down the works' technical demands: he no longer seeks to paper over the cracks when it comes to string-crossing and register-shifts, and though these are supremely unselfconscious readings in terms of interpretation, he makes us constantly aware of the physicality behind the playing, with percussive fingerboard-noise adding to the effect of the music rather than detracting from it and even audible breathing occasionally in evidence (particularly in the Fifth Suite). He also embraces a far wider, almost Expressionistic range of sonorities now, rather than pursuing beauty of tone for its own sake: 'reorchestrated' may seem a peculiar word to use about works for a solo instrument, but it was one which popped into my head time and again as he conjures up the sound of a hurdy-gurdy in the Sarabande of the Fourth Suite and the second Gavotte of the Sixth, or even of a 2Cellos-style electric instrument in the Gigue of the Third.
These 'Six Evolutions', then, are essential listening for devotees of Ma's older recordings as well as for anyone eager to experience Bach's masterpiece in all their infinite variety in interpretations entirely devoid of ego.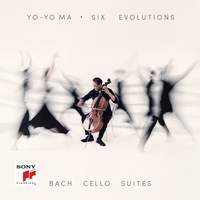 Yo-Yo Ma (cello)
Available Formats: 2 CDs, MP3, FLAC, Hi-Res FLAC