27th July 2018
 Recording of the Week

,

  Wagner's Die Meistersinger from Bayreuth, directed by Barrie Kosky
Wagner's Die Meistersinger is my Desert Island Opera, and the maverick Australian Barrie Kosky is currently one of my Desert Island directors (if such a thing were covered by Radio 4's rules), so his new production for Bayreuth last summer has been on my watch-list since the DVD release was announced almost a year ago.
Kosky takes the bold step of putting Wagner himself literally centre-stage: we open in Wagner's home, Wahnfried, with the composer fussing extravagantly over silks and perfumes, his wife Cosima battling a migraine, and his father-in-law Liszt arriving to play through a piano-duet version of the Prelude with the composer whilst the Jewish conductor Hermann Levi sits awkwardly on the side-lines. It's then full steam ahead for a domestic read-through of the entire score, with Cosima as Eva, Liszt as her father Pogner, a reluctant Levi as Beckmesser, and of course Wagner himself as Hans Sachs; the hot-headed young knight Walther becomes one of several versions of the composer's younger self who populate the stage.
At first, I kicked against the concept. The identification of the avuncular, modest cobbler-poet Sachs with the egotistical composer himself (and the production doesn't gloss over his nastier qualities) unsettled me until I realised that the process works both ways: Kosky invites us to warm to Wagner the craftsman at the same time as confronting his flaws as a human being. It all culminates in an astonishing final act in which Nuremberg itself at last comes into play: not Wagner's gemütlich chocolate-box version of the city, but the notorious courtroom of 1945, with the composer literally on trial for the anti-Semitic ideology and militant nationalism which many (including Hitler himself) seized upon in his work. (Kosky takes Sachs's line 'Ich bin verklagt und muß besteh'n' ['I am accused and must stand trial'] as his cue). I won't reveal the verdict, but it's sensitively and powerfully handled by Kosky (the first Jewish director of the piece at Bayreuth).
The cast is a mixture of Bayreuth veterans and debutants, and both camps cover themselves in glory: the newcomers include Daniel Behle, whose David is a Walther-in-waiting in more than one respect (the production portrays him as yet another version of Wagner's younger self, and his physical and vocal similarity to Klaus Florian Vogt's Walther is played to the hilt). And I loved the line-up of youthful, presumably newly-qualified Meistersingers – special mention for Hans Folz, making no attempt to hide his thumping great crush on Walther.
Meanwhile, the old hands palpably live and breathe this music, committing 100% to Kosky's reimagining of their characters and adapting their approach to the score accordingly: Johannes Martin Kränzle, well established as one of today's leading Beckmessers, allows himself more lyricism and tonal warmth than usual in deference to Kosky's sympathetic take on the pedantic town clerk, whereas Anne Schwanewilms (whose black-clad, slightly manic Eva never really stops being Cosima) is appropriately spikier and less vocally luminous than the norm.
At the heart of it all is Michael Volle's towering interpretation of Sachs/Wagner: he inhabits both personae with tremendous authority, slipping almost imperceptibly between the two in places, and his pacing of this mammoth role is appropriately masterly (not even the slightest sign of fatigue or barking in the final monologue, sung here as the impassioned self-defence of a man acknowledging his manifold sins and wickedness but also his supreme achievements). He's also a mesmerising screen-actor, particularly in the long prelude to Act Three where the camera is trained unflinchingly on his face as he sits alone in court re-evaluating his legacy and searching his conscience. (I'm sure I won't be the only viewer to be put in mind of A Few Good Men here, given the courtroom setting and Volle's striking resemblance to Jack Nicholson).
As you'll have gathered, this isn't a production that will cure any allergies to Regietheater (if you're after a fresh but traditional Meistersinger, hie thee to our Opera Sale for David McVicar's gorgeous Glyndebourne production from 2011), but it's an immensely thought-provoking and ultimately very moving take on this most conflicted of operas. I've been turning it over in my mind all week, and want to show it to every Wagner fan I know.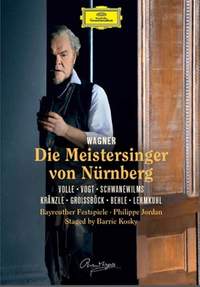 Michael Volle (Hans Sachs), Klaus Florian Vogt (Walther von Stolzing), Johannes Martin Kränzle (Beckmesser), Anne Schwanewilms (Eva), Daniel Behle (David), Wiebke Lehmkuhl (Magdalene), Günther Groissböck (Pogner)
Bayreuth Festival, Philippe Jordan, Barrie Kosky
Available Format: 2 DVD Videos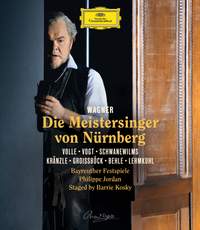 Michael Volle (Hans Sachs), Klaus Florian Vogt (Walther von Stolzing), Johannes Martin Kränzle (Beckmesser), Anne Schwanewilms (Eva), Daniel Behle (David), Wiebke Lehmkuhl (Magdalene), Günther Groissböck (Pogner)
Bayreuth Festival, Philippe Jordan, Barrie Kosky
Available Format: Blu-ray