30th May 2011
 Recording of the Week

,

  Beethoven's Diabelli Variations from Paul Lewis
Over recent years Paul Lewis has built a reputation as one of the greatest pianists of our time, and a significant amount of that success must go down to his superb performances and recordings of the works of Beethoven. His recordings of the 32 Piano Sonatas (2005-7) won him numerous awards including the Gramophone Record of the Year (2008), and last year he became the first pianist ever to play all five Concertos during one Proms season. The CD release of the Concertos also achieved similar rapturous praise from all around the world. It is therefore not surprising that he has now turned his attention to Beethoven's one other truly great piano work – the Diabelli Variations.
Paul Lewis
Written between 1819 and 1823 the Diabelli Variations post-date all the Concertos and most of the Piano Sonatas. He was prompted to write them by the composer and publisher Anton Diabelli, who had written an unassuming little waltz theme and asked a number of composers (including Schubert and Hummel as well as Beethoven) to all compose one variation on it. Diabelli's plan was to then collect them into a single volume and publish them (I guess mainly as a promotional tool for his publishing company). Beethoven rather exceeded the brief writing 33 variations and in the process created one of the supreme masterpieces of the piano literature – in fact pianist Alfred Brendel goes as far as to describe it as "the greatest of all piano works".
It is an incredible work, not least because it departs so radically from what was previously expected in a set of variations. As Brendel writes in his book Alfred Brendel On Music:
"The theme has ceased to reign over its unruly offspring. Rather, the variations decide what the theme may have to offer them. Instead of being confirmed, adorned and glorified, it is improved, parodied, ridiculed, disclaimed, transfigured, mourned, stamped out and finally uplifted"
As you would guess a successful interpretation needs to be able to mix dramatic intensity with calmness and poetic beauty. It requires a massive dynamic range and a wide variety of colours. Meanwhile the pianist must never lose sight of the bigger picture but must be able to bring out the character of each variation individually. Paul Lewis really excels in this music whether it is the humour of Variation X, the exuberance of Variation XVI, or the grief of Variation XXIX. The fugues are carefully and clearly constructed, and Beethoven's meticulous articulation and dynamic markings watchfully followed and where appropriate strongly emphasised. It is a really impressive performance. With technically mastery taken for granted, it is all about communicating the drama and poetic beauty of the music and here Paul Lewis is right up there with the very best on record.
Very highly recommended.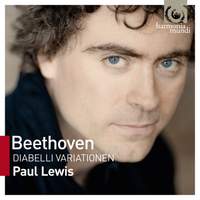 Paul Lewis (piano)
Available Formats: MP3, FLAC, Hi-Res FLAC