28th May 2018
 Interview

,

  Paweł Łukaszewski on Daylight Declines
Mention the words "vocal" and "Poland" to most classical fans and they'll probably think of Henryk Górecki, who shot to stardom in the early '90s with his Symfonia pieśni żałosnych or Symphony of Sorrowful Songs. However, Górecki is very much the tip of the iceberg; since the fall of Soviet rule Poland has seen a great flourishing of new compositions, many (though not all) reflecting a resurgence of long-suppressed Catholic faith.
Front and centre of this new renaissance is Paweł Łukaszewski, part of a generation of banner-bearers for a renewed tonality and spirituality in music - a trend that looks both back and forward. His music has been garnering increasing attention in recent years, not least from renowned English choir Tenebrae, who recently devoted an entire album to his mostly sacred choral works. I spoke to Paweł about this new release, and about his thoughts on Polish music today.
The Tenebrae Responsories and Lamentations have been a rich inspiration to composers for centuries; what in particular attracted you to these texts, and are there any previous settings of these words which particularly influenced your own compositions?
First and foremost it's a question of music for Lent. This has been a focus of my activity as a composer for some time: I composed Via Crucis, a big oratorio, about eighteen years ago, which was recorded by Stephen Layton, the Britten Sinfonia and Polyphony on Hyperion. After this I composed the Tenebrae Responsories, which were commissioned by the King's Singers. I had this marvellous phone call from David Hurley [then singing countertenor with the group], and he asked me whether I wanted to compose for them. After Krzysztof Penderecki I was only the second Polish composer to write for the ensemble, and they gave me a free choice as to what I would compose.
I was already familiar with the Liturgy for Holy Friday and Holy Saturday, so it was natural for me to turn to this Holy Week repertoire and compose the Tenebrae setting. It has such famous texts (O vos omnes and so on), and David had sent me some CDs of other similar works, including Gesualdo's setting of that text. When I was composing these pieces I realised that they wouldn't be "popular": once you look beyond the era of early music, Tenebrae settings are not very common. There is of course Casals' setting of O vos omnes, which is very famous (I was also a cellist, so a work by a fellow cellist is particularly special for me).
The Lamentations, which again is a Lenten text, was commissioned by Wrocław Philharmonic Choir, who sang with Paul McCreesh when he was directing the Wratislavia Cantans Festival. The first performance was in Wrocław but I was a bit disappointed that it didn't take place in a church; for me, this kind of sacred music should always be performed in a church.
Some support for this recording came from Adam Mickiewicz Institute, which promotes Polish culture in the UK and worldwide. Do you see yourself as part of a particularly Polish musical tradition?
Yes, I think so. I'm the generation after the big names such as Penderecki, or Górecki, best known for his Third Symphony and the large-scale choral work Totus Tuus. But also there's Wojciech Kilar, who composed many symphonies and concertos but film music too (Coppola's Dracula in 1993, for instance), and of course Lutosławski, who was a little earlier than the others. A particularly special moment in Polish music was the election of John Paul II as Pope in 1978 – it was after this that Górecki composed Totus Tuus, his Church Songs and Marian Songs and so on. For me, though, the tradition also extends to composers like Poulenc. I feel I am part of a line of composers: Mendelssohn, Brahms, Bruckner and Poulenc all wrote in this tradition of sacred choral pieces. Penderecki's style, on the other hand, is very different from mine; he was always a big star in Poland, and in the field of sacred music he's somewhat unique. His St Luke Passion was composed immediately after the [1965] Letter of Reconciliation sent by Polish bishops to their German counterparts – the first major sacred piece composed in Poland after the Second World War, picking up where Szymanowski's Stabat Mater had left off. After the election of the Pope, Górecki composed his Beatus vir, another important milestone for Polish sacred music.
Coming after such a succession of well-known names, it wasn't so easy to be a composer in Poland – and particularly in the wake of the avant-garde movement. Personally I'm not a big fan of avant-garde music. It can be interesting for students (including my own at the Fryderyk Chopin University), but it's not for people. I felt that we needed works, not just pieces (in Polish there's a difference, a piece being a smaller composition): works to stand alongside Schoenberg's Friede auf Erden or Strauss' Der Abend. So I started to compose sets of this kind of music – the Tenebrae settings are a set of five, totalling twenty minutes, and the Lamentations again something like eighteen minutes. For choral music, this is a lot.
All the works on this disc are recent compositions – none predate the 2010s. Many other composers are writing choral works for groups such as Tenebrae to perform; do you think we are in the middle of a Golden Age for contemporary choral music?
It's certainly a very good time for me personally! This disc is the culmination of my last eight years as a composer – all new works, and coming ten years after my first disc on Hyperion, which contained smaller pieces including a set of Advent Antiphons. After this disc I had a lot of commissions, both from Poland and abroad, and was approached by a number of publishers like Chester Novello, Panamusica in Japan and Walton in the United States. All these recent pieces have been commissioned by well-known choirs – The King's Singers, Salt Lake Vocal Artists, and Beati was composed for a men's choir from Finland. This latest album's music is not necessarily easy (it wouldn't be practical for parish choirs or perhaps even universities) but it's another strand of my composing, not just small choral pieces but larger sets. To work with Tenebrae, in particular, is fantastic: it's a miracle for me to have this opportunity, and the support from the Adam Mickiewicz Institute to make it possible.
Some other post-Soviet composers – particularly Arvo Pärt – seem to have deliberately embraced sacred music as soon as the lifting of state-atheist restrictions allowed them to do so, and in your case your own birthplace of Częstochowa is a Catholic pilgrimage site. Is there an element in your music of reconnecting with that aspect of Poland's culture?
Oh, I think so. Poland of course is 95% Catholic, but I think it's probably a very similar situation to Pärt in Estonia: sacred music, or sacredness in music, is a goal for us. We compose music which can be sacred, be it a large work or just a single-page piece of a few bars, and it's impossible to say for definite in advance which pieces will end up having this quality: you can't sit down and say "now I will compose a sacred piece". I think ultimately God takes a hand – for Arvo Pärt, at least, maybe not for me! In the West there was also John Tavener, and of course Górecki also falls under this same heading.
At the end of the day I think composing this sacred choral music is a key part of my life.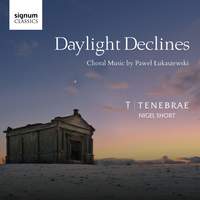 Daylight Declines is released on Signum on 1st June.
Available Formats: CD, MP3, FLAC, Hi-Res FLAC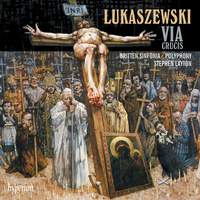 Polyphony & Britten Sinfonia, Stephen Layton
'This devotional piece, which makes a noble addition to the music of Passiontide, could be seen as a reflection on Pawel Lukaszewski's native Poland and Catholicism's triumph over communism. Whatever its genesis, there is no denying the beauty of the choral writing and the sincerity of faith which lies behind it.' (The Observer)
Available Formats: CD, MP3, FLAC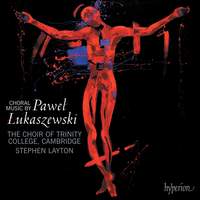 The Choir of Trinity College, Cambridge, Stephen Layton
'A superlative issue in every way. This inspired music by the contemporary Polish composer employs a convincing language of 'renewed tonality' in its impassioned response to the traditional liturgical texts … these young Cambridge singers bring a technical mastery and total commitment to this vibrant music.' (Choir & Organ)
Available Formats: CD, MP3, FLAC