9th March 2018
 Recording of the Week

,

  Music by Florent Schmitt conducted by Sakari Oramo
Born eight years after Debussy and five before Ravel, Florent Schmitt has been variously described as "the most important French composer you've never heard of" and "the missing link between Ravel and Milhaud". Although celebrated during his lifetime (in 1900 he won first prize in the coveted Prix de Rome for his cantata, Sémiramis), his music has largely fallen out of favour since then. However, an immensely appealing new recording from the BBC Symphony Orchestra under Sakari Oramo should go some way towards redressing that.
One of the wealthier Parisian arts patrons during the early twentieth century was Ida Rubinstein, heiress to a sugar fortune and a former dancer with Diaghilev's Ballets Russes. She had left that company to set up her own, and was responsible for the commissioning of various works including Debussy's Le Martyre de saint Sébastien, Stravinsky's Le baiser de la fée, and Ravel's Boléro. In 1920 she organised at the Paris Opéra a version of Shakespeare's Antony and Cleopatra (with herself in the latter role), translated into French and with the interpolation of several ballet scenes.
Although the evening itself may not have been a roaring triumph (there were reports that the dialogue of the two lead performers was often drowned out by an especially obstreperous white peacock that had been incorporated into the proceedings), one high point was Florent Schmitt's music. Much as Ravel had done for Daphnis et Chloé, Schmitt subsequently fashioned two suites from the ballet music, which are all that survive today.
His music for Antoine et Cléopâtre is wonderfully evocative and sumptuous, like a cross between Debussy and Richard Strauss, and it came as no surprise to me to learn that he was a student of composition under Massenet and Fauré at the Paris Conservatoire, with the musical language of operas such as Thaïs very much coming to mind. There is plenty of delightfully enchanting music, particularly the exotic cor anglais solos accompanied by mysterious celeste in the movement depicting a nocturnal scene in the Queen's palace, followed by a ravishing passage for muted upper strings, beautifully performed by the BBC players.
Other sections of the orchestra get their chance to shine too, not least in the Pompey's Camp movement, an extended sequence for brass and percussion alone that is quite thrilling, and which in some of its musical gestures almost anticipates some of the film scores written for historical epics from the 50s and 60s like Miklós Rózsa's Ben-Hur or Alex North's music for films such as Spartacus and (appropriately enough) Cleopatra. There are many demanding sections, nowhere more so than the movement representing the Battle of Actium, a rhythmically fiendish passage largely in a very fast 5/8 metre, which is despatched with seemingly effortless aplomb by the orchestra. Similarly, the Orgie et Danses movement offers a tour de force from the BBC players, with the manic woodwind outbursts highly reminiscent of the Dance of the Seven Veils from Strauss's Salome.
These captivating suites are coupled with a much later work, Symphony No. 2 (completed in 1957 just a year before Schmitt's death). It's quite different in style to the ballet, and for me the highlight is certainly the central slow movement, with broodingly dark contributions from cellos, double basses, bassoon and bass clarinet at the start, and some pleasingly scrunchy chords later on! Keeping a firm hand on the proceedings is Sakari Oramo, who is a most persuasive advocate of Schmitt's music; it's clear that he adores this music and revels in the lush harmonies on offer. My colleague Katherine was fortunate enough to be able to speak to him recently regarding this project, so look out for her interview on the website coming soon!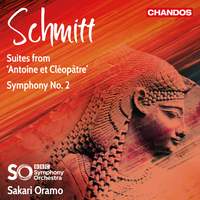 BBC Symphony Orchestra, Sakari Oramo
Available Formats: SACD, MP3, FLAC, Hi-Res FLAC