US Airmail Charges: As a knock-on effect of COVID-19 airfreight prices around the world have soared. Reluctantly, we have had to pass on some of this increase in our standard airmail prices. We'll bring them down again as soon as we can!
19th December 2017
 Interview

,

  Susan Orlando on Naïve's Vivaldi Edition
After a hiatus of two years, the celebrated Vivaldi Edition on Naïve classique returns in a blaze of glory this week with a vibrant new recording of the 1734 pastoral opera Dorilla in Tempe, conducted by Diego Fasolis and with a cast including Romina Basso, Serena Malfi (currently starring as Cherubino in the Metropolitan Opera's new Nozze di Figaro) and Sonia Prina. I spoke to Susan Orlando, one of the driving forces behind this extraordinary enterprise, about the genesis of the project, the compositional history of Dorilla, and recording plans for the immediate future.
It's been a couple of years since the last instalment of the wonderful Vivaldi Edition on Naive - could you tell me a little about the genesis of the project, and about the history of Dorilla in Tempe?
The mission of the Vivaldi Edition Project is to record all 450 works that have been housed in the National Library in Turin since 1930 - much of it unknown, but above all the operas . (There are works in other genres which are totally unknown too, but the operas are really major, and we've released one every year). The original score of Dorilla is lost, so what we've got here is the revised version from a decade later, which is actually a pasticcio opera: it's not all Vivaldi. He'd originally performed Dorilla with all his own music, in the 1720s - but by the 1730s Neapolitan operas were becoming very popular, so he asked various Neapolitan composers to write arias as replacements for some of his own music. (Handel was doing the same thing in London, at exactly the same time, and in fact he enlisted these same Neapolitan composers!).
There are eight insertion-arias in total, by four other composers: Leonardo Leo, Johann Adolf Hasse, Domenico Sarri (also known as 'Sarro', who's the least known to the general public) and Geminiano Giacomelli. There's a particularly gorgeous aria by Leo called 'Vorrei dai lacci sciogliere' (in Act Two Scene Two, sung here by the wonderful mezzo Serena Malfi) which Reinhard Strohm describes in his book on Vivaldi opera as 'one of the loveliest arias of the decade'!
The choral writing in this opera is quite unusual for the time of writing…
Yes, in operas of this period the chorus are usually reserved for the lieto fine ('happy ending'), but here they come in at the very end of the opening Sinfonia, with the theme from Spring. (The first performance of the original version of Dorilla was in 1726, about the time we believe Vivaldi wrote The Four Seasons: we don't know for certain whether this passage was part of that original version, but if The Seasons had been anything like as popular then as it is today, I think it's pretty likely that he'd have re-used the material!). There are also complex and lengthy choral sections in the first two acts of the opera and then again at the end, and the choral writing is fairly complex throughout - I've never seen Vivaldi use a chorus so prominently in an opera.
Since the project started, do you think that anything has evolved in terms of how musicians approach Vivaldi's music - or how audiences respond to it?
I went to a concert recently where a young Baroque group did the Nisi Dominus, and partway through I realised that they'd listened to our recording! And that is the whole goal: to set the bar as high as possible, by using musicians who really know how to interpret this music and have been playing it for decades, thus creating a model that can then be followed by other groups. Alberto Basso, who conceived the whole project, decided to divide Vivaldi's music into ten main categories and present them like that on the recordings. In the beginning I and a lot of the musicians were a bit sceptical as to whether anyone would want to buy an entire disc of (for instance) bassoon concerti…but it's proved to be a really brilliant idea, because it had so much impact: if we'd mixed up the genres on each recording, I don't think people would have sat up and realised just how prolific this composer was! The other important thing here is that it helps scholars a great deal, because you can really study these three very different styles: sacred music, theatrical music, and the concerto form, which of course he consolidated and which was his great legacy to music history.
How did you originally get involved with the project, and how has your role developed over the years?
I grew up in Hawaii and started my life as a surfer in Honolulu – who'd have dreamed I'd end up in Paris doing this?! I'm a musician myself (I play the viola da gamba, so my line was more seventeenth-century than eighteenth-century music), and my ex-husband and I ran a music festival in northern Italy for 20 years. I already knew Alberto Basso pretty well from those days: he has an institute that is part of the city of Turin which exists in order to make inventories of all the musical archives in Piedmont, and this includes the Vivaldi collection in Turin's National Library. I happened to run into him shortly after relocating to Turin, not long after he'd launched the Vivaldi project; he knew that I speak a lot of languages, and knew everybody in the baroque field, so right away he started thinking 'How can I use her?!'. He came back to me and said 'I've launched a project with Opus 111 (now Naïve) to record this music and we're helping back it financially – would you be interested in representing the institute?'. I initially came on board part-time, spending a week in Paris every month, and gradually I started to realise just how incredible this music is. After a year I thought: 'It's more important that I put my energy into getting this fabulous music out there rather than playing my viola da gamba in front of 200 people!'. So I decided to throw myself into it full-time, and at that point I started creating parameters for many aspects of the edition.
The artwork for this series is incredibly striking – were you involved with that?
That was actually the brilliant idea of Hervé Bossière, who now owns medici.tv. He came up with the concept, and then asked the photographer Denis Rouvre (who is really well known for his portraits of famous actors, such as Roberto Benigni) – Denis adores this whole project, and he is very proud to be a part of it. In the beginning it was almost all girls on the covers (there's a loose connection with the girls of the Pietà [the convent, orphanage and music-school where Vivaldi taught]), but further down the line we'd do (for instance) an album of bassoon concertos, and he'd send us a photograph of a male model with the bark of a tree wrapped around him!
What is the quality of Vivaldi's manuscripts like? Are there lots of amendments or was he a fairly neat worker?
It's fascinating: this is the largest collection of manuscripts by an eighteenth-century composer in existence, and most of it's in his own hand. There are 27 volumes that are roughly bound, and his hand was very clear - but every once in a while you come to a page that has been crossed out over several measures, or where he's cut out a piece of manuscript and re-written a passage, and that's been sewn over the old one! And you can really see from looking at the manuscript when he was writing very quickly to get an idea out, and other stretches where he was more meticulous. (They're all available to view online at Petrucci Music Library, should you want to explore for yourself!).
After Dorilla, what are your immediate plans for Edition?
There's the final volume of bassoon concerti (to think that he wrote 39 bassoon concerti..!) with Sergio Azzolini, and we've just finished recording a batch of violin concertos with Fabio Biondi; then Accademia Bizantina and Ottavio Dantone are going to do Il Giustino, which is a hugely important opera. Alan Curtis did it in Spoleto maybe ten or twelve years ago and recorded it [on Warner] - because what we're doing here is part of a complete programme, it does include a certain amount of material that's already been recorded. It's often worth doing things again, and this music still isn't exactly mainstream!
I spent a long time trying to push these operas to theatre directors, and what I learned was that if you are the head of the Théâtre des Champs-Élysées or the Barbican, you're going to be very reticent to take on an opera you've never heard or which has never even been recorded. So we ended up doing these pieces in concert, which I don't think is a good way to listen to opera: for people who are steeped in this music it's one thing, but otherwise it's a sure-fire way to lose the public's attention! But now we are starting to see fully-staged versions: I get calls from companies saying 'We want to do a Vivaldi opera: what would you suggest?'. (Zurich Opera have done La Verità in Cimento, and they're doing another one next year). So this music is slowly becoming part of the mainstream, and that is very much our goal – to get it out there, being staged and performed.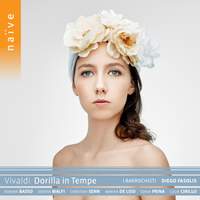 I Barocchisti, Coro della Radiotelevisione Svizzera, Diego Fasolis
Dorilla in Tempe is released on Naïve on Friday 22nd December.
Available Format: 2 CDs