UPDATE: Royal Mail have now resumed shipments on ALL International services but delays should be expected, please choose FEDEX if your order is urgent.
29th September 2017
Recording of the Week

,

Andrew Davis concludes Chandos's cycle of Vaughan Williams symphonies
One of the many sadnesses regarding the death of conductor Richard Hickox in 2008 was that his cycle of Vaughan Williams symphonies languished tantalisingly close to completion. With just two symphonies left, it fell to Andrew Davis to assume the mantle. My colleague David spoke very highly of his recording of Symphony No. 9 back in February, and now the series reaches a triumphant conclusion with Davis's new recording with the Bergen Philharmonic of the final remaining symphony: No. 7 (subtitled Sinfonia Antartica).
Andrew Davis
An occasional visitor to the world of film music, Vaughan Williams had composed the music for the 1948 film, Scott of the Antarctic, and was so enamoured with the subject matter that over the next few years he decided to fashion much of his score into a symphony, first performed in 1953.
For me the first movement is one of the most outstanding movements of any Vaughan Williams symphony: it's full of epic grandeur, beautifully conjuring up an Antarctic landscape, and yet in Davis's hands it goes one stage further: the way that he shapes the ominous brass chords adds an eerie, almost otherworldly edge, evoking the inhospitable, alien terrain on which this narrative plays out. After the glacial opening (with Davis taking care to observe every crescendo and diminuendo perfectly), Vaughan Williams's masterstroke is to introduce (as he had also done in his Pastoral Symphony) a wordless soprano solo, accompanied by female choir and a wind machine. Although this latter sound effect could easily have become something of a gimmick, that's very much not the case: when these forces return in the symphony's closing bars, it suddenly becomes incredibly poignant. After the explorers have met their icy destiny, all that remains is the siren-like warning of the female voices and the sound of the harsh Antarctic wind, gently but implacably blowing and fading to nothing.
The Bergen players really give it their all. Whether it be excellent contributions from xylophone, glockenspiel, piano, and harp in the first movement, the imposing arrival of the organ (not to mention a mighty gong!) in the third movement, some tender string playing in the fourth movement, or chilling brass chords throughout the work, every section of the orchestra excels.
We then move to a premiere of sorts: Anthony Payne's orchestration of Vaughan Williams's Four Last Songs. The first performance of these orchestrations was given by mezzo Jennifer Johnston, who has also recorded them, but this is their first recording with a baritone. It almost goes without saying that Roderick Williams sounds magnificent: his mellifluous tones coupled with Payne's authentic-sounding orchestrations make these songs an absolute joy to hear.
Finally we come to the Concerto in C major for Two Pianos and Orchestra. Mostly written in the late 1920s, it was originally conceived for a single piano, but was deemed far too hard (regarding Harriet Cohen, who was the work's dedicatee and who gave the first performance, Adrian Boult wrote that she "made a valiant effort, [but] could get nowhere near the spirit of it or even the notes in many passages"). To cut a long story slightly shorter, it was eventually arranged for two pianos. Although there are a few recordings of the original solo version, it is this reworked version that is slightly more common today.
Even with the help of an extra pianist, the work is still not exactly easy, and so it's great to have soloists of the calibre of Louis Lortie and Hélène Mercier here; they are highly impressive in some of the more fiendish passages. For me, though, the highlight of the piece is the Romanza: it's a beautifully expressive movement, with plenty of gorgeously shimmering string chords, and the Bergen players give us their most tenderly exquisite sound, full of scintillatingly glowing tone. Although the mood is quite different to the symphony, much like that piece it too ends on a quiet, contemplative note, and makes for a fine companion to an outstanding recording of the Sinfonia Antartica.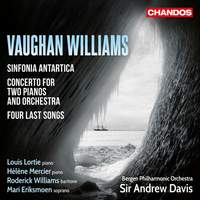 Mari Eriksmoen (soprano), Roderick Williams (baritone), Louis Lortie, Hélène Mercier (pianos), Bergen Philharmonic Orchestra, Sir Andrew Davis
Available Formats: SACD, MP3, FLAC, Hi-Res FLAC