28th July 2017
 Recording of the Week

,

  Elīna Garanča sings the title role in Donizetti's La Favorite
You wait 175 years for a DVD of La Favorite and then two come along in quick succession. Donizetti's 1840 grand opera about a worldly king's mistress who falls in love with a monk and is tragically rejected by him once he discovers her past received its first complete filmed outing only two years ago in a handsome Christian Lacroix-costumed production from Toulouse; now there's stiff competition in this gloriously sung new version from the Bavarian State Opera, released last week on Deutsche Grammophon, with Elīna Garanča in the title-role and Matthew Polenzani and Mariusz Kwiecień as the men between whom she's torn. Amélie Niermeyer's unfussy and beautifully lit production places the action in a loosely contemporary setting, without any intrusive konzept but with sufficient depth and emotional nuance to make the revival of this neglected score feel like a living, breathing drama rather than a worthy bit of operatic exhumation.
Elīna Garanča in La Favorite
The role of Léonor seems tailor-made for Garanča, who's used the great Act III scene 'O mon Fernand' as a calling-card on several recital-discs but never sung the whole thing on stage until now: as her voice has grown darker and heavier in recent years, it's sometimes nudged her into roles which sit oddly with her rather cool dramatic temperament (Carmen and Santuzza spring to mind), but her detached elegance and regal hauteur are ideal for this high-end trophy-mistress whose survival has depended on concealing the passions which bubble beneath the surface. (That she bears more than a passing resemblance to Grace Kelly helps, though it's a pity that her glacial glamour wasn't more fully exploited by the costume-designer – the frumpy pastel trouser-suits assigned to the heroine and her ladies-in-waiting in the first two acts do no-one any favours).
Niermeyer plays to her leading lady's strengths, emphasising Léonor's aloof disillusionment with the king and with her role as mistress: she barely tolerates the puppyish infatuation of Kwiecień's Alphonse (in contrast to the statesman-like nobility of Ludovic Tézier in the Toulouse production, Kwiecień plays him as a volatile man-child who just happens to wield immense power). Their dead-in-the-water relationship's brilliantly if uncomfortably portrayed in the Act II ballet, which becomes an upscale 'Netflix and chill' session with Kwiecień switching between awkward attempts at cosy domesticity and crude sexual advances, both of which fall on stony ground as the ill-matched couple respond in entirely different ways to whatever extravaganza's playing out on their widescreen TV. When she finally lets her guard down in that great Act Three monologue, the emotional impact is heightened by the restraint that's gone before, and she's devastatingly vulnerable in her extended death-scene in the final act. It almost goes without saying that the music fits her like a glove, showcasing the smoky lower register of the voice and its gleaming top to perfection, as well as her ability to spin long bel canto lines.
Polenzani, too, sings as if to the manner born, delivering heart-stopping pianissimo top notes and weightless legato in his two big arias: like Kwiecień (who also acquits himself wonderfully on the vocal front), he's making his role-debut here, but he sounds like he's been singing this music for years (perhaps not so surprising given his previous successes in other serious Donizetti like the title-role in Roberto Devereux and Leicester in Maria Stuarda). He and Kwiecień have form when it comes to playing two sides of an eternal triangle, as anyone who caught their marvellous Met Pearl-Fishers will remember, and they spark off one another quite wonderfully in their great Act III confrontation in which Alphonse abruptly orders a shotgun wedding between his mistress and his rival. There's a performance of blazing conviction, too, from the young Finnish bass Mika Kares as the fanatical Balthazar, superior monk and uncle to the Spanish queen whom Alphonse wishes to divorce for Léonor (shades of Henry VIII here, appropriately enough given Donizetti's Tudor fixation!): definitely one to watch, and possibly a fine Wagnerian in the making.
There's another performance with this cast at the Munich Opera Festival tomorrow evening, followed by a revival there next spring; it's a city I've always wanted to visit and I can't think of a better pretext.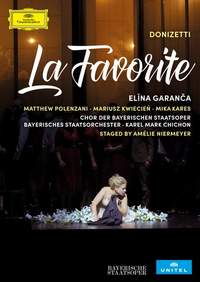 Elīna Garanča (Léonor de Guzman), Matthew Polenzani (Fernand), Mariusz Kwiecień (Alphonse XI), Bayerisches Staatsorchester, Karel Mark Chichon
Available Format: 2 DVD Videos