UPDATE: Royal Mail have now resumed shipments on their TRACKED, TRACKED & SIGNED and SIGNED services but delays should be expected, please choose these services if available to you or FEDEX if your order is urgent.
10th February 2017
 Recording of the Week

,

  Andrew Davis continues Chandos's cycle of Vaughan Williams symphonies
This week sees a rather bittersweet pleasure – the first in Chandos' Vaughan Williams symphony cycle since the death of the illustrious Richard Hickox. While the loss of Hickox was, and remains, a huge loss to fans of this music, there could be no finer conductor to receive the baton than Andrew Davis. On this album, he combines the Ninth Symphony (a late and rather enigmatic work) with the earlier ballet Job, from Vaughan Williams' middle, mature period.
Andrew Davis
Job shows us the Vaughan Williams most of us already know and love – tuneful, expressive and with more than half an eye on England's musical past as a source of inspiration. Just as the famous Tallis Fantasia drew on the Renaissance for its memorable melody, so in Job Vaughan Williams adapts ancient dances such as the sarabande, pavan, galliard and so forth. The purpose of the music is to accompany a ballet (or, as Vaughan Williams termed it in a further nod to archaic English tradition, a masque) telling the vivid Old Testament story of Job's trials and tribulations. Despite such tempting subject matter, the music never strays into the lurid or the grotesque; Satan's first appearance, after a tranquil pastoral scene has been established, is announced by unmistakably biting brass fanfares, but these are bold and self-confident rather than abrasively discordant.
If Job is what one might term "core" Vaughan Williams then his Ninth Symphony is anything but. Ever since its composition it has languished in relative obscurity, and is less immediately accessible than his other symphonies. No straightforward programme or big tunes are on display, but rather an almost Sibelian approach to organic development. From the evocative and mysterious opening one might be tempted to expect a re-run of the atmospheric Antartica, but there is a wistful mood underlying the Ninth that seems to lead it in a more profound direction than that impressively pictorial work.
For many people, the flugel horn is either a complete unknown or associated only with the British brass band tradition. However, its uniquely haunting sound has captured the imagination of many an orchestral composer, and in this symphony Vaughan Williams uses not only the flugel but a trio of saxophones to great effect within the orchestral texture. The flugel (played here by Martin Winter) shines particularly in the second movement, beginning and ending it with a simple tune of great nobility; in the third and fourth, the saxophones – almost invariably heard as a trio – have some luminous chorale-like material that shows a very different aspect of the instrument to what most listeners (then and now) might expect. We've all heard saxophones in a non-orchestral context, and many of us have heard saxophones with an orchestra (say, in Ibert's deservedly popular Concerto) – but Vaughan Williams' innovative use of saxophones within the orchestra is, like Wagner's expansion of the brass section, a welcome and significant addition to the palette. His tasteful use of them shows that he regards them as an integral part of his wind section, rather than a mere sonic gimmick.
If I was forced to choose between this performance and the venerable Handley account with the RLPO, I think my decision might well come down to the mere flip of a coin. Davis seems to avoid some of Handley's showmanship – giving less of a punch to some of the more impassioned outbursts – but conversely there's a clarity here in some of the more intricate contrapuntal passages that Handley sometimes fails to match.
It cannot be denied that the Ninth is one of those works that one has to listen to several times before it starts to reveal its secrets; this is, I'm sure, why it is not more widely heard and performed. However, I think it's absolutely right that it has at last begun to emerge from the shadows of the repertoire. Its impassioned climaxes (in the second and fourth movements) are every bit as stirring as the more commonly-heard Vaughan Williams favourites, and his experimentation with new sonorities, while not as wild as that in the Eighth, nevertheless shows a fascinatingly original side to a composer who is often sidelined as a mere pastoralist.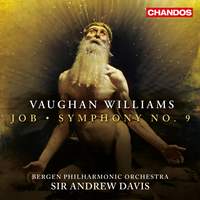 Bergen Philharmonic Orchestra, Sir Andrew Davis
Available Formats: SACD, MP3, FLAC, Hi-Res FLAC