13th January 2017
Recording of the Week

,

Diana Damrau sings in Bizet's The Pearl Fishers from the Met
If I tell you that today's Disc of the Week resurrects a work which hasn't been staged at the Metropolitan Opera in almost a century, you might well be expecting me to talk about something rather more obscure than Bizet's exotic apprentice-piece The Pearl Fishers. Because of the fame of the great 'bromance' duet 'Au fond du temple saint', it seems odd to describe this opera as a rarity, but it's received pitifully few outings on DVD and in fact this production by the English director Penny Woolcock (premiered at English National Opera in 2010) is the Met's first since 1916.
Diana Damrau
It could hardly have been granted a better comeback, with a trio of superb singers as the Brahmin priestess Leïla and the two friends who struggle to reconcile their love for her with their own relationship and the demands placed on them all by life in a struggling Ceylonese fishing community (Woolcock updates the setting to a shanty-town in contemporary South-East Asia, mixing traditional dress with a sprinkling of T-shirts, laptops and Tiger beer). First and foremost, it looks absolutely gorgeous: the opera opens with a magical oceanic ballet as the stage transforms into a seascape in which three dancers fish for pearls, and the threatening presence of the sea asserts itself throughout, with video-montages of tidal waves (echoes of the tsunami which devastated the region in 2004?) overwhelming the set at the climactic moments.
Diana Damrau clearly has huge affection for Leïla – indeed her enthusiasm for the role was apparently instrumental in the Met's decision to stage the piece after such a long hiatus. Her acting style still seems very much based around the sort of broad gestures that register well in a house the size of the Met, which is especially noticeable when she's alongside Mariusz Kwiecien (of whom more later) and the nervy theatricality she brings to the role might not float everyone's boat, but her Leïla is manifestly a real woman with real desires and demons – much like her controversial Lucia [di Lammermoor] at Covent Garden, which will also be released on Warner in the autumn. And her singing – even when lying flat on her back, as she's often required to do here - is pin-point accurate and easily projected throughout; her ceremonial nocturnal invocation of the gods at the end of Act I is hypnotic. She works particularly well with Matthew Polenzani as her secret lover Nadir: this sweet-toned American tenor surely has one of the most beautiful lyric voices around, coupled with an ardent sincerity of manner, and can float exquisite pianissimo high notes like few others. His lilting serenade to his estranged lover rightly brought the house down, as did that famous duet with his love-rival in Act 1 – sung as a pair of introspective soliloquys and shot through with uneasy tension (maintained very effectively throughout the extended applause), it's as if you've never heard it wheeled out on countless compilation CDs, soundtracks and adverts over the years.
But it's Mariusz Kwiecien's Zurga who gives the production its real dramatic impetus – the Polish baritone radiates such easy charisma that it's impossible to look away from him whenever he's on stage, and his naturalistic but nuanced acting style has nothing to fear from the scrutiny of the HD cameras. His first entrance establishes the character as a born leader, whilst his great monologue 'L'orage s'est calmé' and the ensuing confrontation with Leïla plays out with a Brando-like intensity as he paces his shabby but decidedly contemporary study, equipped with dated television and computer but overwhelmed with mountains of tatty paperwork, which nicely conveys both the scale of the responsibilities which he's inherited and the community's uneasy position between older ways of life and modernity. As he stands alone and broken in front of the conflagration he's sparked to deliver his friends from execution, I couldn't help thinking that the opera might as well be subtitled Zurga.
Postscript: Damrau fans can look forward to seeing her in another opera returning to the stage after an even lengthier and more widespread retirement in a few weeks' time, when she sings the title-role in Salieri's Europa Riconosciuta, written for the inauguration of La Scala in 1778 and then set aside entirely until the re-opening of the house in 2004. Pre-order below.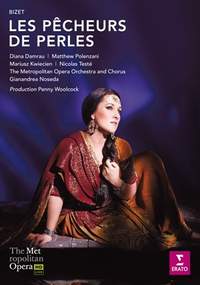 Diana Damrau (Leïla), Matthew Polenzani (Nadir), Mariusz Kwiecien (Zurga), Nicolas Teste (Nourabad), Metropolitan Opera, Gianandrea Noseda
Available Format: DVD Video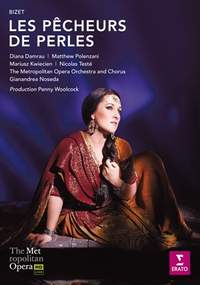 Diana Damrau (Leïla), Matthew Polenzani (Nadir), Mariusz Kwiecien (Zurga), Nicolas Teste (Nourabad), Metropolitan Opera, Gianandrea Noseda
Available Format: Blu-ray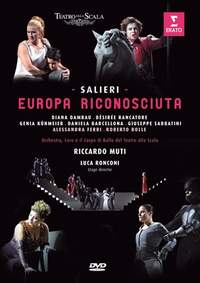 ana Damrau (Europa), Desirée Rancatore (Semele), Genia Kühmeier (Asterio), Daniela Barcellona (Isseo), Giuseppe Sabatini (Egisto), Teatro alla Scala, Riccardo Muti (conductor)
Available Format: DVD Video