2nd September 2016
 Recording of the Week

,

  Anna Netrebko sings Verismo arias
Take the title of my Disc of the Week with a sizeable pinch of salt: the fabulously bonkers cover-image shows an imperious Anna Netrebko (presumably in character as the eponymous ice-princess in Turandot, itself not generally regarded as a verismo opera) in full befeathered and bejewelled glory, looking more like a cross between Semiramide and Odile from Swan Lake than any of the more down-at-heel heroines who populate the gritty world of Cilea, Giordano, Leoncavallo et al. But let's not waste time arguing about definitions: verismo's ultimately all about raw, full-throttle emotions, and in this collection of Italian operatic arias from the late nineteenth and early twentieth century Netrebko, Antonio Pappano and the Santa Cecilia Orchestra deliver blood, sweat and tears in spades. The bigger, darker, juicier voice which the former light lyric soprano revealed in her 2013 Verdi album has consolidated and filled out even more in the intervening three years, and suits the high-octane suffering of these full-blooded women down to the ground.
Anna Netrebko
Everything's sung with no-holds-barred abandon and emotional commitment, even if the blazing temperament and vocal power she packs these days make it hard to envisage Netrebko in one or two of these roles on stage: the Presto office collectively struggled to imagine her voluptuously-sung Liù and feisty-sounding Butterfly wasting much time pining after Calaf and Pinkerton, but there's strength and sweetness aplenty in both, aided by idiomatic detailed and often superbly delicate support from Pappano and his Roman orchestra. (If you want a full-length fix of him in this repertoire, today also sees the Opus Arte release of his recent 'Cav & Pag' from Covent Garden, and the DVD/blu-ray of his Andrea Chénier with Jonas Kaufmann is due out next week on Warner).
Puccini's Manon Lescaut is the one role here which Netrebko has sung in full on stage, and the fourth act (given in its entirety here) is simply in a different league from everything else: suddenly I felt like I was no longer listening to a studio recording but instead had tuned in partway through a live broadcast of a really great night at the opera. The fragility and nerviness which I missed a bit in her Butterfly is heartbreaking as Manon expires partway across the Louisiana desert (just go along with the opera's fanciful geography!), and Netrebko's alive to the labile heroine's every shift of mood: listen to the repetitions of 'Non voglio morir!' ('I don't want to die!'), first terrified and vulnerable, then determined and defiant.
Des Grieux is sung here by Netrebko's new husband, Azerbaijani tenor Yusif Eyvazov, and there's a wonderful synergy between the two of them – perhaps unsurprising given that the couple first met whilst singing the opera together in Rome in 2014, and recently reprised their roles together at the Salzburg Festival. With his big, bright, Italianate sound and impressive top register, Eyvazov makes quite an impact in his own right, both here and in his brief appearance as Calaf in Turandot's 'In questa reggia'. This was the other stand-out on the disc for me and for the rest of our editorial team, even though it seemed like quite the gamble when we first saw the track-listing: the heavyweight Chinese princess may be one of the most formidable vocal challenges in the dramatic soprano repertoire, but Netrebko says in interview footage that she found this the most instinctive fit of everything on the disc (she apparently recorded it in just two takes), and it's rafter-rattling stuff.
As with her Verdi album, I came away from this disc with a wish-list long enough to fill several more discs: I'm desperate to hear her in the other three acts of Manon Lescaut, and would love a glimpse of her as Santuzza in Cavalleria rusticana or as Leoncavallo's Zazà. Like Cleopatra, Netrebko 'makes hungry where she most satisfies', and I can't wait to see where she goes next with this repertoire.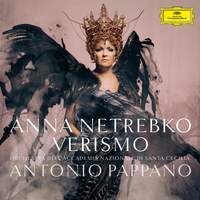 Anna Netrebko (soprano), Orchestra dell'Accademia Nazionale di Santa Cecilia, Antonio Pappano
Available Formats: CD, MP3, FLAC, Hi-Res FLAC