UPDATE: Royal Mail have now resumed shipments on their TRACKED & SIGNED and SIGNED services but delays should be expected, please choose these services if available to you or FEDEX if your order is urgent.
12th August 2016
 Recording of the Week

,

  Lionel Meunier and Vox Luminis perform Requiems by Fux and Kerll
Two rarely-heard Requiems come to light this week, from Austrian composers Johann Caspar Kerll and Johann Joseph Fux. Gramophone Award-winning ensemble Vox Luminis and their conductor Lionel Meunier have a history of performing neglected repertoire from the Baroque and Renaissance periods (their recording of funerary music by Schütz a few years ago won particular acclaim), so these two Viennese composers must have seemed a tempting choice for their next disc. Both have tended to be seen as forerunners of greatness rather than composers in their own right, often regarded as doing little more than preparing the way for Mozart. Even the sleeve notes to this very recording spend some time speculating as to the extent of Mozart's familiarity with their Requiems when writing his own, as if to say that their musical worth is somehow conditional on their influence on the shaping of that work.
This idea of some composers existing primarily in order to be cited as influences on others is almost always misleading; one need only think of Buxtehude or Frank Bridge, both of whom have suffered similarly. Both Kerll and Fux were influential and respected composers in their own time, very much more than simply holders of the compositional fort; Kerll produced several volumes of Masses, of which the final one includes this Requiem. Its proximity to his death and its dedication inter alia "for the repose of my soul" suggest that, like Mozart's, it too has a personal aspect – the work of someone sensing his life was approaching its end. How far this accounts for its style and mood is anyone's guess, but whatever the reason, it's a strikingly mellow, meditative work – the warm tonality of F major and the slightly bottom-heavy distribution of the choir parts (two tenors, while Fux uses two sopranos) help to set a quietly optimistic mood. Later Requiems wallow in grief at times (Mozart's Lacrimosa springs particularly to mind) or stray into the histrionic for the lurid scenes of apocalyptic judgement in the Dies Irae, but Kerll does neither. Indeed, the single most memorable musical snippet of the whole disc was, for me, an understated, haunting little ritornello-like refrain full of gorgeous suspensions that occurs several times in the Sequenza – though a close second is a delightful few bars in the Sanctus depicting the words "pleni sunt coeli et terra" with a luminous rising phrase.
Vox Luminis
No Dies Irae could be completely free of word-painting, though, and Kerll certainly doesn't avoid this; a vivid bass solo portrays "quantus tremor est futurus" in terms reminiscent of Purcell's storm in Dido and Aeneas, rounded off with a sepulchral bottom E, and the tenor's clarion call "tuba mirum" is no less exciting. But there's always a sense of restraint, or maybe of assurance; the soloists' pleading never sounds desperate, and their portrayal of Judgement Day lacks the terror that other composers have conjured up.
Fux may have been among Kerll's pupils, and his Requiem definitely shares something of Kerll's pensive mood, but there are certainly differences in style; Fux (today known mostly for his influential treatise on counterpoint Gradus ad Parnassum) makes far greater use of poignant dissonances throughout his Requiem. His instrumental palette is also a little broader (with the Scorpio Collectief taking over from the L'Achéron viol consort, who play in the Kerll). The reed instruments are particularly to the fore in the Dies Irae, as might be expected. The inevitable obbligato-feature of the "tuba mirum section" comes in the form of a light-toned alto trombone solo, and the trombone/cornett sound gives an air of solemnity apt for the public, ceremonial context in which the work was performed – it was used at several Imperial funerals including that of Charles VI.
Although there are definite moments in each work where a link to Mozart jumps out (particularly Kerll's similar treatment of "quam olim Abrahae"), these two Requiems definitely stand better on their own merits as they do as mere precursors of, or models for, Mozart's K626. They're a delightful antidote to the overwrought drama of some other Requiems, and each time I listened to them I found more details emerging that I hadn't previously heard. A fascinating double-bill – and perhaps truer than most to the literal meaning of the word "Requiem"!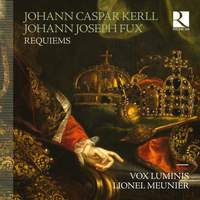 Vox Luminis, Lionel Meunier
Available Formats: CD, MP3, FLAC, Hi-Res FLAC