1st April 2016
 Recording of the Week

,

  Stephen Hough plays piano concertos by Dvořák and Schumann
A new recording by pianist Stephen Hough is always something to look forward to, and I've been especially thrilled with his latest offering, combining a stalwart of the repertoire with one that is perhaps more unfamiliar. By the latter I am referring to the concerto by Antonín Dvořák, which although not totally obscure is certainly a relative rarity when compared to the Schumann piece with which Hough couples it.
Stephen Hough
Perhaps part of the reason why, in Dvořák's lifetime at least, the concerto never rose to the prominence that I think it deserves, can be found in the opinion offered by some contemporary critics, which was that the piano part was merged too closely with the orchestra, thereby potentially putting off soloists who might feel they wouldn't make enough of a virtuoso impact. Furthermore, as well as this judgment that the piano part was not "soloistic" enough, a second negative assessment was that it was rather awkwardly written, fiendishly difficult to play but for relatively little reward.
And so it was that, after Dvořák's death, the solo part was extensively rewritten by Czech pianist Vilém Kurz in an attempt to make it more idiomatic (not to mention playable!). Kurz simplified the rhythms in some places, and in others he filled out the harmonies to make the piano sound fuller. This revision became pretty much the only version heard until the great pianist Sviatoslav Richter went back and restored Dvořák's piano part, and I think I'm right in saying that this original version is the one now more commonly played. While I'm sure that Kurz was acting with the best of intentions in trying to ensure that the concerto remained in the repertoire, comparing the two makes me very glad that Stephen Hough has opted for Dvořák's version here.
Although it may be something of a cliché to say that Hough makes all of the cruelly demanding writing sound effortless, it is most certainly true in this case! Hough's passagework is a model of clarity, never overpedalled, and you can really hear all of the intricacies and rhythmic quirks of Dvořák's writing. The contribution from the City of Birmingham Symphony Orchestra should in no way be underestimated either: thanks to Andris Nelsons's sensitive and sympathetic conducting, they produce a lovely hushed tone when required, with silky strings and characterful woodwind, and I constantly felt that everyone involved had exactly the same focus and artistic goals; every single bar feels just right in terms of balance and intent. The criticism I mentioned earlier about the piano being too integrated with the orchestra is here turned into a major virtue, with this sense of close collaboration coming across so marvellously at every turn.
The slow movement is a particular treasure, both from Hough and the orchestra, with eloquent solos from bassoon and horns, and a completely charming elegance that I found quite captivating. Dvořák here has such a way with an expressively-turned melody that at times it was almost like listening to some sort of proto-Rachmaninov concerto, not least in the way that the piano's nimble figurations weave gently but impressively around a beguiling string tune.
The Schumann concerto is obviously much more frequently performed, but even amongst the wealth of available recordings, Hough stands out for the freshness he brings to it, and the slow movement has a grace and delicacy that was very refreshing, again with some refined contributions from the Birmingham woodwind. As in the Dvořák, there's a crispness to Hough's playing, and even in the loudest climaxes he never muddies the waters or allows the details to be obscured. It's a most impressive account, and a fine complement to an outstanding recording of the Dvořák concerto.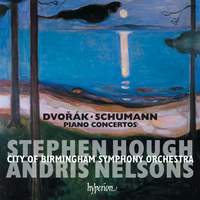 Stephen Hough (piano), City of Birmingham Symphony Orchestra, Andris Nelsons
Available Formats: CD, MP3, FLAC, Hi-Res FLAC