UPDATE: Royal Mail have now resumed shipments on ALL International services but delays should be expected, please choose FEDEX if your order is urgent.
5th February 2016
 Recording of the Week

,

  David Goode performs organ works by J.S. Bach
It's been quite some time since we featured a solo organ disc in one of our newsletters, but David Goode's new disc of Bach organ works jumped out as something to shout about – the first volume of a projected fifteen, which will constitute a complete survey of Bach's compositions for the instrument he is perhaps most strongly associated with. Initially this release was planned to be available only as a download, but we are thrilled to say that, by arrangement with the record label Signum, we are also able to offer this as a physical disc through our Presto CD project.
David Goode
Goode's choice to kick the set off with the famous D minor Toccata and Fugue initially struck me as a sign that he was sticking to a safe well-known favourite – indeed, this is a work which has, distressingly, become such a cliché for "Hammer Horror"-style melodrama that the iconic opening bars actually provoked suppressed giggles from some of my colleagues! But his choice of opening number actually sets things up rather well, because what he does with the piece itself shows that he's put a lot of thought into this often over-heard work and considered how it might have been heard (and played) by Bach himself, and thus augurs positively for the cycle as a whole.
One thing that immediately leaps out is the use of some quite extensive ornamentation – not merely mordents and so forth, but brillante scalic flourishes leading into cadences. We're not used to hearing this level of ornamentation of Bach today, for several reasons, but the practice is perfectly legitimate from a historical perspective; a wealth of documentation attests to contemporary approbation for performers' improvised embellishments, so the great master surely wouldn't have batted an eyelid.
The range of colours Goode draws from the Trinity College Cambridge chapel organ is also impressive – indeed the contrast between the Gothic majesty of the end of the Fugue and the self-effacing rippling sound of the Trio Sonata could hardly be greater. Likewise, the firm but mellow reed stop used for Wachet auf is exactly right – even if at other times (in the final C minor Fugue, for example) the sound can be a little mixture-heavy for my tastes. Yet this, too, is not without historical justification – a nod, perhaps, to the generally brighter sound that characterised organs of Bach's time.
As a former organist myself I'm always interested in registration choices like this, because they can make a huge difference to the "personality" of a piece, and they're often to an extent at the discretion of the performer in a way that orchestration isn't. Just as dynamics and expression can make or break an orchestral performance, intelligent registration choices can help to make the difference between a dull performance and a thrilling one, and I suspect that this goes to the heart of why organ music is so disparaged among classical music lovers. The final Schübler chorale is a case in point – the choice of a light, piccolo-esque sound for the accompanying material that flutters around the choral melody makes it a joy to listen to, which might not be the case with a less sensitive registration.
As I've already hinted, this album sets out a very good case for the breadth and variety of organ music, even within the oeuvre of just one composer. Bach's compositional genius is shown in the best possible light by Goode's thoughtful performances, and he's clearly set out to make a colourful and entertaining, though also historically-aware, Bach series. The next two volumes are set to follow in June and October of this year, with the series reaching its conclusion in late 2019. Based on this initial volume I'm looking forward to hearing his take on some of the other greats – the St Anne Prelude and Fugue and the Leipzig Chorales, for example.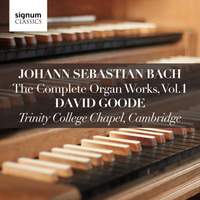 David Goode (organ)
Available Formats: Presto CD, MP3, FLAC, Hi-Res FLAC