20th November 2015
 Recording of the Week

,

  Vocal Recitals from Sabine Devieilhe and Véronique Gens
I've got two wonderful discs from two very different French sopranos to tell you about this week – a beautifully thought-out recital of sacred and secular Mozart from up-and-coming coloratura Sabine Devieilhe, and a classy collection of mélodies from the Orléans-born falcon Véronique Gens, now about to enter the fourth decade of her career and on this evidence in her absolute prime.
Sabine Devieilhe
It's a rare singer who can command your attention by opening a disc with what's essentially 'Baa baa black sheep', but Mademoiselle Devieilhe does precisely that. The silvery-voiced soprano has been making waves in her native France over the past four years ago, chiefly in high-wire territory such as the title-roles of Lakmé and La sonnambula and in French baroque repertoire; she made quite an impact two years ago with her all-Rameau début disc on Warner, and this programme focusing on three sibling singers who inspired Mozart's affections and art is even better. The Weber household produced a triumvirate of fine sopranos in Aloysia, Josepha and Constanze (rather putting me in mind of today's Bevan sisters, whom Mozart would surely have adored!), and together with her husband Raphaël Pichon and his Ensemble Pygmalion Devielhe gives us a whistle-stop tour through Mozart's doomed infatuation with Aloysia (who sang the roles of Donna Anna and Konstanze in Die Entführung), his vocal fascination with Josepha (the first Queen of the Night), and his eventual marriage to the youngest of the three, Constanze.
Devieilhe possesses all the apparent virtues of Josepha and Aloysia, both of whom were renowned for their prodigious agility and stratospheric upper registers: she despatches the Queen of the Night's aria (here introduced with a cacophonous improvised chord, as indicated in Emanuel Schikaneder's original libretto) with aplomb, even managing an echo effect and a true 'eh' vowel on the top Fs (most singers modify to an 'ah' up there!), and scaling the top Gs of the concert-aria 'Popoli di Tessaglia' with total insouciance.
But perhaps the most affecting music on the disc is that written for Constanze. Though she had a less starry career than her two siblings, Frau Mozart sang one of the solo parts in the premiere of her husband's great C minor Mass: the transcendent (and deceptively difficult) 'Et incarnatus est' is included here, along with the vocalise in F major which Mozart initially wrote as a bespoke technical exercise for her and eventually incorporated into the Kyrie. And without giving too much away, be sure to listen to this track right to the end – it's Aloysia who has the last word on the disc, as we pitch from the sublime to the ridiculous with a little nod to Mozart's documented scatological outburst at a society party where she cold-shouldered him!
Véronique Gens
After the brilliance of Devieilhe's pyrotechnics, the dusky languor of Véronique Gens's recital Néère (which takes its title from one of Reynaldo Hahn's relatively little-known Études Latines) was the perfect foil. As her series of discs centring on the great French tragic heroines will testify, few singers today do Classical poise and understated sensuality quite like this elegant soprano, and Hahn's settings of 'Poèmes antiques' by Leconte de Lisle showcase these qualities to perfection. Alongside the rarities are some real plums of the late nineteenth-century mélodie tradition including Duparc's 'L'invitation du Voyage' and Chausson's 'Le Temps des lilas', both of which receive ravishing performances from Gens and her superbly insightful pianist Susan Manoff; much of the music lies in Gens' clean but voluptuous lower-middle register, and her palette of wonderful autumnal colours coupled with her unfussy but keen responsiveness to the texts make for a very special disc indeed.
Our 100 Discs of the Year are set to be revealed very soon, and it's safe to say I'll be fighting my corner over the next few weeks for both of these late entries!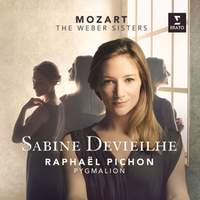 Sabine Devieilhe (soprano), Pygmalion, Raphael Pichon
Available Formats: CD, MP3, FLAC, Hi-Res FLAC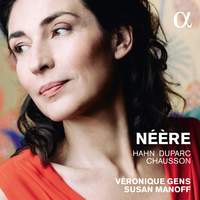 Véronique Gens (soprano) & Susan Manoff (piano)
Available Formats: CD, MP3, FLAC, Hi-Res FLAC