13th November 2015
 Recording of the Week

,

  Seong-Jin Cho: Winner of the 2015 Chopin Piano Competition
Who? Despite several previous competition successes, it's fair to say that the young South Korean pianist who triumphed in this year's Fryderyk Chopin Competition in Warsaw has not hitherto achieved much in the way of fame. However, all that is surely about to change, for as of last month he joins a truly dizzying pantheon of Chopin pianists – past prize-winners include Vladimir Ashkenzy, Maurizio Pollini, Martha Argerich, Garrick Ohlsson and Daniil Trifonov. Victory in the competition is the gateway to great things, so I'm viewing Cho's début recording with DG as the first over of what promises to be a long and fruitful innings.
Seong-Jin Cho
No prizes for guessing the repertoire – it's an all-Chopin disc, centred on the 24 Preludes and Piano Sonata No. 2, and all taken from his live performances in the competition's finals. The Preludes include some of Chopin's best-known and best-loved works – the D flat 'Raindrop', and the Preludes in C minor and A major which, perhaps more than any others, epitomise the phrase "small, but perfectly-formed". As a pianist standing on the shoulders, and in the shadow, of giants, it's interesting to see what Cho makes of these oft-heard numbers in particular.
The tragic nobility of the C minor Prelude is always hard to gauge, in particular the pacing of the final opening-out. Pleasingly, Cho resists the temptation to ruin the mood of the piece by working himself up into unnecessarily apocalyptic hammer-blows at the end; although his crescendo and rallentando are substantial, they're kept within the context of the Prelude as a whole, and the inexorable, fatalistic forward momentum of the music is maintained right up to the final chord.
A similar evasion of self-indulgence characterises the A major Prelude; so often this can cross the line from simple beauty into nauseatingly mannered sweetness, but Cho stays on the right side of good taste. His tempo is significantly faster than I was expecting, but once I'd got over my surprise I realised it works perfectly. Rather than leaning into every downbeat to show off narcissistic levels of rubato, he simply gets on with it – and in doing so puts (or, perhaps, puts back) into the music the stately lightness of a minuet. This does mean that it's all over in a mere 41 seconds, but I think that's definitely a price worth paying; even with the arch-Romantic Chopin, less can sometimes be more.
That's not to say that Cho can't bring out his own truly Romantic side; the delightful D flat Prelude (subtitled the 'Raindrop' in reference to the constantly drip-dropping A flat/G sharp ostinato around which, in one form or another, it rotates) shows it in abundance. Rubato and dynamic sensitivity characterise the opening, and the stern midsection rises and falls with suitably heroic climaxes. The G major Prelude – taken at breathtaking speed and showcasing Cho's immaculately light, rapid fingerwork – is curiously devoid of pedal, which can leave the flowing semiquavers a little less liquid than usual, but allows a clarity to be retained that might otherwise be lost in a rippling wash of sound.
As Cho turns his attention to the Sonata, in a strange way I found it noticeable how little the mood seems to change. There's no sense of him rolling up his sleeves for the hard-work part of the programme – Preludes and Sonata seem to be approached on an equal footing, and Cho is clearly no more daunted by the latter's scale than he was by the former's virtuosity. At no point in this heavy-duty work does he sound anything less than totally in control. The famous Funeral March in the third movement is remorseless in its pathos, and the brief fourth movement barely alleviates the mood of misery Cho has so successfully conjured up – so it was a pleasant surprise to find the A flat Polonaise as an encore to put a smile back on my face!
Seong-Jin Cho has certainly made his mark – this is as fine a début as any young artist could wish for. If there's any justice, we should be hearing a lot more from him in the coming years!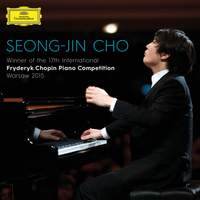 Seong-Jin Cho (piano)
Available Formats: CD, MP3, FLAC, Hi-Res FLAC