24th August 2009
 Recording of the Week

,

  Bruckner from the Concertgebouw
I've been reading a very interesting short article this week by Fergus McWilliam, a horn player in the Berlin Philharmonic who has been there for 24 years and has seen the orchestra evolve under three different music directors (Herbert von Karajan, Claudio Abbado and Simon Rattle). He makes an interesting point about performing traditions, and how he thinks it has been essential for his orchestra to have changed and developed over the time that he has been there. He says:
"I think any institution that wears its traditions proudly on its chest must necessarily be aware that tradition is a living process. A performing tradition is not to be mummified, like a fly in a piece of amber or an exhibit behind glass in a museum, but instead is something that lives. By definition, it must evolve and adapt."
Mariss Jansons
Now I've always been a keen supporter of differing orchestral traditions and the fact that on a lot of older recordings you can really hear differences in the sounds and the playing styles of orchestras around the world. While even today there is still something special about hearing a Russian orchestra playing Tchaikovsky, or a Czech orchestra playing Dvorak, those differences are a lot less profound than they used to be, and on the whole I'd say that this is a bad thing.
One thing that seems not to be diminishing though is the way certain orchestras are still closely associated with certain composers, and I can't think of a closer relationship than that between the Royal Concertgebouw Orchestra and Anton Bruckner. Since its formation in 1888 the Concertgebouw has had only six chief conductors, setting it apart from orchestras of similar age and calibre. The Bruckner tradition really started with Eduard van Beinum whose tenure ran from 1945-59, (although it is possible that Willem Mengelberg conducted some Bruckner during his 50 year tenure before van Beinum). During those years van Beinum conducted over one hundred performances of Bruckner symphonies, and since him both Bernard Haitink (1959-85) and Riccardo Chailly (1988-2004) continued the Bruckner tradition and have also both produced complete recordings of Bruckner's Symphonies.
It is therefore not surprising that the Bruckner performance tradition is continuing under the baton of the orchestra's current chief conductor Mariss Jansons. Out today on the orchestra's own label is a new release of Bruckner's Third and Fourth Symphonies, and it is right up there with the very best versions of the past. Jansons seems to have an innate ability to get just the right tempos - where nothing hurries but neither does it drag – so important in Bruckner where the phrases go on for such a long time as passages gradually build and then decline. The balance is superb, the brass sound is rich rather than cutting and the strings sing lustrously throughout.
I've decided against giving you a sample this week as I don't think Bruckner works in small fragments, so you'll have to take my word for it that it comes thoroughly recommended.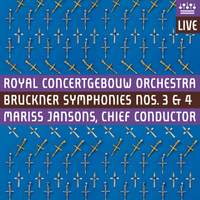 Royal Concertgebouw Orchestra, Mariss Jansons (chief conductor)
Available Formats: 2 SACDs, MP3, FLAC, Hi-Res FLAC