28th May 2015
 Interview

,

  Mark Bebbington on the piano music of Arthur Bliss
Pianist Mark Bebbington has long been known for his sensitive performances of lesser-known English piano gems. Projects focusing on Ireland and Bridge have been interspersed with single-volume explorations of other composers' output for the piano - Alwyn, Arnold, Ian Venables and more.
For his latest series, Mark has turned to the music of Arthur Bliss - a successful composer for the concert hall, the stage and indeed the screen, but one whose chamber music, particularly for the piano alone, has never enjoyed the same popularity as his orchestral works.
I talked to Mark about how this might have come about, and about the unique 'voice' of Bliss that can be heard in his piano music.
Although he was something of a modernist in his youth, by all accounts Bliss moved away from this style in his later years and adopted a relatively conservative musical voice. Do you think this partly explains his relative obscurity compared to other British composers of the same time-period?
I think that may be so of the orchestral music, and I think the whole Master of the Queen's Music period lent him, in the nicest possible way, a kind of respectability; he aligned himself enormously with the establishment. But the strange thing is that in terms of the piano music, he was – certainly as a young man – something of an enfant terrible. When you listen to some of the works from the 1920s, what you hear clearly is the modelling inspiration of Stravinsky. But strangely enough, if you then go to the last piece that he wrote for solo piano, the Triptych, which was written in 1971 for Louis Kentner, it's lost none of that angular quality.
So in a sense the piano music doesn't in any way relinquish the hold on modernism, which was creeping into other areas of his composition – so I think the piano music in a way stands outside of the rest of his music. And it's perhaps because of that that it's neglected. It's also not music that at any stage is written to consciously endear itself to a public, and in my opinion it's fairly closely modelled – although I think unconsciously – on the piano music of, say, Frank Bridge. There are no concessions made, and to me that's the strength of the writing. There's always a cutting-edge quality to it. The Triptych is only about fifteen minutes long – I think that really is a wonderful piece and I can't understand why that is never included on recital programmes today! It's such a fine work. So these are all possible reasons as to why Bliss is, in keyboard terms, somewhat neglected.
I suppose the work that's less neglected is the Piano Concerto (which I'm hoping to record next year!), and I think that may be to do with the fact that it was premiered by Solomon, written for the Carnegie Hall, and it was taken up by a lot of the international celebrity pianists of the time as a big virtuoso piece. Noel Mewton-Wood took it up – he was very much a 'bright young thing' – and pretty much the roll-call of great British pianists of the mid- to late twentieth century all played it – John Ogdon made it a big part of his repertoire. And the solo piano music was never really taken up by a big-name international pianist, so I think that's possibly another reason.
Why do you think Bliss's style is so different – so consistently modernist even as his orchestral music became mellower and more Romantic – in his writing for the piano?
I think perhaps because he didn't have to have his eye on a public occasion, and because he saw piano music as less for big international platforms and more as an outpouring of his own musical will. In a way it's a very valid musical will and testament of a life, really. For me, if there is a problem with Bliss's music at all, it's that when it becomes slightly 'establishment', to me – dare I say it – I find it slightly tedious! I think in a way what he (like so many composers) must have hankered for was the kind of reassurance that a post such as Master of the Queen's Music brought with it and actually adds, in terms of prominence for the composer. On the other hand, it could be a sign of, if not an artistic death, then a kind of restriction of artistic outpouring – and I think Bliss was not entirely free from that.
So in a perverse sense, the greater freedom he exercised in writing his piano works might actually go some way towards explaining why they're less commonly performed!
Exactly! There was no need for him to have to write in a way that made concessions towards public taste or what audiences (or indeed pianists!) would have actually required, or what would have been deemed to be good box office. That was absolutely not a precondition.
I think, as well, there's a sense in which his marriage in the 1920s to Trudy Bliss sparked things off – she was a fine player, and quite a sparky personality in her own right. Very much a woman on her own terms at a time when that would not necessarily have been the case. And I think she encouraged the young Bliss to write in this fairly cutting-edge idiom, and she was massively instrumental in ensuring that the influence of Stravinsky, and all of the modernism that was going on in America, was something that was very much part of his life. I think that was a factor – as was, of course (as indeed throughout his life), the death of his brother in the Great War. Morning Heroes is the abiding masterpiece that this provoked, but if you look at some of the early piano works… In Volume 1 we did a suite from about 1925, which has an incredible slow movement – it's an elegy, written without bar-lines and without any key, and it has a wavering tonality and the sense of meltdown is so much at one with the subject that he's depicting, a kind of lament not only for his own brother but for that whole lost generation. In a sense you can see that as a theme that ran through his life.
In addition the fact that his wife came from a very affluent, moneyed background meant that to some extent he had the freedom as a composer to be able to write, in those early years, more in the style he deemed fitting, because there was a financial cushion behind him.
Do you think the claim of Bliss as a conservative composer is even accurate, then – given these factors, not to mention his positive response to new musical developments in America during his lifetime?
Totally. The whole of that Tin Pan Alley influence, the whole emergence of jazz, the validity of a kind of non-'serious', non-Classical idiom being absorbed not only by the likes of Gershwin but also by Scott Joplin with ragtime, Stravinsky taking that all up in his works like Circus Polka – that was something that he took very seriously. I have to say that in those works like the Rout Trot and the One-step, I see that kind of jazz idiom filtered through as it were the eyes and the pen of Stravinsky, rather than a direct acknowledgement itself of that world. I think his god during that period was really Stravinsky, so I see that as an indirect influence via Stravinsky rather than something that he connected with immediately.
There is such a wide variety of pieces on this disc, from substantial sonata-like works such as the Triptych to more light-hearted pieces like the One-step and indeed Bach arrangements… which would you say was your favourite to perform?
I think there are two sets that stand out. The first are the Masks, which open the disc; the first of those is like opening a bottle of champagne! It's so effervescent and it fizzes with vitality, and it's incredibly cinematic. They very much point the way to the later film music – again, Trudy Bliss was totally and utterly committed to the idea of Bliss becoming a first-rate film composer. I think there's a real sense of inspiration with those.
And then I think I'd have to go to the final piece, the Triptych. Bliss was always very friendly with Louis Kentner, who was one of the most open-minded of the great emigré pianists that we had in the second half of the twentieth century, and it could well have been that there was something about his piano playing that sparked off a particular brand of inspiration there. The first movement of that is, lyrically, Bliss at his most inspired.
I ought also to mention the support of Somm – the whole of this British music series that I've done has really been thanks to the unerring support of the label and of Siva Oke who manages it. In terms of an ongoing cycle dedicated to piano music, this is our thirty-first or thirty-second disc and I don't think there's any other series like that.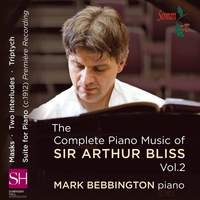 Volume 2 of Mark Bebbington's Bliss series was released on 5th May on Somm Records.
Available Formats: CD, MP3, FLAC
Other recordings by Mark Bebbington
The first volume of Bliss, featuring the Piano Sonata, the Valses Fantastiques and other works.
Available Formats: CD, MP3, FLAC
The fourth and final volume of the piano works by John Ireland, including some of his pictorial, pastoral works such as The Towing Path and Summer Evening.
Available Formats: CD, MP3, FLAC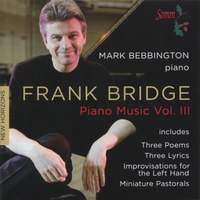 Frank Bridge - so often remembered only as a teacher of Benjamin Britten - receives his place in the spotlight with this, the third volume of Mark Bebbington's series surveying his poetic, lyrical music.
Available Formats: CD, MP3, FLAC