UPDATE: Royal Mail have now resumed shipments on ALL International services but delays should be expected, please choose FEDEX if your order is urgent.
4th May 2015
 Recording of the Week

,

  Mark Elder conducts Donizetti's Les Martyrs
Tomorrow sees the release of the first-ever complete recording of Donizetti's 1840 opera Les martyrs, the work which rose from the ashes of Poliuto, which was banned shortly before its planned premiere in Naples when Ferdinand II objected to the depiction of Christian suffering on stage. Set in ancient Armenia and based on a tragedy by Pierre Corneille, it tells of a Christian who chooses martyrdom over capitulation to the Roman gods, and his wife (a pagan, and the daughter of the city's rabidly anti-Christian governor), who eventually comes to share his faith and his fate.
As some of you may recall, I spoke to Sir Mark about the project (and in particular about Donizetti's first foray into the French grand style) at length a few weeks ago. You can read the full interview here, so I won't repeat too much on the compositional background now, but it's apparent throughout that Les martyrs represents a watershed in the composer's career as he seizes the opportunity to establish himself in Paris as a composer of grand opera, with all the pomp and circumstance (and endless ballets!) that that implies.
Michael Spyres, Joyce El-Khoury, and Mark Elder
Rather than laying his cards on the table with a full-throttle prelude, Donizetti opens quietly, with a muted quartet of bassoons ushering in a chorus of Christians who have met under cover of night for Polyeucte's baptism (though as Sir Mark pointed out, the use of four bassoons was in itself a clear signal that Donizetti was cutting his suit according to his now more extravagant cloth – Italian opera-houses usually only had two!). From then on, though, there's blood and thunder aplenty, and the drama fairly leaps out of the speakers, particularly in the pagans' terrifying odes to the Roman gods – shades of Norma (written nine years earlier) here, though the sadistic zeal with which the chorus look forward to the coming carnage rather put me in mind of Turandot. The final scene is truly blood-curdling – I was almost expecting to hear the roar of the approaching lions.
When he came to refashion Poliuto for the Paris Opera, Donizetti was writing bespoke music for some of the finest singers in Europe, and the cast assembled here by Opera Rara meet the score's fearsome demands head-on. The title-role is taken by the American tenor Michael Spyres, who commands absolute attention from his very first phrase: rather like Bryan Hymel (whose disc of French arias I wrote about a while back, and who was initially scheduled for this role), he packs a voice with real heroic ring and tremendous facility in the stratosphere, capping his act three aria 'Mon seul trésor' with a stupendous high E as Polyeucte vows to commit a spectacular act of public blasphemy which will condemn him to certain death.
Canadian soprano Joyce el-Khoury is equally fine as his conflicted wife Pauline, singing with tireless passion and pathos in the substantial dramatic duets with the three men in her life and displaying power and agility to burn in the show-stopping cabaletta (one of Donizetti's few throwbacks to the Italianate bravura which French audiences generally disliked) as she awaits the arrival of the Roman consul whom she had loved and given up for dead. Brindley Sherratt is sonorous and surprisingly sympathetic as her implacable father Felix, whilst David Kempster (who's recently made such an impact in Verdi and big French dramatic roles for Welsh National and Scottish Opera) sings with eloquence and heroism as Sévère, Pauline's former beloved who is prepared to defy his duty and snatch Polyeucte from the jaws of death for her.
The recording includes several passages which were cut before opening night and have never been heard in public before, but the project's so much more than an exercise in exhumation – anticipating Verdi's imminent French operas, it packs a serious dramatic punch, and I for one can't wait to compare it with Glyndebourne's Poliuto, which opens later this month.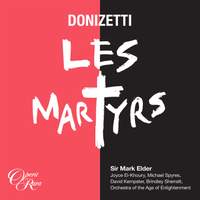 Michael Spyres (Polyeucte), Joyce El-Khoury (Pauline), David Kempster (Sévère), Brindley Sherratt (Félix), Clive Bayley (Callisthènes), Wynne Evans (Néarque), Orchestra of the Age of Enlightenment, Mark Elder
Available Formats: 3 CDs, MP3, FLAC, Hi-Res FLAC