12th January 2015
 Recording of the Week

,

  Anna Netrebko sings Tchaikovsky's Iolanta
Over the New Year break I found myself having a conversation with some friends about neglected works by major composers, and whether they've usually dropped off the radar for a good reason - so what a timely delight it was to arrive back in the office and have the hypothesis disproved by this splendid recording of Tchaikovsky's one-act opera Iolanta (one of the last things he wrote), which receives sterling advocacy from Anna Netrebko, conductor Emmanuel Villaume and a committed, largely Russian cast.
Netrebko has long been flying the flag for this medieval tale of a king's blind daughter who has grown up unaware of her affliction and only desires to see when the life of the man she loves is apparently dependent on her being cured; she performed it to great acclaim in Baden-Baden in 2009 and Salzburg in 2011 before touring the work throughout Europe in order to bring it to a wider audience.
Anna Netrebko
If, like me, your knowledge of operatic Tchaikovsky is largely confined to Eugene Onegin, you're in for quite the surprise: barring one or two robust hunting-interludes, this is a far more introverted, tender score with none of the glitz and clamour of Onegin's ballrooms, and the introspective mood is established quite beautifully from the off with a prelude for lower strings which looks back to the opening of William Tell and forward to that of Strauss's Capriccio.
The 90-minute score is so stuffed full of glorious, soaring melodies that I hardly know where to start in singing its praises: all of the major characters have at least one big aria, all of which are so instantly memorable that I can't quite believe that they aren't wheeled out left right and centre for opera galas and recital-discs (though the Duke Robert's ardent paean to the sensual charms of his mistress Matilda crops up on Mariusz Kwiecien's Slavic Heroes disc, which I reviewed a couple of years ago, and Netrebko opened her Russian Album with Iolanta's great opening aria 'Why until now have I not shed tears?'). Other highlights include the King's desperate prayer that his daughter will be granted sight, the Islamic physician Ibn-Hakia's mystical sermon on the relationship between the flesh and the spirit (shades of Rimsky-Korsakov's cod-Orientalism here), and the gorgeous three-part lullaby with female chorus which is sung to Iolanta by her nurse Martha (the lush-voiced mezzo Monika Bohinec) and her two companions, which I've been humming round the house all weekend! The radiant love-duet between Iolanta and Vaudemont, though, is really something else, especially when the main theme builds to an ecstatic finale as (spoiler-alert) Iolanta's sight is eventually restored.
Netrebko's at her absolute best in this role, which really plays to her strengths. Much of the music lies in the voluptuous middle of her voice and she never sounds pushed or over-parted, plus singing in her native Russian brings out the dusky, almost mezzo-ish tints which she's acquired of late; even if you've not been convinced by her recent forays into Verdi and Strauss, it's well worth giving this a go! Her colleagues are no less impressive, particularly the steely-voiced tenor Sergey Skorokhodov who sings with tireless ardour and real poetry as her lover Vaudemont and Vitalij Kowaljow (recently a fine Wotan for Daniel Barenboim at La Scala) as her tormented father.
As Netrebko's quoted as saying in the booklet-note, Iolanta's emphasis on interiority and imagination means that it works uncommonly well on record or in concert-stagings; however, if you fall under the work's spell as I've done then it's worth knowing that she'll be performing a run of it at the Metropolitan Opera in a few weeks' time (with a live cinema broadcast on Valentine's Day) and also bringing it to London (the Royal Albert Hall) in June. I for one will be clamouring for a ticket!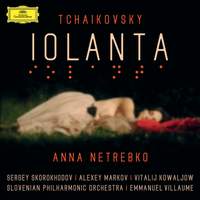 Anna Netrebko (Iolanta), Sergey Skorokhodov (Vaudémont), Alexey Markov (Robert), Monika Bohinec (Martha), Jun Ho You (Almerik), Slovenian Philharmonic Orchestra, Emmanuel Villaume
Available Formats: MP3, FLAC, Hi-Res FLAC