22nd December 2014
 Recording of the Week

,

  Presto Personal Favourites from 2014
We feel very lucky at Presto that we get to listen to so many amazing recordings; unfortunately there are just too many discs for us to be able to feature in our weekly newsletter.
As this is a somewhat lean time of year for new releases, therefore, we thought that this week we would do something slightly different, and get each of our editorial staff to choose a disc from the past year that we really loved, but which we simply didn't have the space to write about at the time of release.
So, here are some overlooked gems that you may have missed this year; we hope you'll want to explore them and maybe make a new discovery or two! Finally, it only remains for us to wish you a Merry Christmas from everyone at Presto!
Chris O'Reilly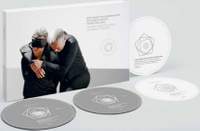 Mark Padmore (Evangelist), Camilla Tilling (soprano), Magdalena Kožená (mezzo), Topi Lehtipuu (tenor), Christian Gerhaher (baritone), Roderick Williams (Jesus) Berliner Philharmoniker, Rundfunkchor Berlin, Sir Simon Rattle, Peter Sellars (director)
Following up on the release of their widely acclaimed St Matthew Passion in 2012, Sir Simon Rattle and his Berliners again teamed up with director Peter Sellars and a crack team of soloists for another 'ritualization' – this time of Bach's earlier passion setting the St John.
As with the St Matthew it is a superb cast led by the evangelist of Mark Padmore, and the chorus – performing from memory – deliver great drama with powerful singing combined with appropriate actions and gestures.
It is an incredibly passionate and committed performance, and will cast new light and understanding on this great work even to those who feel they know it backwards already. Super-deluxe packaging, containing two DVDs and a bluray, it is not to be missed.
Available Format: 2 DVD Videos + Blu-ray
Katherine Cooper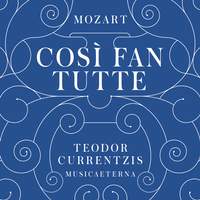 Simone Kermes (Fiordiligi), Malena Ernman (Dorabella), Anna Kasyan (Despina), Kenneth Tarver (Ferrando), Christopher Maltman (Guglielmo), Konstantin Wolff (Don Alfonso) MusicAeterna, Teodor Currentzis
Teodor Currentzis is now two-thirds of the way into his Mozart opera trilogy with MusicAeterna, and with some maverick tempos, surprising casting and flamboyant continuo contributions, it's proving to be a real love-it-or-loathe-it affair: I'm firmly in the former camp, and their Cosi fan tutte (released on Sony in September) has been one of the most exhilarating listens of my year. It's not so much the individual performances that make this recording special for me (there are more sumptuous Fiordiligis on disc than baroque specialist Simone Kermes, though Christopher Maltman's volatile Guglielmo and Malena Ernman's voluptuous Dorabella are first-class), but the sheer impetus and imagination of the whole ensemble. Right from the raw opening chords, Currentzis and co. really unlock the vital (and often savage) energy at the heart of the work, and made me discover new marvels in a score I thought I knew inside-out!
Available Formats: MP3, FLAC, Hi-Res FLAC, Hi-Res+ FLAC
James Longstaffe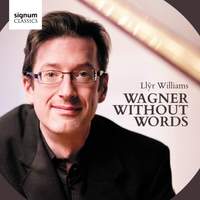 I must admit that I had never actually heard any of Wagner's solo piano music, and so it was a pleasure to come across this wonderful 2-CD set from Welsh virtuoso Llŷr Williams. Brief pieces such as the Zürich Waltzes and a Song without Words are set alongside more substantial works such as the Sonata for the Book of Mrs M.W. and Albumblatt for Mrs Betty Schott.
These original pieces are interspersed with some of the operatic transcriptions made by Franz Liszt, including extracts from Tristan und Isolde and Tannhäuser, all immaculately played. Even more impressive are two pieces arranged by Glenn Gould from Götterdämmerung and Die Meistersinger, which both involve Williams overdubbing himself with a second piano part: the depth of sound that this allows is really quite breathtaking.
Finally, Williams gives us his own transcription of three scenes from Parsifal, which is easily the equal of any of Liszt's arrangements. A fine collection from an extraordinary pianist.
Available Formats: 2 CDs, MP3, FLAC, Hi-Res FLAC
David Smith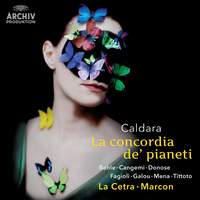 Veronica Cangemi, Delphine Galou, Ruxandra Donose, Franco Fagioli, Daniel Behle, Carlos Mena, Luca Tittoto La Cetra Barockorchester, Andrea Marcon
Caldara's La concordia de' pianeti (The Harmony of the Planets) is a hidden gem of a piece by a composer who was in his day more famous even than JS Bach! Written to celebrate the name-day of Empress Elisabeth (the wife of Holy Roman Emperor Charles VI) and setting a text that to modern eyes seems fawningly sycophantic, it depicts in music a discussion by various Greek gods of the numerous virtues of the Empress - her beauty, her modesty, her wisdom etc.
Andrea Marcon and La Cetra Barockorchester bring out the lively and varied colours in Caldara's score, which I found often to be reminiscent of Handel at his most Italianate; the soloists are characterful and committed in their various heavenly roles. Definitely worth a listen – and a great ambassador for Caldara's music in general!
Available Formats: MP3, FLAC, Hi-Res FLAC