24th November 2014
 Recording of the Week

,

  Anna Netrebko sings Strauss's Four Last Songs
Deutsche Grammophon have certainly worked on the principle of saving the best until last when it comes to Richard Strauss's 150th anniversary: it doesn't get much starrier than Daniel Barenboim and Anna Netrebko taking on the mighty Four Last Songs with Barenboim's long-term collaborators the Staatskapelle Berlin.
Anna Netrebko
As I've discussed in reviews of her recent Verdi recordings, the Russian-born soprano's voice has expanded and gained exciting new colours over the past few years – her operatic work has seen her moving away from the Susannas and Manons with which she made her name and into heavier repertoire such as Verdi's Lady Macbeth. German repertoire has yet to play a part (the only such music I'd previously heard from her was a radiant, sensual Morgen! at the Last Night of the Proms in 2007, though there are rumours of a forthcoming Elsa in Lohengrin under Christian Thielemann), so I was intrigued to see what she'd do with Richard Strauss's late, great meditations on twilight and mortality.
She brings a suitably dusky, veiled tone to the entire cycle, with plenty of colour and presence in the middle and lower reaches of the voice (the first phrase of 'Frühling', which can sound undernourished in some hands, made me sit up and listen immediately!). Her big lyric voice floats effortlessly over the sensitively-handled Staatskapelle forces, with no sense of driving the voice too hard, and a wonderful sense of intimacy in moments like the depiction of summer 'shuddering erotically' in the second song. The Staatskapelle players enter fully into this mood of interiority, approaching the songs almost like chamber-music – the recessed horn and violin solos in the third song are quite magical (having reviewed this from a preview-copy without full sleeve-notes, I can't alas, credit the players by name), and there are some exquisite soft-focus string sonorities here and in the transcendent final song.
So how does Netrebko's interpretation compare to her esteemed predecessors in this holy of holies? First, a word on the language issue: despite being a fluent German-speaker and long-term Vienna resident (she's held Austrian citizenship since 2006) Netrebko's sung German may sound rather cloudy and occluded to those used to the crisp precision of a singer like Elisabeth Schwarzkopf, and she doesn't go in for the very detailed word-painting of some earlier recordings. However, her broader approach to text comes with its own pay-offs: the mood of each phrase is exquisitely judged, and everything feels fresh and spontaneous rather than micro-managed or cerebral. She allows herself the occasional breath in places which you may not expect, true, but is still more than capable of soaring to thrilling effect in the big moments like the climax of 'Beim Schlafengehen'.
I'd originally hoped that we'd get more orchestral songs as companion-pieces (I'd love to hear her in the big dramatic ones like Cäcilie and Zueignung!), but Daniel Barenboim's take on Strauss's great heroic tone-poem Ein Heldenleben is more than fair compensation. What struck me from the very beginning was how well matched this particular take on a 'Hero's Life' is to the Four Last Songs: there's a nobility and maturity about this interpretation which somehow mirrors the autumnal mood of the song-cycle, with the distinct sense that our eponymous hero is looking back on his youthful exuberance and struggles from the vantage-point of his twilight years. The grandiose opening statement, for instance, is less brash and exuberant than it can sometimes seem, but grips you from the off with its expansive authority. The carping critics in the second section are personified to perfection by the Staatskapelle winds, and the great battle-scene rages with almost Mahlerian intensity. But once again that superb first horn and leader are first among equals in the rapturous love-duets, particularly the glorious final pages of the score.
As well as the CD version, we're delighted to say that we are also able to offer this recording as a 24-bit, studio-quality download. This high-definition version retains the range of dynamics and frequencies used by the sound engineers in the mastering process itself, and allows you to hear these fabulous performances at better-than-CD quality! Just follow the link below to see the various download options available.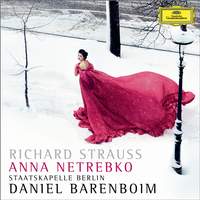 Anna Netrebko (soprano), Staatskapelle Berlin, Daniel Barenboim (Download not available in all countries)
Available Formats: MP3, FLAC, Hi-Res FLAC