UPDATE: Royal Mail have now resumed shipments on their TRACKED & SIGNED and SIGNED services but delays should be expected, please choose these services if available to you or FEDEX if your order is urgent.
12th December 2014
 Favourites

,

  Mozart Operas
I don't mind telling you that this has been at once the most joyous and the most maddeningly difficult of these features I've ever had to write - for me as for so many music-lovers, these sublime works sit right at the heart of my library, and after two decades of exploring the multitude of recordings on offer there are at least half a dozen versions of the 'big four' operas (Figaro, Don Giovanni, Così and Die Zauberflöte) that I can't imagine being without.
These works are so lavishly represented on disc, having attracted the attention of some of the very greatest conductors (and singers) for over seven decades: Wilhelm Furtwängler, Herbert von Karajan, Otto Klemperer, Josef Krips, Georg Solti, the list goes on... Personally, I'll always have a special place for the recordings of the late Sir Colin Davis, Carlo Maria Giulini and Sir Charles Mackerras, whilst more recently I've grown to love the fresh voices and lean, period sonorities of William Christie's recordings, [most of!] the idiosyncrasies of René Jacobs's ongoing series, and Teodor Currentzis's maverick new interpretations with Musica Aeterna on Sony.
With such infinite riches on offer, I couldn't even come close to making any definitive pronouncements, so even more than any other week this is really a very personal (and far from exhaustive) selection of recordings that have struck me as particularly special over the years - whether when encountering the works for the first time as a young teenager, preparing roles for performance as a fledgling singer, or discovering fresh marvels thanks to some of the recordings released in recent years whilst I've been working here at Presto.
Operas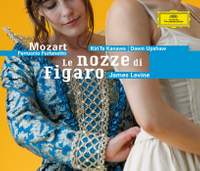 A veritable dream-team of a cast come together for James Levine's 1990 studio recording: Kiri Te Kanawa's Countess, more in sorrow than in anger, is ravishingly sung, Ferruccio Furlanetto is a big-boned, vital Figaro, and Thomas Hampson fuses class and menace as the philandering Count. Tatiana Troyanos and Paul Plishka are luxury casting as Figaro's estranged parents.
Available Formats: MP3, FLAC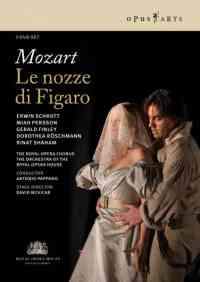 There's so much to love about David McVicar's Royal Opera House Figaro, set in pre-revolutionary France and filmed in 2006 with Antonio Pappano at the helm: the relationship between Gerald Finley and Dorothea Röschmann's Count and Countess shocks with its volatility, yet Erwin Schrott's sensual, rebellious Figaro, Miah Persson's cool, sparky Susanna, and Rinat Shaham's gawky Cherubino are all treasurable.
Available Format: DVD Video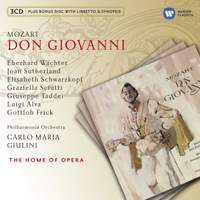 Carlo Maria Giulini's Giovanni was the first complete Mozart opera recording I ever heard, and will always have a special place in my heart: revisiting it last week, I was terrified anew by the first shuddering chords of the overture, and marvelled again at Elisabeth Schwarzkopf's patrician Elvira, Joan Sutherland's crystalline Anna and Gottlob Frick's stentorian Commendatore.
Available Formats: 3 CDs, MP3, FLAC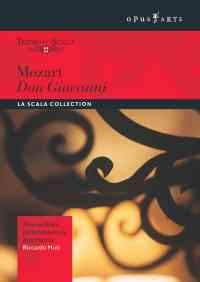 If you prefer a Don Giovanni who actually feasts on pheasant and Marzemino rather than Burger King and crack, then I heartily recommend Giorgio Strehler's broadly traditional (but in its way just as nasty and brutish) 1987 production from La Scala, with Riccardo Muti presiding over a cast headed by Thomas Allen's classy but vicious rake and a superb trio of women in Edita Gruberová, Ann Murray and Susanne Mentzer.
Available Format: DVD Video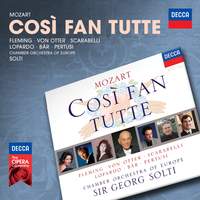 As my all-time favourite Cosi, with Colin Davis, is now download-only (see 'Collections', below), I've opted for Sir Georg Solti's 1994 recording, which was brand-new when I first fell in love with this opera: Renée Fleming and Anne Sofie von Otter blend and contrast beautifully as the sisters, and Frank Lopardo is one of the most elegant and sympathetic of Ferrandos on disc.
Available Formats: MP3, FLAC
For me, Nicholas Hytner's sun-drenched, ideally bitter-sweet Glyndebourne Così from 2006 is sheer perfection: the quartet of lovers, particularly Miah Persson's radiant Fiordiligi and Luca Pisaroni's charismatic, conflicted Guglielmo, are superb, and Ivan Fischer presides over the Orchestra of the Age of Enlightenment with warmth and keen dramatic sensibility. Surely one of the finest opera DVDs of all time.
Available Format: 2 DVD Videos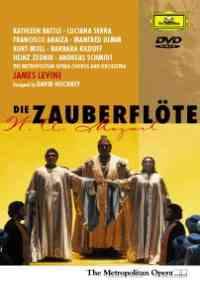 I have my Presto colleague James Longstaffe (a fine interpreter of the opera himself!) to thank for introducing me to this truly magical Magic Flute a few years ago; filmed at the Metropolitan Opera in 1991, its many virtues include a formidable Queen of the Night in Luciana Serra, an adorable Pamina in Kathleen Battle, and vivid, primary-colour designs by David Hockney. James Levine paces everything to perfection.
Available Format: DVD Video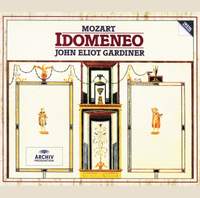 I have to admit that this one was one of my trickiest choices (I was tempted by the polar opposites of Pavarotti under John Pritchard and Ian Bostridge under Charles Mackerras), but it's Anthony Rolfe Johnson's nuanced King of Crete and Anne Sofie von Otter's stoical, classily-sung Idamante that win the day for me in the end.
Available Formats: MP3, FLAC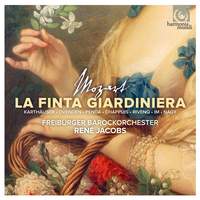 Unless you're allergic to the occasional burst of continuo hyperactivity, I'd suggest checking out any and all of René Jacobs's Mozart opera series, but this 2012 recording of Finta is one of the pearls of the series, thanks in part to its triumvirate of sopranos - Sophie Karthäuser's gently glowing Sandrina, Alex Penda's volatile Arminda, and Sunhae Im's pert Serpetta.
Available Formats: MP3, FLAC, Hi-Res FLAC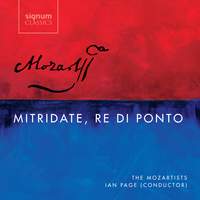 Ian Page's ongoing, broadly chronological series of the complete Mozart operas has yielded some real treasure so far in terms of the early works, and there's knock-out vocal virtuosity from all concerned here - particularly Barry Banks as the eponymous ruler and Miah Persson as the beleaguered Aspasia.
Available Formats: 4 CDs, MP3, FLAC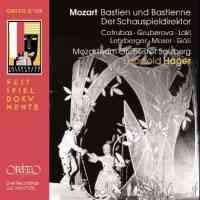 A super double-bill of two one-acters here, recorded at the Salzburg Festival in 1976: Edita Gruberová and Kristina Laki spar delightfully as the warring divas in Der Schauspieldirektor, whilst Ileana Cotrubas is adorable as the shepherdess Bastienne.
Available Format: CD
Collections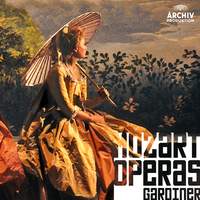 Bringing together seven recordings made in the 1990s (the three Da Pontes plus Flute, Entführung, Idomeneo and Tito), this John Eliot Gardiner boxed set is outstanding value: the 1993 Figaro, starring Bryn Terfel, Rodney Gilfry and Alison Hagley is particularly fine.
Available Formats: MP3, FLAC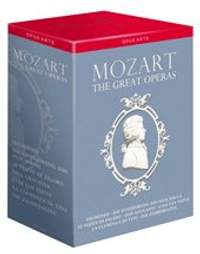 The same seven operas (in different recordings) are also handily brought together on this Opus Arte DVD set (in our boxed set promo until 21st January 2015!): that gorgeous Glyndebourne Così discussed above features, as does a fine Idomeneo from Salzburg with Magdalena Kožená as Idamante.
Available Format: 13 DVD Videos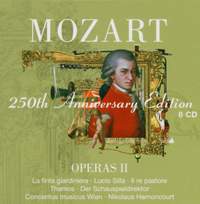 Released in autumn 2005 in anticipation of the 250th anniversary of the composer's birth, this boxed set of recordings under Nikolaus Harnoncourt is a great way to get hold of the seldom-recorded early operas, including a charming Il Re Pastore with Ann Murray as Aminta.
Available Formats: MP3, FLAC