25th May 2009
Recording of the Week

,

Two recent re-discoveries light up Martinu year
One composer anniversary that seems to have largely slipped under the radar so far this year is that of Czech composer Bohuslav Martinu, who died fifty years ago this year. He was a prolific composer who wrote fifteen operas, fourteen ballet scores, six symphonies, numerous concertos, as well as a large amount of chamber and vocal music. I like Martinu's music very much and with two important new releases out this week I thought I'd seize the opportunity to tell you a bit more about him.
Bohuslav Martinu
After his early training at the Prague Conservatoire and playing 2nd Violin in Vaclav Talich's Czech Philharmonic Orchestra he moved to Paris in 1923 thanks to a modest grant from the Czechoslovakian government. His intended three-month stay turned into 17 years until the Nazi occupation of France drove him off to his American exile in 1941. He settled in New York with his French wife where he composed a great deal and also taught composition. He spent the last few years of his life in Switzerland where he died in 1959, having never returned to his homeland.
I always find it interesting to see how a change in location affects the stylistic output of a composer, and Martinu's move to Paris signalled a big change in his style as he immediately abandoned the Romantic style in which he had been taught and started experimenting with things like neo-classicism and also jazz idioms. His first truly great compositions date from this period, but his First String Trio (the first major piece he wrote in Paris) disappeared soon after the first performance and until recently was thought lost. Thankfully it was discovered a couple of years ago and has now finally been recorded (released today) along with a selection of his other chamber music. The whole disc is beautifully recorded by the Ensemble Calliopée with pianist Karine Lethiec. I've put the last movement of the recently discovered String Trio for you to listen to below – it is really attractive and exciting music.
Another recent re-discovery is the subject of the second important new release I mentioned at the outset. After the 1938 Prague premiere of his opera Julietta Martinu decided to try and gain the work further publicity by translating three fragments into French and putting them together to form a forty minute work. This he hoped would be performed and recorded on French Radio and hopefully lead to further performances of the opera. Unfortunately this never happened and with Martinu leaving France soon afterwards the Three Fragments were never performed. They finally turned up again in 2007 and are recorded here for the first time with the stunning Magdalena Kožená in the title role accompanied by the Czech Philharmonic Orchestra under Sir Charles Mackerras. It is a really outstanding release and for those unfamiliar with Martinu's operas it would also work very well as an introduction to the genre.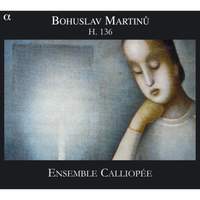 Ensemble Calliopée, Karine Lethiec
Available Formats: 2 CDs, MP3, FLAC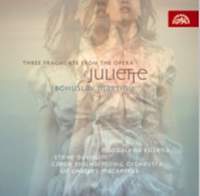 Magdalena Kožená (Juliette), Steve Davislim (Michel), Frédéric Goncalves, Michéle Lagrange & Nicolas Testé, Czech Philharmonic Orchestra, Sir Charles Mackerras
Available Format: CD