6th October 2014
 Recording of the Week

,

  Cole Porter in Hollywood
A new disc from John Wilson and his Orchestra always appears when I feel most in need of perking up – just as the nights begin to draw in, the stage-and-screen maestro par excellence and his virtuoso pick-up band are on hand with their latest instalment of joyous, nostalgic music-making that never fails to put a smile on my face after the first track. Following hugely successful tributes to Rodgers & Hammerstein and the MGM Musicals, JWO devote themselves to the music of Cole Porter this time round: their sell-out performance of Kiss me Kate at this year's Proms gave a foretaste of Wilson's way with the sophisticated, witty and often bittersweet world of the Paris-educated honorary New Yorker who turned out words and music for stage and screen at a dizzying rate in the 1930s, 40s and 50s (his output numbers almost a thousand songs all told!).
John Wilson
The orchestral performances here display all of the virtues that have come to be associated with Wilson and his band: plenty of 'front' on the brass-playing, liberal vibrato from the strings and just enough swooning portamento (sliding between pitches) to replicate that old-school Hollywood shimmer and sheen. Unsurprisingly, given the pedigree of Wilson's hand-picked players from some of the world's top orchestras and bands, there's some ravishing solo playing, notably from leader Andrew Haveron (former leader of the Brodsky Quartet) and John Anderson, whose cor anglais solo is a particular highlight. My only reservation is that the orchestra appears to be much more closely miked than on earlier recordings, despite the engineer and recording-venues being the same – which can throw the balance off in one or two of the more lyrical numbers.
Most of the solo singers are long-term collaborators with Wilson, and will be familiar to anyone who's heard any of the previous discs or attended one of the live performances. Powerhouse alto Anna-Jane Casey kicks things off with a delightfully sassy account of 'Stereophonic Sound' in an arrangement by André Previn, nipped and tucked by Wilson, and delivers an insouciant 'Always true to you in my fashion' (one of a generous selection of songs from Kiss me Kate). Veteran Broadway diva Kim Criswell also turns in a bravura performance, not least in an unabashedly sleazy 'My heart belongs to Daddy' (made famous by Marilyn Monroe) and 'Josephine', a ribald paean to the charms of Napoleon's mistress from Silk Stockings). And by way of contrast with the two Broadway 'belters' it's great to hear Sarah Fox's opulent lyric soprano in the soaring lines of the cod-Viennese 'Wunderbar!' from Kiss me Kate. I hear on the grapevine that Fox has an entire Cole Porter disc of her own in the pipeline for the spring, and on this evidence it's definitely one to keep an eye out for!
But the most affecting singing of all comes from Matthew Ford, Wilson's go-to man for the 'crooner' numbers; he takes on Gene Kelly and Bing Crosby roles here, and has been known to do a good 'Frank Sinatra' in the live shows! His sincere, understated 'It's alright with me' from Can-Can is the most beautiful track on the disc, and a lovely oasis amid all the razzmatazz of the larger-scale numbers.
It almost goes without saying that everyone's diction and delivery of the text is consistently crisp and pointed, so that Porter's witty, wry and at times almost Wildean quips (many of them really rather risqué for the time of composition – how on earth did certain phrases in 'Josephine' get past the beady eyes of the censors?!) all hit home from the first hearing. A delight from start to finish.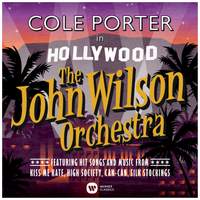 Anna-Jane Casey, Kim Criswell, Matthew Ford, Sarah Fox, Richard Morrison, John Wilson Orchestra, John Wilson
Available Formats: CD, MP3, FLAC, Hi-Res FLAC