Favourites

,

  Samuel Barber
Samuel Barber is perhaps one of the most quintessentially 'American' composers. His most famous work, the Adagio that originally formed the middle movement of his String Quartet, has become the unofficial national lament of the United States (fulfilling a role similar to Elgar's Nimrod in the United Kingdom), and his compositional style generally seems full of an uncomplicated self-confidence that typifies the American national spirit during much of the Twentieth Century. His music is in many ways quite conservative - melodious and lyrical at a time when many composers were consciously rejecting such styles in favour of experimental techniques less easy on the ear.
Orchestral works & Concerti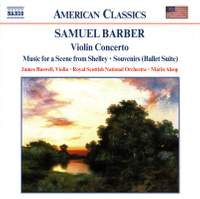 The Violin Concerto's slow movement is perhaps one of the most sublime to be written in the twentieth century; James Buswell plays it with great sensitivity, yet also brings off the proverbially challenging non-stop finale in style. Marin Alsop and the Royal Scottish National Orchestra provide both the accompaniment and a delightful selection of Barber's other orchestral works to round out the disc.
Available Formats: CD, MP3, FLAC, Hi-Res FLAC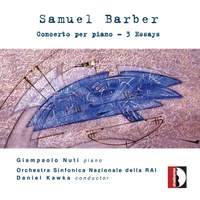 Commissioned by the publisher G Schirmer for their centenary, the Piano Concerto is in a similar melodic vein to the Violin Concerto, with which it shares the unusual property of having had its final movement initially dismissed as unplayably difficult by the intended soloist! Giampaolo Nuti, accompanied by the Orchestra Sinfonica Nazionale della RAI under Daniel Kawka, gives a commanding performance.
Available Formats: MP3, FLAC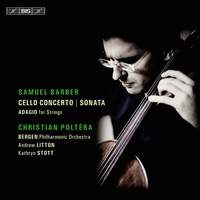 Barber's Cello Concerto was commissioned by Serge Koussevitzky for the Russian-born cellist Raya Garbousova. Its popularity has been limited by its sheer technical difficulty, placing extreme demands on the player - with the result that few soloists are willing to tackle it. It holds no fears for Christian Poltéra in this recording, paired with the much earlier Cello Sonata (a work from Barber's student years) accompanied by Kathryn Stott.
Available Formats: SACD, MP3, FLAC, Hi-Res FLAC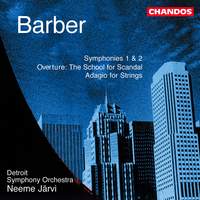 Barber's symphonies are curiously neglected compared to some of his other works. The first is a single-movement synthesis of the conventional symphony and sonata form; the second was commissioned by the United States Air Force and (as a result of a request to include ''modern devices'') incorporates an electronic tone-generator as a representation of a radio beacon. Neeme Järvi leads the Detroit Symphony Orchestra in both works.
Available Formats: CD, MP3, FLAC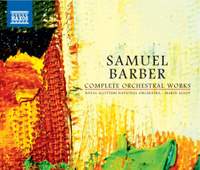 A great starting-point for anyone wanting to familiarise themselves with Barber - six CDs comprising his complete orchestral output (including the concertos), recorded by the Royal Scottish National Orchestra under Marin Alsop to mark the centenary of his birth in 2010.
Available Format: 6 CDs
Instrumental & Chamber works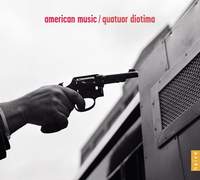 Barber's single String Quartet contains at its core the famous Adagio, subsequently popularised in arrangements for string orchestra, choir and other ensembles. The sparser texture of the quartet lends this, the original version, a restrained and intimate feeling that the larger and more opulent settings simply cannot match, and which makes the climax all the more powerful.
Available Formats: MP3, FLAC
Choral & Vocal works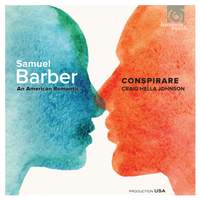 Although Barber's reputation rests primarily on his orchestral music, his choral writing has a simple and elegant charm. Often primarily chordal, as in the quietly beautiful miniature Let down the bars, O Death (probably my favourite out of all Barber's works), it's an accessible, un-cluttered and somehow deeply American style of composition. Craig Hella Johnson and his choir Conspirare breathe life into these relatively neglected works.
Available Formats: MP3, FLAC, Hi-Res FLAC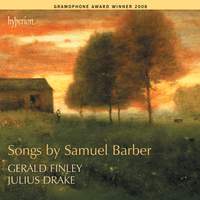 Many people have heard of Barber's setting of The Monk and his Cat, a charmingly word-painted picture of human-feline friendship - but the other Hermit Songs (settings of texts by Irish monks during the European Dark Ages) form a fascinating and varied selection. The inimitable Gerald Finley, accompanied by Julius Drake, sings these and other Barber songs with character and wit.
Available Formats: CD, MP3, FLAC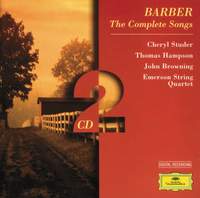 For those who want the whole picture - Cheryl Studer and Thomas Hampson here present a complete collection of all Barber's solo vocal works, accompanied by John Browning. There's no more cost-effective way to acquaint yourself with this little-known side of a composer of multiple and varied talents.
Available Formats: MP3, FLAC
Operas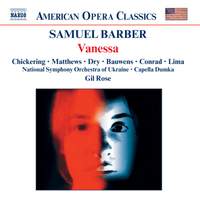 One of Barber's greatest successes, the opera Vanessa is a setting of a libretto by Gian-Carlo Menotti, inspired by the Gothic atmosphere of the stories of Karen Blixen. The plot has shades of Der Rosenkavalier and War and Peace, and tells of the parallel romantic troubles of two generations of nobility on a chilly northern estate. Gil Rose leads the National Symphony Chorus and Orchestra of the Ukraine in this performance.
Available Formats: 2 CDs, MP3, FLAC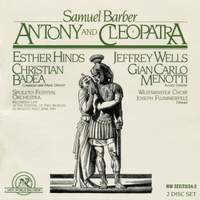 Closely modelled on William Shakespeare's play of the same name, Barber's opera sets a libretto by Franco Zeffirelli that makes exclusive use of Shakespeare's distinctive, now archaic-sounding, language. Although it was very poorly-received at its premiere - hamstrung by technical issues and unfavourably reported by a press preoccupied with the celebrities attending the performance - it was later revised by the composer and has begun to assume the popularity it deserves. Esther Hinds and Jeffrey Wells sing the title roles in this, the world premiere recording.
Available Formats: 2 CDs, MP3, FLAC