23rd June 2014
 Recording of the Week

,

  Vladimir Jurowski conducts music by Zemlinsky
A new operatic discovery for me this week, in the form of Alexander Zemlinsky's A Florentine Tragedy in a blistering performance from the London Philharmonic under Vladimir Jurowski – decadent in all senses of the word, this one-act depiction of a love-triangle with a twist is powerful, intoxicating stuff and packs a real punch in its fifty minutes.
Vladimir Jurowski
Born in Vienna in 1871, Zemlinsky was mentored by Brahms and Schoenberg (and the fingerprints of both are in evidence in his work, particularly the earlier compositions) and had something of a love-hate relationship with Gustav Mahler, not least because the magnetic society beauty Alma Schindler broke off a passionate love-affair with Zemlinsky in order to marry him. (Zemlinsky in fact references A Florentine Tragedy in a reproachful letter to her).
I first stumbled across Zemlinsky's music around a decade ago, when Opera North ran a pick-and-mix season of one-act operas – a friend and I wanted to see Puccini's Il tabarro, which happened to be paired with Zemlinsky's Der Zwerg ('The Dwarf'), based on Oscar Wilde's dark short story 'The Birthday of the Infanta' (about the humiliation of a lovesick dwarf who is given to a princess as a birthday-present). In the event, it was the Zemlinsky which blew us away – I remember enthusing afterwards that it was as if someone had unearthed a complete, small-but-perfectly-formed Mahler opera!
A Florentine Tragedy shares all its heady exoticism and claustrophobia - though here it's Strauss rather than Mahler whose influence dominates. Like Der Zwerg, it's based on a text by Wilde (an uncompleted play this time), and tells the story of a merchant who returns home to find his wife not quite in flagrante with a Prince (though the seething, Rosenkavalieresque prelude suggests that if he'd got back just a few minutes earlier he would indeed have caught them red-handed). Most of the ensuing forty minutes or so is taken up with his slow-burning but compelling quest for proof and, ultimately, vengeance as he switches between menacing musings on death, chilling faux-bonhomie and increasingly unsubtle goading of wife and rival. I won't drop any spoilers here, but suffice it to say that the ecstatic, perverse ending suggests that Zemlinsky had taken a leaf out of Salome's book!
In fact, Straussian touches suffuse the score throughout: snippets of waltz-music suggest Rosenkavalier again, and both the eerie descriptions of the moon and the shimmering exoticism as the merchant attempts to flog the Prince a pricey oriental robe are also pure Salome. But Zemlinsky certainly cast his net wide, echoing several of the great operas of the twentieth century and even anticipating others: there are little nods to the opening of Die Walküre as the jealous husband finds his wife at home with a stranger, shades of Il tabarro, flashes of Bluebeard's Castle and even glimpses of Hänsel und Gretel, whilst some of the 'exotic' orchestration put me unexpectedly in mind of Britten's Death in Venice.
The performance is terrific – the LPO draw out all of the score's terrible beauty, and Jurowski's pacing really turns the dramatic screw. All the singers were new to me, and Heike Wessels in particular is tremendous as the sullen, frustrated Bianca – she's spent most of her career singing the big Wagner mezzo roles in Mannheim, and her huge dark sound glints and surges to thrilling effect.
One caveat: though the performance is sung in the original German, the booklet gives only an English translation, which can make it tricky to follow. But I wouldn't let that put you off – this account is so vivid that the drama fairly leaps off the page!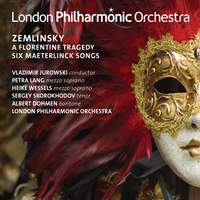 Heike Wessels (mezzo soprano), Sergey Skorokhodov (tenor), Albert Dohmen (baritone), Petra Lang (mezzo soprano), London Philharmonic Orchestra, Vladimir Jurowski
Available Formats: CD, MP3, FLAC, Hi-Res FLAC