2nd June 2014
 Recording of the Week

,

  Verdi's Giovanna d'Arco with Anna Netrebko and Plácido Domingo
Last year's Verdi bicentenary is a gift that keeps giving: the 2013 Salzburg Festival made several outstanding contributions to the celebrations, and this week I've been enjoying one of the highlights, a live recording of Giovanna d'Arco which has just been released on Deutsche Grammophon. Based loosely on the story of Joan of Arc, this relatively early opera doesn't receive many outings, but the presence of Anna Netrebko as the 'maid of Orleans' and Plácido Domingo as her tormented father guaranteed that it was one of the hottest tickets of the festival.
Plácido Domingo and Anna Netrebko
I've had great fun getting to know the piece, which is very much 'Verdi by numbers' in every sense but no less enjoyable for that: plenty of set pieces and big tunes, and vocal pyrotechnics in spades for the star-crossed lovers Giovanna and Carlo. The chorus have plenty to do, from rousing military marches and patriotic songs to cackling demons' choruses (shades of Macbeth here!), and there's an especially compelling scene where angels and devils battle over the sleeping Giovanna's soul. The spirit of great bel canto operas such as William Tell and Norma suffuses the score, but there are also passages which look forward to Verdi's more mature work (at one point I thought the French armies were about to break into the Triumphal March from Aida!).
There are essentially only three characters, and the plot is fairly straightforward: Giovanna is divinely inspired to rally the French against the invading English forces, causing the French leader Carlo to fall in love with her in the process, but her zealous elderly father becomes convinced that Carlo has seduced Giovanna and so denounces her to the English commanders as a witch in the hope that she will be burned at the stake and 'made pure' in death. I won't drop any spoilers here, but suffice it to say that Verdi's life-long fascination with father-daughter relationships, reconciliation and redemption yields some of the opera's most beautiful and moving music – the score really comes into its own in a glorious final act that brought tears to my eyes.
Netrebko is on fire (no pun intended) as Giovanna, singing with her customary passion but also with more technical security in the role's many florid passages and exposed top notes than she's brought to other Verdi projects. Her best singing comes in that sublime final act, and in the pastoral elegy for her simple cottage which she included on her own Verdi anniversary CD last year. The role was written for a singer with a relatively delicate instrument, and (perhaps unexpectedly) this suits Netrebko very well – she's been criticised in other Verdi roles for lacking real dramatic 'blade', but here the lyric qualities of her voice pay dividends.
Domingo is absolutely riveting as her father, a role which to my ear suits him far better than some of his other excursions into baritone territory. He's still instantly recognisable as Domingo, certainly (his first phrase made me sit instantly to attention!), but he seems much more comfortable in the lower reaches of the voice these days and more adept at blending together the darker colours required. It's a peach of a role, too: Verdi lavishes some of the opera's most beautiful music on Giacomo as he moves from anger at Giovanna's 'betrayal' to righteous vengeance to remorse.
As Carlo, Francesco Meli more than holds his own in such exalted company, offering bright, open, golden tone which is thrilling on its own terms and also contrasts sufficiently with Domingo (who recorded the role himself in the 1970s).
Another highlight of Salzburg's Verdi 2013 celebrations was a sublime Don Carlo (starring Anja Harteros, Jonas Kaufmann and Thomas Hampson) which has also just appeared on DVD and Blu-ray: these releases will be particularly welcome now, I hope, to anyone who (like me) was suffering from mild Verdi fatigue by last autumn but is now rested enough to be hungry for more!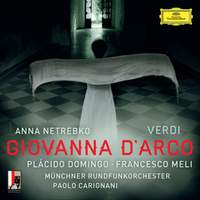 Anna Netrebko (Giovanna d'Arco), Plácido Domingo (Giacomo), Francesco Meli (Carlo VII), Philharmonia Chor Wien & Münchner Rundfunkorchester, Paolo Carignani (Download not available in all countries)
Available Formats: MP3, FLAC