2nd March 2009
 Recording of the Week

,

  Angela Gheorghiu in Puccini's Madama Butterfly
Romanian soprano Angela Gheorghiu is undoubtedly one of the great sopranos of all time. However, she is also notoriously difficult and demanding and has had numerous run-ins with opera house managers and directors. You could argue that she is simply living up to the 'prima donna' tag that people expect of her, but I fear it is starting to harm her reputation as people generally tend to be less forgiving of this sort of behaviour than they once were. What really matters of course is how good she actually is, and particularly this week, whether you should be considering investing in her new Madama Butterfly out on EMI today. So, here are a few facts, along with some of my thoughts to get you started...
Angela Gheorghiu
Angela Gheorghiu shot to fame back in 1994 when her sensational La traviata at the Royal Opera House under Sir Georg Solti resulted in the BBC clearing its schedules for immediate telecast, and the great conductor becoming so overcome with emotion that he apparently broke down in tears during one of the rehearsals. Since then she has gone on to make some truly fantastic recordings, as well as a few quite average ones (mainly when her voice is not particularly well suited to the role). Her voice is quite small and this creates a problem when performing some of the really big demanding roles in the bigger opera houses like the MET and Covent Garden. She has never sung the role of Cio-Cio-San (Madama Butterfly) on stage for example, and quite possibly never will.
This is EMI's first studio recording of a complete mainstream opera since Antonio Pappano conducted Wagner's Tristan und Isolde with Placido Domingo back in 2004. At the time EMI's vice-president for artists and repertoire, Peter Alward declared it would be 'the last of its kind'. That recording cost nearly half a million pounds to make and with the growing enthusiasm for opera on DVD (and now Blu-ray) you can understand why he said that. I suspect the only reason EMI agreed to this recording was because it had the potential to be one of Gheorghiu's best roles and was unlikely to ever happen on stage.
So, what is it like, and is EMI's investment this time likely to pay off?
Well, I think it is very fine indeed. Gheorghiu sings beautifully with a lovely softness about her voice, which means that she can create the vulnerability and fragility of the role very effectively. She also seems to have balanced the deep love that her character has for Pinkerton, with the inner knowledge that such devotion is ultimately hopeless. The rest of the cast are equally excellent with Jonas Kaufmann's Pinkerton particularly outstanding, and all are superbly supported by conductor Antonio Pappano and the Accadmia di Santa Cecilia.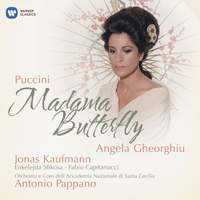 Angela Gheorghiu (Butterfly), Jonas Kaufmann (B.F.Pinkerton), Enkelejda Shkosa (Suzuki), Fabio Capitanucci (Sharpless), Gregory Bonfatti (Goro) & Raymond Aceto (Bonzo), Orchestra e Coro dell'Accadmia Nazionale di Santa Cecilia, Antonio Pappano
Available Formats: 2 CDs, MP3, FLAC