2nd February 2009
 Recording of the Week

,

  Sarah Connolly gets Purcell year off to a flier
With so many important anniversaries to mark in 2009, and one month already gone, I thought I'd better get started and, looking for an outstanding new recording to inspire me I quickly opted for English Baroque composer Henry Purcell and a new disc of his truly great opera Dido and Aeneas. Born in 1659, this year marks the 350th anniversary of Henry Purcell's birth. Dido and Aeneas is one of his most popular works and, written in the late 1680s it is also one of the earliest operas still in the repertoire.
Sarah Connolly
There is no shortage of very fine recordings already (the most famous probably being the 1961 Janet Baker one) so for a new recording to challenge, it has to be pretty special. With any chamber opera like this the first ingredient for success is undoubtedly a good cast, and here it is truly first-rate. Indeed it is hard to imagine a better Dido than Sarah Connolly (who incidentally was also the inspiration behind the whole recording). The role suits her voice perfectly, and with her clear diction, tasteful ornamentation and technical precision it is executed perfectly as well. But what comes across even more powerfully than all this is her understanding of the part. She displays such a deeply felt empathy with the character that by the end of the famous Act III lament I had a tear in my eye.
The rest of the cast is equally outstanding. Lucy Crowe presents an enchanting and pure-sounding Belinda and Gerald Finley a sensitive but still aristocratic Aeneas. Patricia Bardon excels as the fiery Sorceress with her rich almost blood-chilling contralto tone. They are all superbly supported by the conductor-less Choir and Orchestra of the Age of Enlightenment, jointly directed by lutenist Elizabeth Kenny and harpsichordist Steven Devine.
In keeping with the performance tradition of many early operas, some additional instrumental interludes are inserted in order to fill out some of the score. They seem generally very well chosen and, while the Almand from Purcell's G minor keyboard suite (which appears in the middle of Act III) initially came as a bit of a surprise, after repeated listening even this seems to fit well.
All in all a pretty outstanding start to Purcell year, and I'm sure this recording will appeal both to those new to the work and to those already familiar with it. I've put a couple of samples on below including the famous lament, although to get the full power of the performance you really need to have listened to what has gone before first. Enjoy!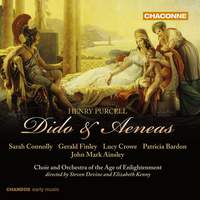 Sarah Connolly (mezzo-soprano), Gerald Finley (baritone), etc, OAE, Steven Devine and Elizabeth Kenny.
Available Formats: CD, MP3, FLAC, Hi-Res FLAC