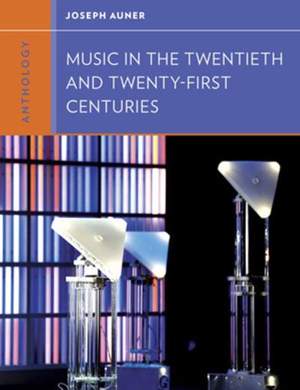 Anthology for Music in the Twentieth and Twenty-First Centuries
Author: Auner, Joseph
Author: Frisch, Walter
Contents
Gustav Mahler, Symphony No. 3, fourth movement
Claude Debussy, Estampes, Pagodes
Arnold Schoenberg, Pierrot lunaire, No. 1, Mondestrunken
Alban Berg, Wozzeck, Act 3, Scene 3
Charles Ives, Symphony No. 4, first movement
Igor Stravinsky, The Rite of Spring, Introduction
Kurt Weill, Lindbergh's Flight, Introduction of the Pilot
Igor Stravinsky, Symphony of Psalms, second movement
Maurice Ravel, Piano Concerto in G, first movement
Arnold Schoenberg, Piece for Piano, Op. 33a
Anton Webern, Symphony Op. 21, second movement
Bela Bartok, Music for Strings, Percussion, and Celeste, first movement
Aaron Copland, Billy the Kid, "Street in a Frontier Town"
William Grant Still, Africa, second movement, Land of Romance
Benjamin Britten, War Requiem, Requiem aeternam
Dmitri Shostakovich, String Quartet No. 8, third movement
Pierre Boulez, Le Marteau sans Maitre, No. 5, Bel Edifice Et Les Pressentiments
Pauline Oliveros, Traveling Companions
Mario Davidovsky, Synchronisms No. 6 for Piano and Electronic Sounds (1970), excerpt
Kaija Saariaho, Noa Noa
Gyoergy Ligeti, Continuum for Harpsichord
Elliott Carter, String Quartet No. 5: Introduction, Giocoso, Interlude, first movement
George Crumb, Vox Balanae, excerpt
Chen Yi, Ba Ban
Steve Reich, Violin Phase
John Adams, Doctor Atomic, Act 1, Scene 3, "Batter My Heart"