UPDATE: Royal Mail have now resumed shipments on their TRACKED & SIGNED and SIGNED services but delays should be expected, please choose these services if available to you or FEDEX if your order is urgent.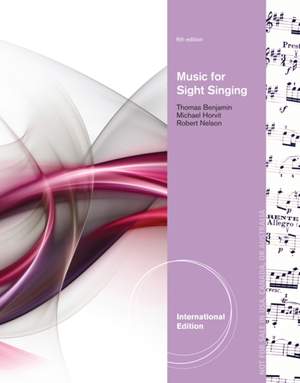 Music for Sight Singing, International Edition
Author: Benjamin, Thomas
Author: Horvit, Michael
Author: Nelson, Robert
Contents
Part I : COMMON PRACTICE TECHNIQUES: DIATONIC.
1. Rhythm: One-and-Two-Pulse Units (Unmetered). Pitch: The Major Scale.
2. Rhythm: Simple Meters. Pitch: Introducing Thirds. Pitch: Introducing Fourths.
3. Pitch: Tonic Triad in the Major Mode. Introducing Fifths, Sixths, and Octaves.
4. Rhythm: 2:1 Subdivisions of the Beat. Pitch: I, V, and V7; Introducing Sevenths.
5. Rhythm: Anacruses (Upbeats) and 4:1 Subdivisions of the Beat. Pitch: I, IV, V, and V
7. Pitch: Introducing the Alto Clef.
6. Rhythm: Dots and Ties. Pitch: Minor Mode.
7. Music from the Literature.
8. Rhythm: Compound Meter. Pitch: Supertonic Traid. Pitch: Submediant and Mediant Triads. Pitch: Tenor Clef.
9. Rhythm: Triplets and Duplets.
10. Music from the Literature.
11. Rhythm: Syncopation. Pitch: Other Seventh Chords.
Part II : COMMON PRACTICE TECHNIQUES: CHROMATIC.
12. Pitch: Decorative Chromaticism. Pitch: Inflected Scale Degrees. Pitch: Scalar Variants in Minor. Pitch: Modal Borrowing.
13. Music from the Literature.
14. Pitch: Secondary Dominants.
15. Pitch: Modulations to Closely Related Keys.
16. Rhythm: Quintuple Meters. Pitch: Chromaticism Implying Altered Chords; Modulation to Distantly Related Keys.
17. Music from the Literature.
Part III : TWENTIETH-CENTURY TECHNIQUES.
18. Rhythm: Irregular Meters. Pitch: Diatonic Modes. Pitch: Changing Clefs. Part Music.
19. Rhythm: Changing Meters. Pitch: Pandiatonicism.
20. Rhythm: Syncopation Including Irregular and Mixed Meters. Pitch: Extended and Altered Tertian Harmony.
21. Pitch: Exotic Scales.
22. Rhythm: Complex Divisions of the Beat. Pitch: Quartal Harmony.
23. Rhythm: Polyrhythms and Polymeters. Pitch: Polyharmony and Polytonality.
24. Pitch: Interval Music.
25. Serial Music.
26. Music from the Literature.