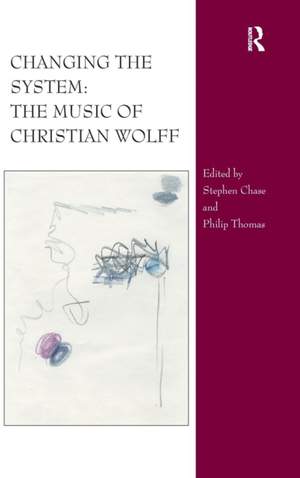 Changing the System: The Music of Christian Wolff
Editor: Chase, Stephen
Editor: Thomas, Philip
[Changing the System is] particularly welcome: its nine contributors between them conspire successfully in providing both basic information on, and useful insights into, a generous selection...

— More…
Contents
Contents: Foreword, Michael Parsons
Preface, Stephen Chase and Philip Thomas
Part I Reception, History: 'Our Webern': Cage and Feldman's devotion to Christian Wolff, Michael Hicks
Christian Wolff in Darmstadt, 1972 and 1974, Amy C. Beal. Part II The Music: For pianist: the solo piano music, Philip Thomas
Mutual effects: organization and interaction in the orchestral music of Christian Wolff, James Saunders
Exercising the ensemble: some thoughts on the later music of Christian Wolff, Christopher Fox. Part III Politics: Changing the system: indeterminacy and politics in the early 1970s, David Ryan
'There is always a time': words, music, politics and voice, Stephen Chase. Part IV Performance: Prose Collection: the performer and listener as co-creator, Clemens Gresser
Playing the game? 5 reflections upon performing Christian Wolff's music, Philip Thomas
List of works
Bibliography
Discography
Index.