UPDATE: Royal Mail have now resumed shipments on ALL International services but delays should be expected, please choose FEDEX if your order is urgent.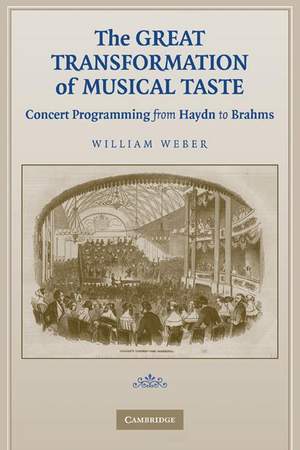 The Great Transformation of Musical Taste
Concert Programming from Haydn to Brahms
If you have ever wondered why concert programs in the modern world are constructed as they are, Weber's fascinating book will help you understand ... Weber draws his data from a vast range of...

— More…
Contents
Introduction;
Part I . Miscellany and Collegiality, 1750-1800:
1. Concepts and contexts;
2. Variations on miscellany;
Part II . Crisis and Experiment, 1800-48:
3. Musical idealism and the crisis of the old order;
4. The rise of the chamber-music concert;
5. Convention and experiment in benefit and virtuoso concerts;
6. Toward classical-music orchestral concerts;
7. Promenade concerts: rise of the 'pops';
Part III . Founding a New Order, 1848-75:
8. Classical music achieves hegemony;
9. Vocal music for the general public;
10. Epilogue: state of the musical community in 1914.