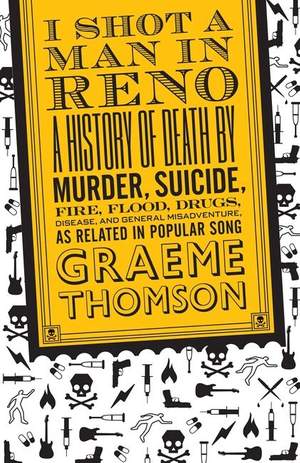 I Shot a Man in Reno: A History of Death by Murder, Suicide, Fire, Flood, Drugs, Disease and General Misadventure, as Related in Popular Song
Through brilliant prose and exhaustive research, [Thomson] presents a potted cultural history which argues that songs about death reveal just as much about how we live... In addition to his own...

— More…
Contents
Introduction
Prologue
1. "Death Ain't Nothin' New" - Death in pre-1900 popular music
2. With God on Our Side? - Disease, Flood and Famine in song
3. Just a Shot Away: Murder - The representation of murder in song
4. Helter Skelter: Songs That Kill - Inspiring people to murder
5. Fixin' To Die - Drugs, Alcohol and Suicide in song
6. Billy, Don't Be a Hero - Teen death songs
7. In Memoriam - Eulogies and personal laments
8. Who Wants To Live Forever? - The most popular songs at funerals
9. The Sound of Music - conveying death through music alone
10. Sweetness Follows: What Happens Next? - Looking at the afterlife in popular song
Epilogue: The 50 Greatest Death Songs.