27th January 2020
 New Publications

,

  New Music Book Publications - 27th January 2020
Welcome to our latest selection of new music books. Our picks this time round include discussions of the music of Mahler, Telemann, Peter Maxwell Davies, and Ernst von Dohnányi; the importance of fantasy to nineteenth-century French compositions; an analysis of the phenomenon of the inclination to hear music as the projection of a composer's inner self; books on polyphony in medieval Paris and music during times of plague; a training manual on how to notate music by ear; an introduction to country music; and an examination of the popularity of musical theatre across America.
Classical Composers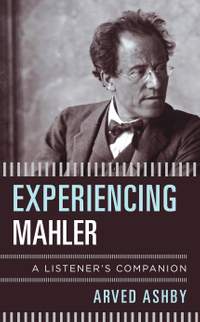 Arved Ashby; Rowman & Littlefield; Hardback
This book surveys Mahler's symphonies and song cycles in detail, introducing them not as artworks but as intensely vivid, truthful, experiences. This is not a biography, nor does it try to account for Mahler's pieces as compositional structures. Instead, it offers a critical perspective on aspects including Mahler's style anomalies, the intuitive nature of his structures, and his paradoxical relationship with the symphony genre.
Available Format: Book
Richard McGregor & Nicholas Jones; Boydell & Brewer; Hardback
This book provides a global view of the music of Peter Maxwell Davies, integrating a number of resonant themes in his work while covering a representative cross-section of his vast output. These themes include compositional technique and process; genre; form and architecture; tonality and texture; allusion, quotation and musical critique; and place and landscape.
Available Format: Book
Steven Zohn; Boydell & Brewer; Hardback
There has been a veritable explosion of performances, both live and recorded, of Telemann's music in recent decades, winning him an ever-increasing following among musicians and concert-goers worldwide, and yet this is the first guide to research on the composer in any language. It also includes a brief biography, dictionary, works listing, and selective bibliography.
Available Format: Book
Veronika Kusz; University of California Press; Hardback
In 1948, Ernst von Dohnányi embarked for the United States, fleeing a political smear campaign that sought to implicate him in intellectual collaboration with fascism. He reached American shores without a job or a home. This book presents the final period in his career, and uses a range of previously unavailable material to re-examine commonly-held beliefs about the musician and his oeuvre.
Available Format: Book
Music History, Theory, & Aesthetics
Francesca Brittan; Cambridge University Press; Paperback
The centrality of fantasy to French literary culture has long been accepted by critics. This book invites us to listen to fantasy, attending both to literary descriptions of sound in other-worldly narrative and also to the wave of 'fantastique' musical works published in France throughout the middle decades of the nineteenth century, including Berlioz's 1830 Symphonie fantastique, and pieces by Liszt, Adam, Meyerbeer, and others.
Available Format: Book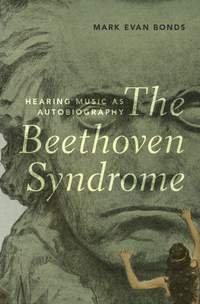 Mark Evan Bonds; Oxford University Press; Hardback
The "Beethoven Syndrome" is the inclination of listeners to hear music as the projection of a composer's inner self. This book traces the rise, fall, and persistence of this mode of listening from the middle of the eighteenth century to the present, revealing how perceptions of subjective expression have endured, leading to the current era of mixed and often conflicting paradigms of listening.
Available Format: Book
Roland Perrin; Faber Music; Paperback
Imagine hearing a song and being able to write the whole thing down. That is what you will learn with this course, the ultimate book for learning to hear, write down and understand melodies, chords, bass lines, rhythms and drum kit grooves. No instrument is required and only basic notation knowledge is needed. With step-by-step instructions, exercises and accompanied by online audio, this book is suitable for all levels.
Available Format: Book
Catherine A. Bradley; Cambridge University Press; Paperback
Polyphony associated with Notre Dame marks a turning point in medieval music. This book presents new methodologies to illuminate processes of musical and poetic creation, from monophonic plainchant and vernacular songs, to polyphonic organa and motets in both Latin and French.
Available Format: Book
Stephen Kennedy; Bloomsbury; Paperback
What can the sounds of today tell us about the future? Can an analysis of sound and sonic practices allow us to make reliable predictions in relation to wider social phenomena, and what might they tell us about technology in a world where futurology is such a frenzied and busy field? This book tests a range of propositions that connect noise, sound and music to political, economic and technological events.
Available Format: Book
Remi Chiu; Cambridge University Press; Paperback
Plague, a devastating and recurring affliction throughout the Renaissance, had a major impact on European life. Not only was pestilence a biological problem, but it was also read as a symptom of spiritual degeneracy and caused widespread social disorder. This book uncovers the place of music in the management of the disease, addressing topics such as public rituals, music as therapy, and performance and music in religion.
Available Format: Book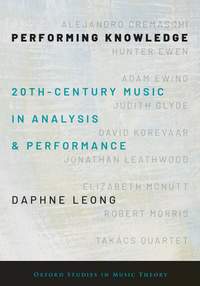 Daphne Leong; Oxford University Press; Hardback
Explorations of music by Ravel, Schoenberg, Bartok, Messiaen, and others illuminate issues such as the role of structure in audience reception, the cultural understanding of notation, and the use of metaphor. Each exploration engages deeply with musical structure to encompass the creative activity of composers, performers, and listeners.
Available Format: Book
Holger Schulze; Bloomsbury; Paperback
Sonic fiction is everywhere: in conversations about vernacular culture, in music videos, sound art compositions and on record sleeves, in everyday encounters with sonic experiences and in every single piece of writing about sound. This book explicates the inspirations for and the transformations of this concept, exploring applications and extrapolations in sound art, sonic theory, musicology, epistemology, and critical theory.
Available Format: Book
Popular Music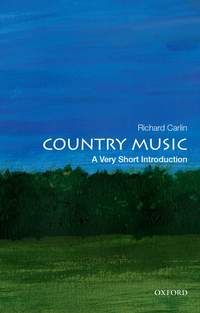 Richard Carlin; Oxford University Press; Paperback
From popular culture to politics, country music has provided a soundtrack to American national life. While this music rose from the people, it is also a product of the popular music industry, and the way it has been marketed to its audience is an important part of its story. This introduction highlights key artists, songs, and styles that are either touchstones for a particular social event or that encompass broader trends in the industry.
Available Format: Book
Stacy Wolf; Oxford University Press; Paperback
This book considers the widespread presence and persistence of musical theatre in US culture, and examines it as a live, pleasurable, participatory experience of creating, watching, and listening. Touring from Maine to California, it tells the story of musical theatre's abundance and longevity as a thriving, joyful activity that touches millions of lives.
Available Format: Book